By GC Mays
When Intrepid Potash (NYSE:IPI) reported its 4th quarter and full year 2011 earnings, the company expected a firming of potash prices in 2012. During the first quarter the company's projections were correct as average potash prices were essentially flat during the quarter. The company estimates that average net realized sales prices for its Muriate of Potash was between $470 - $480 per short ton.
In the first quarter the company met or exceeded its own Q1 estimates of sales and production in its Muriate of Potash & Langbeinite product lines.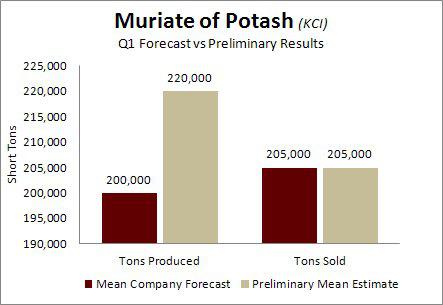 Source: The Mays Report
Muriate of Potash, or KCI, is what the large Canadian fertilizer companies Mosaic (NYSE:MOS), Potash Corp (NYSE:POT), and Agrium (NYSE:AGU) mine and sell. Intrepid Potash is the largest potash miner in the US.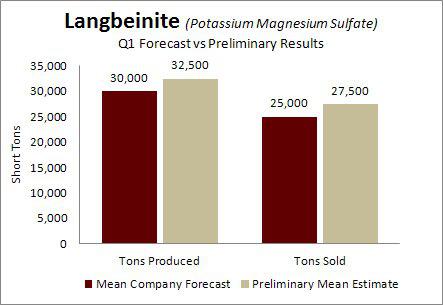 Source: The Mays Report
Langbeinite, or potassium magnesium sulfate, is a low-chloride potassium fertilizer that the company markets as Trio®.
Based on sales volumes and average net realized sales prices, I estimate Q1 revenues between $109.8 - $118.4 million, which is slightly better than the company's 2011 1st quarter when company revenues totaled $104.9 million.
The company stated that they expected improved sales in Texas and Oklahoma, markets in which revenues had slowed considerably due to severe drought in 2011. Texas and Oklahoma are still experiencing severe drought conditions while other parts of the country have begun to improve. It will be interesting to see what they report about that territory.
That information will offer some insight into the revenues and earnings of Scotts Miracle-Gro (NYSE:SMG), another company whose 2011 earnings were adversely effected by severe drought conditions along the southeast and southwest regions of the country, Texas and Florida specifically.
Like its larger competitors Mosaic, Potash Corp, and Agrium, the company is also reporting that dealers and retailers were selling off their inventories and that they expected the trend to continue into the second quarter with dealers looking to end the spring planting season with minimal inventories.
Consensus estimates are that the company will earn $0.30 per share versus $0.28 per share a year ago. Based on preliminary reports, I expect actual earnings inline with that estimate, give or take a penny, when the company reports on May 2, 2012 after market close.