Focusing on macro trends can be an effective means of determining positive long-term investments. One tradeable macro trend we identify today is the growth of China's domestic internet market. With over 1.3 billion people and a rapidly developing middle class, China's current internet population of 500 million is expected to expand in the years ahead and strengthen further financially.
Although that market size is quite large already, it is easy to see how increased internet access and an emergent middle class with a stronger appetite for domestic consumption would immensely benefit industries centered around web interaction and online commerce.
The three stocks profiled in this article stand to benefit from China's internet explosion, and we think they are worth consideration in your portfolio.
Baidu, Inc (BIDU)
$147.92; 52wk Range $100.95-$165.96
(click to enlarge)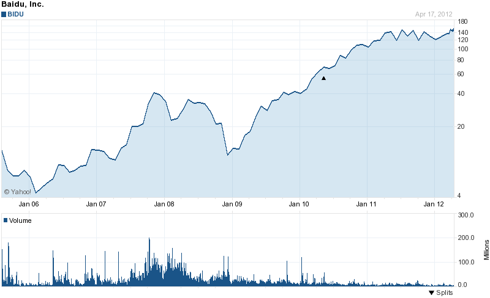 Chart from Yahoo Finance.
The most obvious choice for us on this list, Baidu has exactly what we are looking for in a play on Chinese internet growth: staying power / brand recognition, demonstrated historical growth, and a proven business model.
Baidu is the largest Chinese language search engine and a tech industry titan, sometimes referred to as the Google (GOOG) of China. In Baidu, you have a stable company with significant exposure to the Chinese internet market.
Alternatives: Youku Inc (YOKU), SINA Corporation (SINA), Sohu.com (SOHU), Tudou Holdings Limited (TUDO),
Renren, Inc (RENN)
$6.91; 52wk Range $3.21-$24.00
(click to enlarge)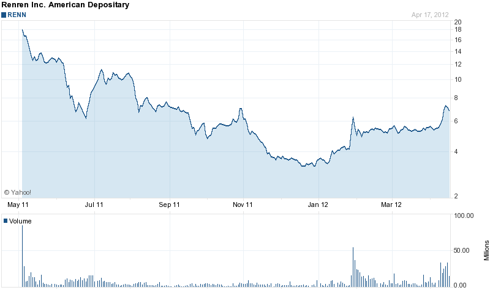 Chart from Yahoo Finance.
If Baidu is China's Google, then you could say Renren is China's Facebook (FB) - one of the country's premiere social networking sites in the absence of its global precedent, Facebook. Like Baidu, Renren offers an industry-leading brand, demonstrated growth, and a proven business model in the social networking sphere.
Unlike Baidu, however, Renren has had difficulty maintaining profitability, though that could be changing. In 4Q11, Renren reported earnings of 14 cents per share, an improvement from its 46 cents per share loss a year before. The company also expects higher revenue in 2012, with forecasts ranging between $177 and $183 million, an improvement over the $118 million in revenue reported in 2011.
However, perhaps most important of all, Renren has shown impressive user growth, with 147 million active users by last count.
Alternatives: Perfect World (PWRD), Shanda Games Limited (GAME), Changyou.com Ltd (CYOU), Giant Interactive Group (GA)
E-Commerce China Dangdang, Inc (DANG)
$8.48; 52wk Range $4.11-$26.40
Chart from Yahoo Finance.
If Baidu is the Google of China and Renren is the Facebook of China, then you could call E-Commerce China Dangdang the Amazon (AMZN) of China. Shares of Dangdang have dropped recently following the sudden resignation of Chief Financial Officer Conor Yang for "personal reasons." Until we have better clarity on the cause of the resignation, this event is cause for concern, but nonetheless, Dangdang has the potential to become the preeminent player in the Chinese e-commerce market. For that reason, we recommend keeping an eye on this company, which currently maintains a market cap of only $668 million.
Alternatives: Alibaba.com, Ebay (EBAY), Amazon
Bottom Line
Betting on Chinese internet companies that closely model established global internet brands can work for investors because of the relatively insular nature of Chinese society. Facebook is banned in China, and Google has ended many of its services in China following censorship disputes with the government. This gives regional brands opportunities to seize market share and replicate globally proven business models.
The danger surrounding these companies is always the possibility that the global brand will find its place into China and dominate -- and perhaps Renren faces this danger most acutely in Facebook. Given the macro factors involved - a massive and rapidly modernizing Chinese population with a quickly expanding internet user base - our time presents a rare opportunity for investment in Chinese internet businesses that follow structural precedents set by dominant global brands, without having to compete with them. As long as that advantage remains intact, these companies appear attractive.