This morning, Bank of America (NYSE:BAC) released some numbers which look a bit disappointing on the outside. The initial headline was $.03 EPS and a significant miss in revenue ($22.5B), but digging deeper we can see that a lot of the costs in the last few months have been related to improving the bank's balance sheet.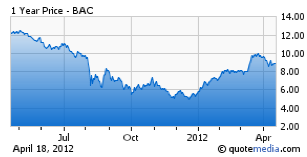 According to CFO Bruce Thompson, the Tier 1 common equity ratio was increased by 92 basis points relative to the prior quarter. Liquidity has been drastically improved, and risk assets have been sold off heavily. While short term pain has been caused in the bank's numbers, this was a necessary step for the bank to meet increasingly high expectations of stability by the government.
When not accounting for the costs associated with improving the bank's assets, adjusted EPS is actually $.31 which is quite impressive.
Another headline that was mentioned was the bank's impressive income in the Global Wealth and Investment Management branch. The income of $547 million is the second highest in a quarter since the Merrill Lynch acquisition. These results haven't been seen since Q2 2011.
Also exciting was the profitability of the bank's trading desks, which haven't posted a gain in three quarters due to the extreme turmoil in financial markets that we've experienced at the end of 2011. Cost-cutting measures have also helped, and CEO Brian Moynihan threatens to increase them upon poor performance of the division.
Provisions for credit losses have fallen drastically. Overall, they have dropped to $2.4 billion relative to $2.9 billion a quarter prior. This is a vital improvement for the bank's long term success in its core business of providing loans.
Despite having a smaller pool of loans, BofA's net interest income has improved a bit form the prior quarter ($11,053 billion versus $10,959 billion). Non-interest income, as mentioned before, has been temporarily deflated due to expenses related to balance sheet improvement. Average deposits have also showed steady increases. As of March 31st 2012, the bank reported $466.2 billion, versus a total of $457.0 billion a year ago.
The real stinker was the Consumer Real Estate Services branch, which experienced significant declines in total loans ($110.8 billion versus $117 billion in the last quarter). On the bright side, losses have been substantially reduced through the bank's cost-cutting methods and the reduction in litigation expenses related to the financial crisis. Provisions for credit losses have also been cut in half since the last quarter ($507 million versus $1 billion in Q4 2011)
Overall, while the bank's current numbers aren't very impressive, they've made significant progress in raising Tier-1 capital and tightening their credit spreads. Their trading desks have swung to profitability after many months of losses, and litigation expenses seem to be easing. Lastly, their core business seems to be trudging along just fine. It may take some time before we see loan pools on the uptrend (since the bank wants to further improve its assets), but the cost-cutting efforts have guaranteed extremely strong EPS growth.
Bank of America shares are already rallying hard on this quarterly report, but I think there is room to move up from here. If we go above $10/share on BAC again, I wouldn't be surprised.
Disclosure: I have no positions in any stocks mentioned, and no plans to initiate any positions within the next 72 hours.