Ever since Professor James Thomson of the University of Wisconsin Madison, derived the first embryonic stem cells in 1998, the field of stem cell research, aka Regenerative Medicine, has inspired both hope and hype. A variety of biotech startups have been founded over the years to try to bring regenerative medicine-based therapies to market. One such biotech is BioTime.
Our extensive research has led us to conclude that BioTime (NYSEMKT:BTX) is grossly overvalued and that its shares should trade at a small premium to the company's cash balance - currently 45 cents per share. Both BioTime and its current CEO Michael West have a long track record of commercial failure. The company has inflated its valuation by selling an appealing story about the potential of stem cells.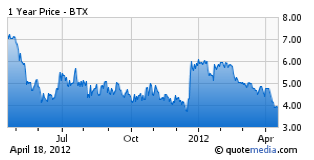 Its marketing has been aided by overly optimistic rhetoric from investment newsletter writers who claim the company has cracked the DNA command code and that it can produce new cardiovascular systems on demand. BioTime has achieved no such thing; in fact, it does not even have any stem cell-derived products in the FDA pipeline.
Embryonic stem cells have failed to produce marketable drugs for more than a decade now. BioTime's CEO, Michael West, has previously headed two struggling stem cell-centered biotech companies. Even if stems cells were to become a viable source of new biotech drugs, BioTime's investors are unlikely to benefit, since BioTime has no drug candidates itself, and its stem cell products division has failed to ramp up revenue as expected.
MICHAEL WEST'S LONG HISTORY OF MONEY-LOSING VENTURES
I realized that it was simply not in my nature to accept death or be defeated by it. The call wasn't even a close one. I could never again resign myself to laying my loved ones down in the grave. It was crystal clear to me what I had to do. I had to defeat death.
- BioTime CEO Michael West in his book The Immortal Cell.
For two decades, Michael West has been trying to defeat death through pioneering research in stem cell therapies that could potentially alter the face of medicine as we know it. But although he has led many novel experiments and produced numerous papers and has written a book about stem cell-based medicine, his efforts have failed to generate any products that have successfully cleared FDA scrutiny and made it to the marketplace.
West left Geron (NASDAQ:GERN), a stem cell company he founded, without having commercialized its research. His second company, Advanced Cell Technology Inc. (OTCQB:ACTC), successfully created controversy over the ethics of cloning, but failed to generate long-term value for shareholders and lingers on the bulletin board today with its shares only worth a dime.
In 2007, West moved on from Advanced Cell and took over BioTime. At the time of his arrival, BioTime was a failing biotech company whose stock traded for pennies and whose one product, a blood product for wound victims, was a massive commercial flop. By 2007, just prior to West's arrival, BioTime had generated an accumulated shareholder deficit of more than $43 million, and its cash balance had fallen to a laughable $13,760. But through impressive salesmanship and breathless newsletter marketing, BioTime has been able to lift itself from being a nearly worthless penny stock all the way up to sporting a $200 million market cap presently.
But BioTime's clock is ticking. The stock has started to sag in recent months as the company's business performance continues to lag far behind the image of BioTime portrayed by stock newsletters and Mr. West's optimistic visions of the future. The company has been relentlessly releasing brazen press releases to try to boost its fading prospects. In the end, we are confident that betting on one man to conquer mortality is a fool's game. Just as Mr. West has failed at his last two companies, we believe he likely will also fail at BioTime.
Until Michael West's arrival at BioTime, the company appeared to be gradually fading into irrelevancy. The stock had fallen to 40 cents per share. The company's only product, Hextend, had failed to garner any significant market adoption. The company was running out of cash. But soon, under Mr. West's energetic leadership, shares began a stunning ascent, rising as much as 2500% to a peak of nearly $10.
This remarkable turnaround was due to West's ability to stoke investors' imaginations to the possibilities of stem cell research, just as he had been able to do, for a time, at both Geron and Advanced Cell. When West took over, he immediately switched the focus from BioTime's failed blood products strategy over to his stem cell-centered ambitions.
One key to BioTime's promotional strategy has been the creation of numerous subsidiaries. Typically, BioTime will announce the arrival of a new subsidiary with an exciting press release, set up a website for the subsidiary, and then watch the stock pop. After that, nothing happens. Nothing at all. Several of BioTime's subsidiaries, after their initial triumphant appearance in a heralded press release, have gone on to produce no further press releases, nor anything else indicating they serve any purpose other than to promote the stock price.
Take, for example, BioTime's subsidiary Cell Cure NeuroSciences Ltd. On October 10th, 2010, BioTime put out a press release stating that Cell Cure had entered into an agreement with Teva Pharmaceutical Industries (NYSE:TEVA) to develop and commercialize Cell Cure's OpRegen product for the treatment of age-related macular degeneration. The company pointed to a potential marketplace of more than 9 million patients for the product. Investors were excited, sending shares up nearly 10% on the announcement, and shares would proceed to double within a few months of Cell Cure's agreement with Teva.
Fast forward 18 months to April 2012, and you'll be surprised to find out that since this press release, there has been no further developments regarding Cell Cure or OpRegen whatsoever. Cell Cure's website shows the October 10th, 2010 press release as the latest piece of news. Google searches reveal no additional mention of OpRegen since then. This whole subsidiary has gone silent ever since the press release announcing its creation, which was key to BioTime shares' magical run.
Or look at ES Cell International. BioTime acquired the company on May 3, 2010 for 1,383,400 shares of BioTime common stock and warrants to purchase an additional 300,000 shares. In the two years since the acquisition of ES Cell, it appears that the subsidiary has not accomplished much of anything. As of April 2012, BioTime's web site states:
BioTime acquired ESI in May 2010. We expect that the acquisition of ESI's clinical-grade hES cell bank will save years of development time and thereby accelerate the development of clinical-grade progenitor cells for potential use as research and therapeutic products."
Those words could have been written back in 2010. When will BioTime stop "expecting" and start doing something with its subsidiary? Since the acquisition of ES Cell two years ago, the subsidiary has produced no news whatsoever, other than that initial press release as shown on the ES Cell website:
click to enlarge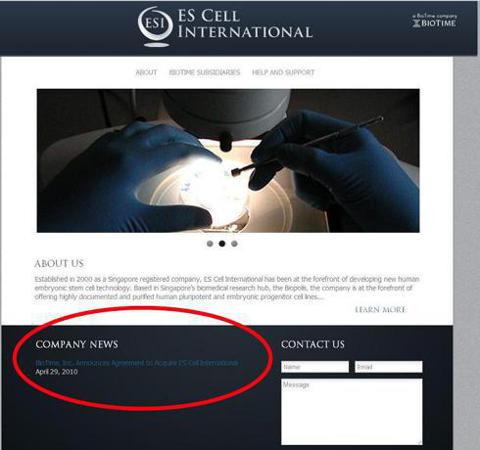 Just like Cell Cure, ES Cell is acquired with great fanfare and then virtually vanishes. Is BioTime acquiring subsidiaries simply to promote the stock price? In addition to acquiring do-nothing subsidiaries, it also creates them in-house. For example, witness BioTime Asia. BioTime created this subsidiary in September 2009 to develop and market stem cell products in China and other countries in Asia. Now, nearly three years later, the front page of BioTime Asia's website contains little more than a copy of the 2009 press release. Three years have passed and this subsidiary hasn't even updated its webpage: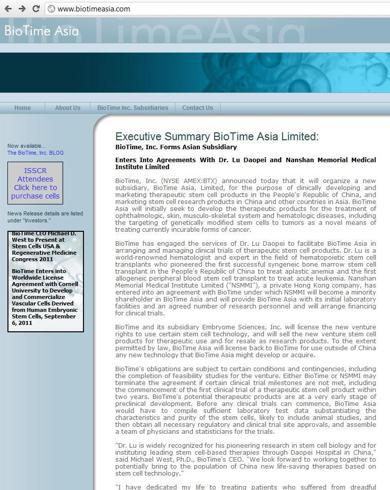 Continuing on through the subsidiaries, we find ReCyte Therapeutics. In 2009, ReCyte Therapeutics (under its previous name, Embryome Sciences) entered into an agreement under which Millipore Corporation became a worldwide distributor of ACTCellerate™ hEPC lines, according to BioTime's 10-K. These ACTCellerate hEPC lines were the product of Mr. West's research at Advanced Cell.
This development led to great excitement among investors and newsletter writers who were promoting BioTime's stock, and played a large role in revitalizing BioTime's stock price and getting the company uplisted back off the bulletin board (although, of course, it's worth noting that ACT was not able to monetize ACTCellerate hEPC lines while Mr. West ran ACT).
Like the other subsidiaries, this excitement seems to have been misplaced. In BioTime's 2011 10-K, we find this statement: "In 2011, ReCyte Therapeutics intends to begin to build a near-term revenue business by offering a service to reverse the developmental aging of human cells, and to generate blood and vascular progenitors, for cell banking purposes." So, two years after causing a massive run-up in BioTime's shares, ReCyte has not yet produced meaningful results for shareholders and is still "intend[ing] to begin to build" a revenue-generating business.
However, to its credit, unlike other BioTime subsidiaries, ReCyte has not gone completely silent. In January, BioTime licensed a new gene which ReCyte Therapeutics "plan[s] to apply [..] in the development of innovative medical products for cancer and vascular diseases." However, there's no word yet on whether any of these "intentions" and "plans" will result in any ReCyte creating any products, revenues, or profit anytime soon.
BioTime's remaining subsidiaries are OrthoCyte, which has not produced any newsworthy events in the 11 months following its acquisition last year, OncoCyte, and LifeMap Sciences. These last two are involved in the current project du jour, the PanC-Dx cancer test. As we will discuss in future articles, the PanC-Dx cancer test has fairly long odds of ever generating meaningful revenues. We are curious to see if the PanC-Dx project simply seemingly disappears, as happened with Cell Cure and its OpRegen program now that PanC-Dx has already served its purpose of dramatically boosting BioTime's share price.
As we've demonstrated, these subsidiaries seem to have achieved little except creating short-term bursts of excitement. We are unsure why BioTime's subsidiaries do not achieve any meaningful results after they are created or acquired. Perhaps, with limited resources BioTime does not have a large enough budget to fund all its subsidiaries adequately to achieve the objectives it states in its initial enthusiastic press releases? Perhaps BioTime's management loses interest and wants to move on to new projects? Or perhaps BioTime creates the subsidiaries with the express desire of boosting the share price?
Disclosure: The author is short BTX. The author wrote this article themselves, and it expresses their own opinions. The author is not receiving compensation for it. The author has no business relationship with any company whose stock is mentioned in this article.