On 31 January 2012, I wrote the article "Apple Pure Play: Zagg Poised For Another 400% Bull Run." I followed up the article by dispelling many misleading short rumors in this article. Last February, I gave an overview on how Zagg (ZAGG) has been demonstrating parabolic growth at the dawn of the mobile revolution (smartphones and tablets). The price the night before the first article was released was $8.91 per share. At the time of this writing, the price is $11.07 per share. This is a 24% return in just a couple months. There have been numerous developments since the initial 11 reasons why Zagg is poised for big gains in the years ahead. This article will provide an update to the 11 reasons as well as add 5 additional reasons why the 400% bull run is just starting for Zagg.
1) I informed readers to expect Zagg to post 2012 revenue north of $300M and EPS to be over $1. After the 4th quarter, Zagg raised 2012 guidance to $250M, up from 2011 results of $179M. Analysts' estimates are .80 cents EPS in 2012. Zagg raised guidance 4 separate times in 2011. The final results were more than double the revenue of 2010. The record sales of the new Apple (AAPL) iPad and the upcoming iPhone 5 launch are big reasons why Zagg will crush an EPS of $1 and revenue of $300M. The explosive growth of Zagg has taken a parabolic trajectory (actual results below) .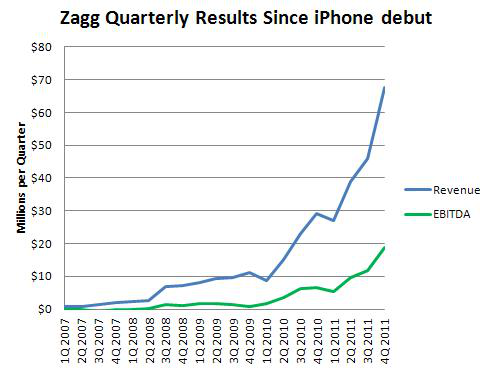 2) I pointed out to readers that the PEG of Zagg was extremely low. I correctly predicted that after the 4th quarter earnings were reported that the PEG would be close to .50. Today, with the price trading near $11 per share, the PEG stands at .51. This means that Zagg is selling at a 50% discount to the normal value based on the growth rate. If ZAGG had a PEG of 1, which is considered fair value, the stock price would trade around $22 per share. I also stated that as a growth stock, ZAGG could gain momentum and the PEG could double to over 2 much like other "growth" companies. This was equivalent to Zagg priced over $34 per share. After the results last quarter, a PEG of 2 prices ZAGG near $44 per share. The parabolic growth history of Zagg should support a growth stock valuation, not the valuation of a stagnant company.
3) I wrote that Zagg will likely double its SKU counts in 2012. Growth will continue through the smartphone and tablet revolution over the next few years. Zagg is only scratching the surface in the number of SKUs it could eventually sell. Today, this looks as true as ever. Although unannounced on the Zagg website, I clearly proved in this Instablog that Zagg has expanded recently in Sam's Club. Weeks ago, Zagg announced that it's expanding the Zaggfolio line in ATT (T). Zagg recently announced that its iFrogz line has expanded to college bookstores nationwide to include Follett and Barnes and Noble. On 16 April 12, Zagg announced that iFrogz is launching in all 1,765 Target Stores nationwide. Up to 22 different iPhone case SKUs will now be sold at Target. A launch of this magnitude only proves the strength of the retail distribution prowess of Zagg.
4) I wrote that on an annual basis to Zagg, entering Wal-Mart (WMT) could add $60M a year in revenue in 2012 and over $120M a year in 2013. Last January, Craig-Hallum hinted that Zagg could be entering Wal-Mart in the near future. On March 22, Craig-Hallum said channel checks indicated strong momentum and that ZAGG could be launching in Wal-Mart in May. Momentum should pick up after strong sales related to the recent new iPad launch and with the upcoming launch into Wal-Mart. Analysts are projecting that Apple sold 12.7 million iPads in the first quarter alone. Launching nationally into the largest retailer in the world would not only take up valuable retail shelf space and cement Zagg as the #1 smartphone and tablet accessories company for years to come, but would seriously hinder potential competitor's ability to expand. It would also be a major positive catalyst for upward sales momentum through the next 18 months.
5) I wrote that product offerings continue to expand for both Zagg and iFrogz and will continue to do so in 2012. Since then, Zagg announced the launch of Boost, a near field audio amplifier. Since CES, iFrogz has launched new audio accessories. Additionally, iFrogz has launched a new folio case. Last February, Zagg launched NBA licensed iPad and iPhone covers that feature every team in the league.
6) Last June, Zagg announced that the US Patent Office issued the company a patent for wrapping electronic devices. This utility patent is not only for certain devices, but for all electronic devices until 2026. Since then, Zagg has continued to be successful in court defending its screen protection patent. Additionally, Zagg has a patent application for putting pictures on screen protectors which affects the Zaggskin line. Zagg will continue to defend its intellectual property as time goes on.
7) HzO is the name of the waterblocking company that Zagg has ownership in. Instead of being called H20 (since it's a waterblocking company), Zagg cleverly changed the 2 to a Z when it bought out the company. This is almost like naming it after water. Despite deals that might have already been signed, or will be signed in the near future not only with Apple and Samsung, but with many different manufacturers, HzO is currently not priced into Zagg despite having over 37% equity. At recent investor conferences earlier this year, the CFO of Zagg reiterated that HzO is not being factored into the price of Zagg stock. As stated in the last article, Apple and Samsung (OTC:SSNLF) are projected to sell over 125 million and 150 million phones respectively. Just a $1 to $2 royalty would very profitable for HzO and Zagg. HzO representatives said at the 2012 CES to expect HzO coated devices to hit the market this summer. This means that HzO deals could be announced to the market any day. Investors anxiously await any news like this one regarding the upcoming Samsung Galaxy S3 which hints that it will be waterproof coated by HzO. An Apple or Samsung official announcement could double the price of Zagg overnight.
8) I correctly predicted that Zagg was about to announce the biggest quarter in company history. Zagg reported 131% revenue growth in the 4th quarter beating all analysts' estimates. Zagg revenue of $67.5M was much higher than the $63.5M figure I stated was the minimum. Zagg reported $7M in cash flow in the 4th quarter alone. As always, I was conservative with my estimate with Zagg, which is notable considering the 131% revenue growth. Since then, Zagg has received numerous upgrades: Zacks on March 14, The Street on April 6, and Sidoti on April 11.
9) I stated that Zagg could get bought out in a takeover bid. Zagg is currently trading at an extremely huge discount to its history of growing at an explosively high growth rate. With over $523M in cash and a $400M loan facility taken in late December 2012, Logitech is positioned as the logical buyer. Logitech (LOGI) is a keyboard partner of Zagg. Logitech is not positioned in lifestyle audio or in screen protection. At a $700M valuation ($23 per share), a buyout would be a fair offer (PEG a little over 1) . PC and ancillary products are dying out. The mobile revolution is upon us. Most of the growing world will skip PC's and go straight to mobile computing. Logitech could get back on the growth track by positioning the company to dominate mobile accessories. Zagg is the perfect complement to that. The later Logitech waits, the higher the valuation goes, possibly exceeding $1B later this year. A buyout could occur any day.
10) I stated that even Fibonacci ratios and Elliot Wave Theory support where Zagg is projected to go. The updated graphs below depict a strong correlation. The next leg will take Zagg to a new high in a relatively short time. Since the first article, Zagg has continued to move higher.
According to the theory, Zagg should be trading around $35 per share this Christmas season. After the iPhone 5 debut and heading into the biggest season in Zagg history, the momentum will carry the stock to new highs.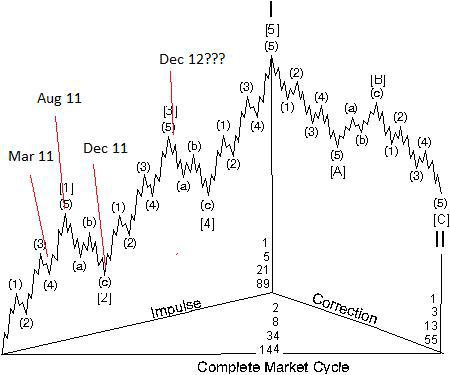 11) I said a 41.64% short ratio could cause a massive multi-day short squeeze when mutual funds start to buy Zagg again. As of today's writing, the short ratio stands at 45.8% (last updated Mar 30). Short sellers are shorting a company that has consistently demonstrated a history of doubling growth every year. Short sellers are targeting a company that is growing at a parabolic rate and will continue to do so in 2012. They are shorting a company that owns 37% of HzO. They a shorting a company with U.S. patents. They are shorting one of the top sellers of keyboards for the iPad. They are shorting a company with top retail distribution and are about to enter Wal-Mart. Once momentum picks up, the shorts will be forced to cover at a rapid pace. My suspicion is that late April be a catalyst for Zagg as everyone starts to anticipate and price in the Wal-Mart deal along with a huge 1st quarter due to the new iPad launch.
5 Additional Reasons To Be Bullish On Zagg
1) According to CNBC, Apple has filed a patent for an iPhone that is made entirely of glass. Zagg would benefit hugely from an all glass iPhone. Although Zagg has already been successful in court protecting the patent on screen protection it holds, an all glass iPhone would fit the patent description exactly and strengthen the ability to drive competitors out of the market. Zagg not only would become the go to brand due to its retail distribution dominance, but would win over new customers with the new HD invisible shield line and because they can sell full body shields. HD invisible shields and full body invisible shields would positively impact the top and bottom line of Zagg due to the higher average selling price. The importance of protecting new electronic devices can't be understated. Consumers pay on the upwards of $600 for a new iPhone. The resell market for iPhones and iPads is tremendous. One scratch drives down the value of a phone considerably. Many scratches drive the resell price much lower. As discussed here, Zagg screen protectors also protect devices from drops. Many people like trading in or selling their current Apple device in order to put the money towards upgrading to the new device. Having a screen protector to protect an all glass iPhone for both the front and the back would help protect the resell value as well as the lifespan of the device. An invisible shield is like insurance on a $600 phone. It's a lucrative business protecting one side of a phone. 2 sides of glass would be even more lucrative.
2) Also according to CNBC, there are reports that the new iPhone will have a bigger screen. A new screen equates to a new product cycle for Zagg. The replacement warranty only covers current devices. Consumers have to purchase a new invisible shield during each new product cycle. The iPhone 4S was the most successful Zagg invisible shield product line in history and had the same dimensions as the iPhone 4. A new iPhone with a larger screen will lead to the biggest selling invisible shield product in Zagg history later this year.
3) According to CNBC and as I wrote on Seeking Alpha here, Apple is talking with Sam's Clubs across the country on opening mini-Apple stores inside (starting with 47 stores). What makes this interesting is that Zagg has recently expanded into Sam's Clubs. Zagg has already covered mini-stores at Best Buy (BBY) and Target (TGT). Zagg is clearly pre-positioning themselves at Sam's Club before the Apple mini-store launch. This will keep additional competitors out of the market, and cement Zagg as the market leader not only in screen protection but in iPad keyboards.
4) Below the radar, Zagg has launched full line stores in malls across America. To date, there are 10 full line stores and 150 kiosks. The most recent was at a brand new mall in Salt Lake City this past month. Most of these stores are independently owned, allowing Zagg to essentially franchise the stores. This can be very lucrative with a national roll out. Franchise owners must be experiencing similar parabolic growth that Zagg is experiencing. This is much like the success of Zagg being positively correlated to the success of Apple. This could be a key strategy for international growth.
5) As seen on Finviz.com, Zagg recently broke through the 6 month downturn it has experienced since last August. In order to break it, Zagg broke through a symmetrical triangle. Based on a symmetrical breakout of this magnitude, it is expected that Zagg will hit $16.50 based on the widest distance relatively soon. Moreover, Zagg is about to break through major resistance. Zagg has been testing the 200 moving day average (mda) in recent weeks. The 50 mda is on a trajectory to pass the 200 mda soon. This bullish cross would confirm a big move past a major resistance level. Once past this, Zagg would be able to quickly move to new highs.
RISKS
There are some long term risks to the parabolic growth rate of Zagg. For one, growing at a 100% rate can only last so many years. With the smartphone and tablet market growth curve possibly slowing after 2016, Zagg will have to continue to expand into different products in order to keep the growth rate up. Secondly, much of the success of Zagg has been in the United States with its superior retail distribution and the U.S. patent it holds. To have success in countries like China or India, Zagg will have a challenge in terms of product recognition, lower selling prices, and in patent protection. To date, Zagg has only expanded in Europe and Japan. Thirdly, Zagg needs to keep its leadership. The CEO Robert Pedersen, who was Utah Business CEO of the Year, is vital the company. He is the co-founder and visionary that propelled Zagg to 6 straight years of record growth. Zagg investors need Mr. Pedersen to continue to lead Zagg to Fortune 500 status. Additionally, with the option expiration on 19 April, there is short term risk of option pinning the stock to the nearest rounded dollar. Last month, option pinning pressured Zagg to close a few pennies from $10. The next trading day, the price of Zagg shot up on big volume. This is why I predict that Zagg will start moving upwards in late April before 1st quarter earnings and the Wal-Mart launch announcement.
SUMMARY
Overall, there are few companies that are better positioned to take advantage of the success of Apple during the mobile and tablet revolution than Zagg. The parabolic growth history and future catalysts speak for itself. With the huge short ratio, recent technical breakout, and positive catalysts coming, I fully expect massive short covering soon. I would not want to be short Zagg going into the Wal-Mart and iPhone 5 launch along with HzO deal announcements and the ensuing positive earnings momentum it would cause for the rest of 2012.