Conservative income investors have seen their interest payments decline as the world continues to be ravaged by the global financial crisis. Interest earned on money markets and CDs, once a favored vehicle for retirees, now pay in many instances less than 1%. The U.S. government-issued 10-year bond is below 2%, which is hardly an appealing proposition. I am going to focus now on Eli Lilly (LLY), a U.S. pharmaceutical giant that is currently paying a 5% dividend.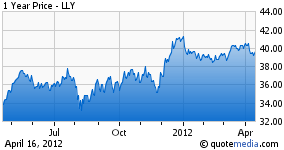 Eli Lilly is a diversified pharmaceutical manufacturer based in Indiana. The company manufactures an extensive line of products, including insulin (Humulin and Humalog), cancer drugs (Erbitux), and neurological pain treatments (Cymbalta).
Eli Lilly has recently lost patent protection on its largest selling product, Zyprexa, and is set to lose patent protection in 2013 on its second-largest selling product, Cymbalta, along with Evista. Combined, these products account for 40% of Eli Lilly's current sales and replacing them will be management's greatest challenge going forward.
The pipeline is quite robust, as evidenced by a quote from Derica Rice, president of Lilly Research Laboratories, during the company's latest conference call:
We ended 2011 with 12 molecules in Phase III development, surpassing our goal of 10 and another 22 in Phase II development. This is the most robust mid- to late-stage pipeline in our history. It includes a balance of small molecules and biologics and exciting candidates in each of our therapeutic areas. We believe this pipeline will drive strong growth.
Since the call, Eli Lilly received approval for a radioactive dye:
Eli Lilly hopes that a new radioactive dye used to detect Alzheimer's disease will kick up enough revenue to make up for lost income from two patents on high-selling drugs set to expire. CEO Jon Lechleiter tells CNBC (video) the company is working with Medicare and other constituents to get reimbursement coverage for patients undergoing using the brain test with its dye. Source: Seeking Alpha.
Also:
Vanda Pharmaceuticals (VNDA) will pay Eli Lilly up to $100M for exclusive rights to develop a drug that has shown promise as a treatment for alcohol addiction. The company calls the licensing of VLY-686 'an important milestone for Vanda, as we continue to realize our vision of developing treatments to address unmet medical needs.' Source: Seeking Alpha.
Eli Lilly's most exciting Phase III compound is Solanezumab, a novel treatment for Alzheimer's disease. During the conference call, the company gave an update on Solanezumab's progress:
In these studies, not meeting futility simply means that only 1 of the 4 primary endpoints across the 2 pivotal studies needed to have more than a 30% chance of being positive upon study completion. In addition, while the DMC did not recommend any modifications to the 2 pivotal studies, the DMC did recommend that 2 additional ECG measurements be added to the open-label extension study to provide a level cardiac monitoring that is more consistent with the blinded pivotal trials.
The compound was moved into Phase III trials, which are expected to be completed by June 2012. Eli Lilly expects to make an announcement regarding the success of the compound in the third quarter of this year.
Solanezumab has the potential to become a blockbuster product to treat a disease that currently has, at best, inadequate treatment options. Alzheimer's disease is the sixth-leading cause of death in the U.S. and the only cause of death among the top 10 diseases in the U.S. that cannot be prevented, cured or even slowed. The benefit to mankind would be tremendous if this product is successful.
In my opinion, Eli Lilly is a worthwhile investment for a conservative dividend-seeking investor. The company offers the chance for capital gains, depending on the success of the molecules they are currently testing. It is the definition of a wide moat company with gross margins ranging from 76%-81% over the last 10 years. Eli Lilly is trading at a modest 12 times this year's earnings due to the looming patent expirations and the uncertainty surrounding their new batch of experimental molecules. Depending on how many and which ones become commercially viable products, Eli Lilly may hold significant capital gains potential. Thanks for reading and I look forward to your comments.
Disclosure: I have no positions in any stocks mentioned, but may initiate a long position in LLY over the next 72 hours.
Disclaimer: This article is for informational purposes only.