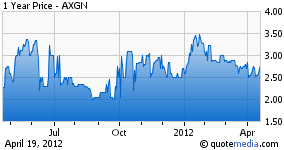 Nathan Cali of Noble Financial initiated coverage on AxoGen (AXGN) yesterday with a "BUY" rating and a price target of $8.
AxoGen Inc. is an emerging regenerative medicine company focused on the commercialization of proprietary products and technologies for peripheral nerve reconstruction and regeneration. The company has had more than 6,000 surgical implants of its products performed in hospitals and surgery centers across the United States, including military hospitals that serve U.S. servicemen and women.
The company has a human tissue allograft nerve graft product called "Avance." which is the only marketed nerve graft product currently available. It also has a nerve connector and a nerve wrap called "AxoGuard." which are products that address an estimated $1 billion market opportunity.
Cali believes that AxoGen's "first-in-class" pipeline of human allograft nerve, wrap protectors, and nerve conduits "up-seat" any procedure, technology or other nerve repair product suite outside of a direct nerve repair when available.
According to Cali, he anticipates the company to successfully penetrate the $1 billion dollar nerve graft market with its Avance technology. The analyst notes that AxoGen benefits from a unique, competitive advantage and significant barriers to entry that today allow it to be "the only FDA approved nerve graft technology".
Although the opportunity for AxoGen's products are extensive with competitive barriers to entry, there are other established med-tech companies turning their sights to soft tissue regenerative products. They include Johnson & Johnson (JNJ) and Shire's (SHPGY) Advance Biohealing, where nerve discontinuity products could benefit. There are also competitors that already operate in the nerve conduit space that serve gaps sizes between 0 to 20 mm, such as Integra Life Sciences (IART), Stryker (SYK) and Baxter (BAX) through its recent acquisition of Synovis (SYNO).
However unlike its competitors, AxoGen's products serve nerve gap sizes up to 70 mm. This is an advantage since the efficacy of competitive products diminishes beyond gap sizes of 20 mm.
Cali expects the company to generate 97% in revenue growth in 2012; and growth rates should be even higher in 2013, which is to outpace the market's compounded annual growth rate ("CAGR") of 10% over next three years. He is estimating a CAGR of 108% into 2014, which will be driven by a expanding and maturing sales force and a paradigm shift.
He rates the company as a "BUY" with an $8 price target, which is based on comparable valuations of companies such as, RTI Biologics (RTI), Cryolife (CRY), Bacteria (BONE), MiMedx (MDXG), Biomedical (BMTI) and Kensey Nash (KNSY) to name a few. All of which are regenerative medicine companies that generate an average Enterprise Value of $127 million, which compare to AxoGen's current Enterprise Valuation of $25 million.
This compares favorably to analyst, Jeff Cohen of Ladenburg, who also rates AxoGen shares as a BUY and a price target of $4.
Disclosure: I have no positions in any stocks mentioned, and no plans to initiate any positions within the next 72 hours.