"Invest in stocks for the long term." Wise advice? Maybe not. This conventional wisdom can easily be proven false. I strongly believe that most investors are ignoring a very important concept that has a dramatic effect on their wealth.
Many investors pay close attention to their rate of return. However, there is a component of investing that many investors fail to fully recognize. This effect is inflation. Inflation is just as important (if not more) when calculating gains or losses of an asset.
The value of an asset is based in dollars. But what many people fail to acknowledge is that the value of not only the investment asset changes, but the dollar itself changes in value. Almost every year throughout history in the United States the dollar's value has declined. (It's lost over 95% of its value in 90 years). Therefore, each asset's investment return should be decreased by the amount of depreciation in the dollar (which is almost guaranteed) in order to show the real purchasing power return (that which truly matters).
However, the investment community uses sales tactics that not only downplay inflation, but neglect it all together in order to show a perceived higher return. Currently, for all the stated returns in prospectuses and other investment information, the return is not inflation-adjusted.
I would like to show readers the effects of inflation upon certain times periods in the stock market and gold. I used the government's Bureau of Labor Statistics inflation calculator for the inflation data and a compound calculator for average yearly rates of return. Here is what I have found: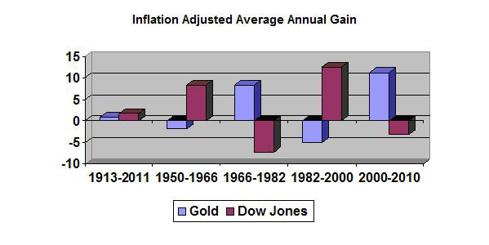 Obviously an inverse pattern exists. From 1913-2011 (98 years) stocks and gold have had a similar small annual gain under 2% each. The shorter time periods in-between show a much different story. Let's take 1966-1982 as an example. Let's say a starting investor at age 25 invests in the stock market for this 16-year period. At the end of the period he will have had a -0.63% average nominal annual loss (not adjusted for inflation).
On paper it looks like he lost little money and generally conserved his wealth. But, after adjusting for inflation (as you can see in the chart above) he actually had a real average annual loss of -7.18%. An initial $10,000 investment would be worth about $3,035.74 after being adjusted for inflation over those 16 years (assuming an average -7.18% annual loss). He is now 41 years old.
This long term equity investment approach did not work for this individual. Now it is not working for the current generation as the average annual real return (inflation adjusted) of the Dow Jones Industrial Average from 2000-present (2010) is -3.22%. Gold is still in its long-term bullish run.
A basic long-term equity investment approach is flawed but widely believed by the public. During some time periods, it works. But in other time periods it is a terrible investment (like since 2000). It requires taking an honest approach and knowledge of fundamental economics to realize the dramatic effect of inflation on conventional investing wisdom.