Political headlines continue to dominate foreign coverage of Egypt during its post-Arab Spring transition. However, a looming currency crisis could exacerbate the already dizzying problems for the fledgling democracy.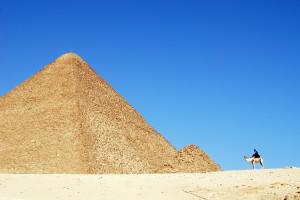 The Egyptian central bank is desperately trying to maintain the current exchange rate of 6 pounds to the U.S. dollar; however traders are less convinced, causing the futures market to trade at 7.45 to the dollar, an all-time low.
Political uncertainty, including the recent ruling to ban ten presidential candidates, also continues to weigh on the Egyptian pound.
As a result, Egypt's central bank is burning through its foreign reserves at the pace of roughly $1.4 billion a month. This number is likely to climb higher as the central bank attempts to fight the forces of speculators in order to preserve the value of its currency. According to the Egyptian Finance Ministry, foreign reserves are down to $15.1 billion.
Students of economic history may wonder why the Egyptian central bank is taking the Thailand-government-in-1997 approach that eventually led to a pan-Asian economic crisis. Unfortunately for Egyptians, near-term political concerns prevent the Egyptian central bank from employing a more sane economic policy.
Because Egypt imports most of its food and fuel, the government wants to keep prices stable in order to maintain order ahead of country-defining elections in a few weeks. This myopic policy of artificially propping up the Egyptian pound will yield serious consequences later in the year as liquid foreign reserves will run out in a few months, resulting in the Egyptian pound moving at the behest of market forces. The potential ramifications include a currency crash and a further drop in Egypt's already moribund economic growth.
Consequently, a number of observers see a disorderly devaluation in the country's future.
International intervention appears to be necessary if the Egyptian economy is to stay afloat, and there have been discussions with the IMF to offer Egypt a $3.2 billion loan. This appeared to be a done deal just a few weeks ago, but the likelihood of said loan actually coming to fruition now is difficult to discern in light of extant political difficulties between the Muslim Brotherhood and the military. Without such a loan, a currency crisis is all but a fait accompli.
Traders with access to the Egyptian pound should continue to short the currency against the dollar. Further, traders should stay short the Market Vectors Egypt Index ETF (NYSEARCA:EGPT), as a likely devaluation and a concomitant rise in fuel and food prices – along with political uncertainty – will continue to weigh on EGPT.