Ambassadors Group (NASDAQ:EPAX), a member of my watchlist that I had discovered earlier this year with my favorite screen, was essentially cut in half Monday. On the day that I covered my short in Coach (NYSE:COH), whose commentary indicates a slowdown for the high-end consumer (imagine!), the best tell about the state of the consumer may actually have been EPAX. They produced great results, but they shocked the market with the revelation that enrollments in their 2008 travel programs are down over 30% year-over-year.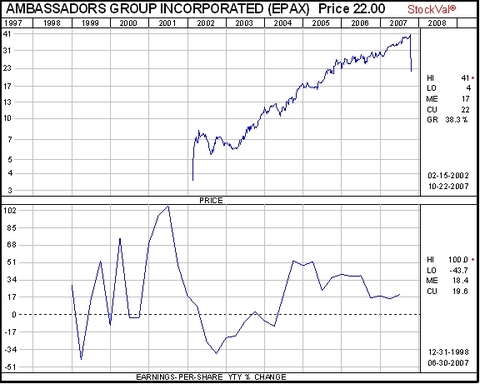 As the stock is not widely known, allow me to share some quick background. Ironically, I came very close to writing an article on the company earlier this month. I never would have guessed that their bookings could be this bad, though I did believe that there was a risk. Why? The company markets travel programs to kids aged 12-18, most of which are to Europe. It is a neat company, as the main program it markets, People to People, has origins back to President Eisenhower. These guys are high-end focused, with trips to Europe, typically 2-3 weeks, costing $6000 or so. They also offer international inbound programs and domestic programs as well. In 2007, they will have served over 50,000 customers.
I listened to the call, and it was one of the toughest ones that I have heard in a while due to the huge surprise. The company had an internal problem, but the real issue is that parents aren't willing to spend the money any longer. Pricing is up a lot due to the weak dollar and high fuel costs. According to the company, which maintains that its customers remain highly satisfied, the turnout at meetings with prospective students has been flat (though lower than they had expected), but the conversion has been substantially worse. The feedback they receive from follow-up interviews suggests that affordability is the issue.
The point of this article isn't to discuss EPAX's investment merit, but I would suggest keeping an eye on this one. They have weathered the storms before. While I am not confident that their plans to save 2008 will work, the haircut today is probably excessive. This is the season for tax-losses and window-dressing, so it could end up being an even better bargain. I was thinking about buying some near 21 for a trade.
So, Coach tells us that North American floor traffic weakened, Target (NYSE:TGT) tells us that their same-store-sales remain weak and now this obscure niche travel company reveals that parents won't or can't spend money on their kids to pursue once-in-a-lifetime educational adventures. Well, at least people are still buying i-Pods!
For those investing in Consumer stocks, especially those that cater to the high-end, or stocks in general, pay attention. This management team apparently went about business as usual, failing to project that the consumer is weakening. There are lots of examples of companies expanding like gangbusters – I am short a few of them (Whole Foods Market (WFMI), Texas Roadhouse (NASDAQ:TXRH), Hertz Global Holdings (NYSE:HTZ), O'Reilly Automotive (NASDAQ:ORLY), Penske Automotive (NYSE:PAG)) – despite tepid same-store sales growth. Are the management teams running their business for growth at any cost, or are they carefully contemplating the ramifications of the weakening state of the consumer?
Disclosure: None besides the short positions that I disclosed above