Earnings season is well underway and for the most part, the results have been positive. Of the S&P 500 companies that have reported, nearly 75% have beat or met their analyst expectations. Tuesday saw markets cheer on good news regarding Spanish debts, as major benchmarks had one of their best days of the year. But with both Spain and Italy in massive amounts of debt, not to mention Portugal and Ireland, it seems that euro fears will infect the market sooner or later. For now, investors will have a few more weeks to focus on earnings from the strongest opening quarter in nearly 14 years, and that trend will continue today.
After market close, Microsoft (NASDAQ:MSFT) will be reporting their most recent quarter's earnings, as a number of eyes will be fixated on the tech giant. This quarter has seen some big news from Microsoft, as it released a preview of its upcoming Windows 8 software. The company has aggressive goals for the new software, as it will be used in phones, computers, and tablets. One source cites that "Microsoft hopes to push Apple's worldwide tablet market share to under 50 percent by the middle of 2013″ as Windows 8 will be used in a new 32-bit tablet computer.
Analysts are expecting EPS to come in at 0.58 with revenues topping $17 billion. MSFT has climbed nearly 11% in the past three months as most stocks have been enjoying strong momentum. Today's report will mark third quarter earnings, and there will be several trends to watch for. "Net income fell 0.2% in the second quarter from the year earlier, while the figure rose 6.1% in the first quarter, 30% in the fourth quarter of the last fiscal year and 30.6% in the third quarter of the last fiscal year" writes Narrative Science. Note that earnings will not be released until after the market closes today, but investors will want to take a position prior to the announcement, as the stock will gap upon opening Friday morning.
Click to enlarge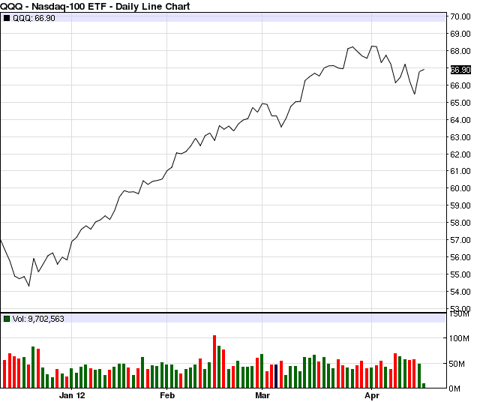 With this major earnings announcement on tap, today's ETF to watch will be the QQQ Fund (NASDAQ:QQQ). This ETF measures the 100 largest non-financial firms on the Nasdaq, and has been able to amass more than $33 billion in assets and a daily trading volume of over 49 million. Microsoft is the second biggest holding in QQQ, accounting for around 9.3% of the fund, giving it a heavy influence over this tech-ETF. If earnings come in lower than expected, look for QQQ to struggle for the week-ending session, but if figures beat the Street's estimates, as they have done each of the last four quarters, this fund could be in for a strong day.
Disclosure: No positions at time of writing.
Disclaimer: ETF Database is not an investment advisor, and any content published by ETF Database does not constitute individual investment advice. The opinions offered herein are not personalized recommendations to buy, sell or hold securities. From time to time, issuers of exchange-traded products mentioned herein may place paid advertisements with ETF Database. All content on ETF Database is produced independently of any advertising relationships. Read the full disclaimer here.