The National Association of Realtors reported that sales of existing homes fell 2.6 percent last month, from an upwardly revised annual rate of 4.60 million units in February to 4.48 million units in March, and home prices moved higher, up from $157,100 to $163,800. On a year-over-year basis, home sales increased 5.2 percent while median home prices have gained 2.5 percent.
The important months of supply metric was unchanged at 6.3 months as the inventory of unsold homes fell along with the sales rate, total inventory down 1.3 percent to 2.37 million units, a whopping 21.8 percent below the level of a year ago and a big reason why prices have been firming. A changing sales mix of more higher priced homes is also said to be driving prices higher.
(click to enlarge)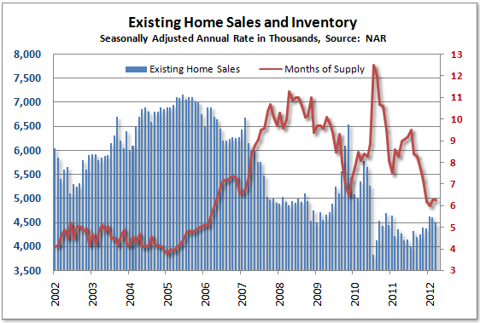 Distressed sales accounted for 29 percent of March sales (18 percent foreclosures and 11 percent short sales), down from 34 percent in February as traditional buyers – who are generally willing to pay more – reenter the market during the beginning of the spring selling season, also a contributing factor to higher prices.
Rising consumer confidence, still freakishly low mortgage rates, and relatively low inventory appear to be providing solid price support as investor bargain-hunting in the winter gives way to more traditional buyers in the spring and summer and, with the predicted wave of foreclosed properties in the wake of the robo-signing settlement either delayed or canceled, there could be even more buying interest ahead.