Anworth Mortgage (NYSE:ANH), an agency RMBS investor, popped higher last week after JMP upgraded the stock to "Strong Buy". The swift upward movement in the shares prompted some market participants to consider shorting Anworth on valuation.
Prior to the JMP upgrade, Anworth shares were trading at about 90% of September 30 book value of $6.25/share. Now the shares are trading as high as 106% of book value…and they're still cheap. Consider the valuations of competitors such as Annaly (NYSE:NLY), Capstead (NYSE:CMO), and MFA Mortgage (NYSE:MFA), which are trading anywhere from 130% to 160% of second-quarter book value, as they have yet to report third-quarter numbers. Right there, Anworth has a visibility advantage over its peers. Its third-quarter book value estimate includes all losses on sales of securities and the impairment charge for subsidiary Belvedere Trust.
Short-sellers point to the remaining credit risk of Anworth's non-agency MBS, but the Company's remaining Non-Agency MBS holdings currently consist of AAA-rated MBS with a current face amount of approximately $52 million, and there are currently no repurchase agreement borrowings related to these holdings. Anworth's remaining exposure to Belvedere is also limited in that Belvedere's entire residential loan portfolio has been securitized. Thus the only losses in the near-term relate to the valuation of residual interests, which would be a mark-to-market adjustment that does not impact Anworth's taxable income.
Another positive for Anworth is the increased rates of prepayments on its portfolio, which will cause the portfolio yield to continue to increase as lower yielding assets pay down and are replaced with higher yielding assets. Coupled with the impact of a lowered cost of funds thanks to the Federal Reserve, Anworth will almost certainly see an expansion in its net interest margin and be able to raise the dividend in 2008.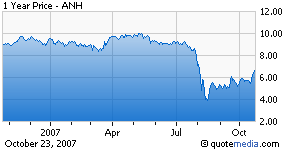 Disclosure: none