The treatment of various forms of cancer is capturing significant media and investor interest. An article featured in last week's The Economist magazine regarding cancer treatment, the well received IPO of Verastem (NASDAQ:VSTM) and the IPO registration for Stemline Theraeutics have validated the concept that new approaches to the treatment of cancer are in the offing. This media and investor attention is best perceived as an indicator that the field of cancer stem cells has both the scientific backing and the consequent momentum to capture additional funding and investor mind share in this dynamic, albeit, volatile area of the biotech industry. It has not hurt that one of the more promising companies in the space, ImmunoCellular Therapeutics (NYSEMKT:IMUC) has been trading higher due to the rapid enrollment of patients in its ongoing clinical trials for its Phase II candidate ICT-107 for glioblastoma, the most aggressive form of brain cancer. Ultimately it is all about the efficacy of trial data and positive results in the public markets are usually a proxy for underlying strength in the potential treatments.
Background - Cancer Stem Cells
The underlying concept behind the idea of cancer is best illustrated with the following example: Cancer cells are analogous to weeds growing in the grass with its roots (i.e., stem cells) having the capability of regenerating again after the mass of weeds (cancer) on the surface have been removed. While the knowledge of cancer-causing stem cells has existed for a long time, only recently has a keen enough understanding of the behavior of cancer stem cells or tumor initiating cells (and their ability to cause recurrence of tumors) come to light to the degree that cancer fighting agents using immunotherapy could become an option. As for The Economist article, "Cancer's Epicentre: New understanding of how cancers work is yielding new treatments," the main premise appears to be that epigenetics (i.e., changes in genetic expression) and cancer stem cells play a huge role in the onset of cancer. As the article alludes, they also may serve as a window to their treatment.
Investments in Biotech: Timing is the key
From an investor's standpoint it is paramount to time accumulation when the promise is abundant but well before final FDA approval is at hand. Markets are forward looking and if history is any guide, it is actually during the Phase II trial stage that the shares in underlying issues show the most rapid escalation in performance (see proprietary data below). By taking a look at the above events, we can get a clearer picture of why the industry is likely to be part of the conversation in the health sciences for a long time to come.
Phase II Separates the Winners from the Losers
Market cap expansion has often occurred during Phase II trials, not after Phase III results. Of all the value creating events, it is Phase II trial data that is the biggest catalyst for performance. Using a proprietary model, what is shown is that this is BY FAR the biggest driver (not FDA filings or earnings guidance either).
Example: The below compounds created a market cap expansion of $500M or more (in the underlying company stock) after announcement of successful Phase II data over a 3 month period; this is what created the value.
| | | |
| --- | --- | --- |
| Compound | Company | Market Cap Expansion |
| Carfilzomib | Onyx Pharm (ONXX) | $690 Million |
| INCB18424 | Incyte (INCY) | $685 Million |
| INCB7839 | Incyte | $550 Million |
| XL184 | Exelixis (EXEL) | $478 Million |
| NKTR-102 | Nektar Therap (NKTR) | $512 Million |
A New Frontier: CSC Targeting Via Multiple Modalities
Treatments using chemotherapy have decades of trial data and experience in clinical treatment to support its use. There is no debate from this quarter on the continued relevance of chemotherapy to manage tumor growth. However, one of the major issues with chemotherapy treatments has been their predisposition to kill the bulk of the tumor but leave cancer stem cells intact. In many instances, when the cancer comes back it comes back with a vengeance. While the fight against cancer has largely failed, the potential of immunotherapy in which cancer stem cells (essentially the "seeds" of malignant tumors) can be targeted by harnessing the body's own immune system, looms large in some of the best minds and institutions involved in cancer research.
Market Entrants: Verastem and Stemline Therapeutics
Investor enthusiasm for companies with promising compounds has gained traction with the well received IPO of Verastem as well as the pending IPO registration of Stemline Therapeutics, a New York-based biopharmaceutical company that is seeking $50 Million to support Phase II trials for its cancer-fighting candidates. The additional liquidity will bolster Stemline's lead compound (SL401), which will be applied to treatment in acute leukemia. Stemline also wields another cancer fighting compound in (SL701), which is currently in Phase II trials to treat glioblastoma and advanced brain cancer in both children and adults.
Verastem successfully met its liquidity targets upon its successful IPO this past January when it raised $55 Million. Since then Verastem has managed to sustain a market capitalization of over $230 Million on the back of optimism from the five firms that cover the new issue. Oppenheimer recently pegged a $16.00 price target (VSTM currently trades for just north of $11.00) citing evidence that cancer stem cell targeted therapies will have a key role in managing tumor initiation/metastasis. To put this enthusiasm in perspective it is important to keep in mind that VSTM is not even poised to begin Phase I trials until early 2013. This clearly speaks to the pedigree of VSTM's management team and the hope that its potential compounds wield hope in the treatment of breast cancer (A multi-billion dollar market in its own right).
Clearly the market potential for cancer stem cell treatments is as massive and multifaceted as the variety of cancers that require treatment. The promise of a newer technology or application with near unbounded market potential is what prompted Facebook to offer $1 billion for Instagram, a tiny San Francisco-based 12 employee photo sharing site with hardly any revenue to speak of. I suppose if the opportunity is compelling, the dollars will follow regardless of the industry or market segment. Markets have traditionally had a difficult time valuing companies in industries undergoing structural paradigm shifts and I imagine the biopharma revolution in targeted cancer therapies will be no exception. Still, I think it is wise to hedge one's bets with the underlying security having at least some traction from its compound in the clinical trial process. This is why I have been bullish on ImmunoCellular Therapeutics . Notwithstanding Verastem's promise, I won't invest on hope alone as the rigors of the clinical trial process must be given a chance to shed light on the promise of the candidate's treatment.
ImmunoCellular Therapeutics Continues to Outperform and New Catalysts on the Horizon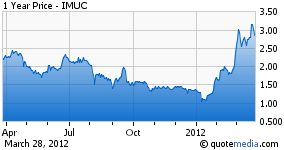 Key Movers:
September 1, 2011 - January 10, 2012: Investor Road Show and Financing
January 11, 2012 - Now: Multiple licensing agreements with major medical centers and accelerated enrollment in phase II trial.
ImmunoCellular Therapeutics has had a great first quarter of 2012, but this was mostly the result of playing catch-up after what I felt was an irrationally depressed share price. During Q1 as the market continued to coalesce around the theme of targeted stem cell therapy, ImmunoCellular Therapeutics continued to plug away at clinical trials involving its lead candidate ICT-107. With a 40% three-year survival rate in the treatment of glioblastoma (a form of brain cancer with survival rates generally calibrated in months), ICT-107 is far enough along in Phase II trials where the investment community is beginning to look further out to various what-if scenarios that could bolster shares further.
Trading at $2.76/share IMUC.OB's market cap of $107 Million has easily held its support levels in the face of downward volatility in the markets over the past week. Such support could be a proxy for underlying strength ahead of IMUC's potential move to a major exchange, which could attract institutional investors. Rumors of a pending move to the AMEX would make sense as it could serve as an important catalyst to broaden the pool of potential investors who want exposure to this niche. While I appreciate the enthusiasm surrounding issues such as VSTM, I prefer to invest in candidates that have at least some proof of principle clinical data (Phase I/II). This serves to mitigate the risk in what I perceive as a promising but speculative arena, which is likely to gain significant traction from pharmaceutical companies as well as investors.
Disclosure: I have no positions in any stocks mentioned, but may initiate a long position in IMUC over the next 72 hours.