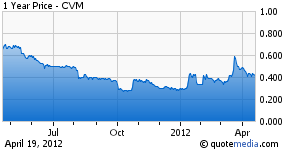 Despite the fact that shares have been quietly setting higher lows since the start of the year, when one does the math Cel-Sci (NYSEMKT:CVM) still looks undervalued.
Consider that CEL-SCI has raised around $200 million to forward Multikine research and trials. Over $70 million has been spent on the development of the company's trade secret manufacturing process and plant. When the Phase 2 trial was completed in 2004, CEL-SCI's management made the strategic decision to build the manufacturing facility so that the Multikine needed for the Phase 3 trial and subsequent to license of the product for commercial distribution and sale would be manufactured in the same facility. A dedicated manufacturing facility for Multikine was built near Baltimore, MD for a cost of about $25 million. This facility has the capacity to make 20,000 dosing patient regimens per year, but can be expanded to 60,000 if necessary when the company receives FDA approval to market Multikine. The intent of this strategy is to ensure that the final approval to sell Multikine would not be held up due to manufacturing issues, which could be raised if manufacturing subsequent to license were transferred elsewhere. Since Multikine is a complex biologic and has a very intricate and complex manufacturing process, it could be problematic to change the manufacturing process or transfer manufacturing to another facility. CEL-SCI moved forward on the Phase 3 trial only after the plant, all equipment, and the manufacturing process and analytical assays were validated.
CEL-SCI is currently conducting their Phase III open-label, randomized, controlled, multicenter clinical trial with Multikine. The FDA, Health Canada and seven other regulators have given the go-ahead for the Phase III trial. The trial is being conducted in 8 countries with a planned enrollment of 880 patients to achieve 780 evaluable patients. The trial ends when about 300 patients die. CEL-SCI has partnered with Teva Pharmaceuticals (NASDAQ:TEVA) in Israel and Orient Europharma of Taiwan. Both partners are paying for the cost of the trial and managing the trials in their respective countries. To date CEL-SCI has 36 centers actively recruiting subjects and they expect to add additional centers during to 2012 to bring the total number of centers to about 50.
I like the odds here. The primary endpoint is a 10% improvement in overall survival. Under the current standard of care about 50% of head and neck cancer patients die within 3 years following treatment, so an expectation of 4 years or more to complete the trial is not out of line.
About 6% of all new cancer cases in the world are head and neck cancer, which comes to around 650,000 new cases annually worldwide. There are 150,000 new cases in the U.S. and Europe, of which 100,000 cases are advanced primary disease. The total annual market for CEL-SCI in just the U.S. and Europe is $5 billion, at $50,000 per treatment regimen. A small 10% market penetration will be a significant revenue stream for CEL-SCI. If the clinical trials are successful, Multikine could become a global standard of care treatment, and garner a significant share of the annual market.
Actually, upon closer examination, Multikine should not be viewed solely as a head and neck cancer drug. Multikine has the potential to help treat many kinds of cancers by utilizing the patient's own immune system to fight the cancer. Multikine has the potential to be a platform technology across many forms of cancer and it would not be surprising if CEL-SCI begins multiple cancer trials after the FDA approval of Multikine, or even sooner if resources allow.
CEL-SCI currently has a valuation of around $100 million. There has been $200 million invested in the company to get them to this stage. They have about $8 million in cash and $1.1 million in a convertible note from one of the founders, and the company is burning about $1 million per month. The management team has been very good about raising money and paying off debts during 2012. That should help ensure that Multikine will make it to the Phase 3 finish line.
When compared to companies in the cancer drug development field, CEL-SCI also appears to be undervalued. Verastem, Inc. (VSTM) just completed an IPO and is trading at about a $225 million market cap and has not yet even begun human trials on their drug and Cell Therapeutics, Inc. (CTIC) with a drug in Phase 3 and one in Phase 2 is trading at about a $240 million valuation. CTIC lost $137 million in the trailing twelve months according to Yahoo Finance. Both VSTM and CTIC have over $40 million in cash and are better funded than CEL-SCI at this point. Where is the logic in that?
With its non-toxic Platform cancer drug in Phase 3, with two large global pharmaceutical partners involved in the trial, with over a $5 billion global market, with no competitive drugs in their field of the trial, CEL-SCI could be a very attractive investment here.
The closer CEL-SCI gets to the end of their clinical trial the more interest will build in this company, and the more value it will accrue. It has taken some time to get to this stage, but looking forward there is only the completion of the Phase 3 clinical trial and FDA approval left to go for Multikine. Whether CEL-SCI decides to develop an internal sales force, license Multikine to a large partner or sell the company all together, success in their Phase 3 clinical trial will make CEL-SCI a very valuable company.
Disclosure: I have no positions in any stocks mentioned, and no plans to initiate any positions within the next 72 hours.