Today I am going to step out my normal writing about dividend stocks, and write about a high PE, no dividend, possible growth stock. This stock is Zillow (NASDAQ:Z). For those who may not know, Zillow is a website that has wide variety of real estate information, including for sale information, property tax information, price the home sold for previously and much more. They also have a very controversial figure available called the Zestimate. The Zestimate is a computer calculated value of your house, based on a formula that Zillow does. It factors in the age and size of your house and property and compares it to others in the area. Areas where public information is available and there are many home sales in your area, it appears to be very accurate. With no home sales in an area and little public information, it's definitely more of a guess.
I could talk quite a bit about the information that Zillow has, or can obtain. I feel as though they are the Google of real estate. However, I do feel like they still have some work to go to better use their data. I, along with many others, prefer Zillow to get our real estate data. See the charts below of internet traffic on the sites via Alexa.com
For realtor.com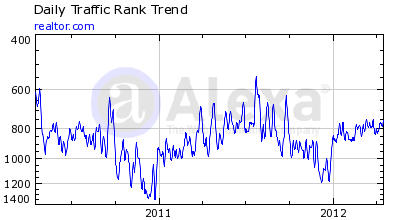 For zillow.com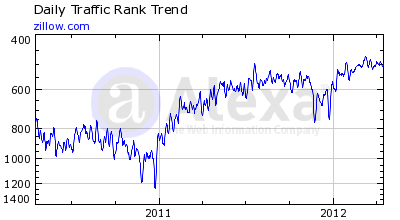 There is a large amount of information we can pull from these traffic graphs. Zillow passed Realtor.com in mid 2011 as the largest real estate website on the web. Today Zillow ranks #491 in the World for all website traffic, and #99 in the United States, compared to #744 and #164 for realtor.com. Daily pageviews for Zillow are close to 3.5 million.
Let's compare website traffic with the stock price chart here from MSN.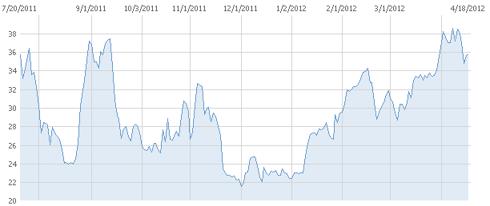 Click to enlarge
Decreased website traffic numbers in November and December may have caused the price to decrease. However, if you look at 2011 numbers, and even realtor.com numbers, there has been a decrease in views for real estate sites in the 4th quarter, probably due to the holiday season, and the fact that most families prefer not to move their kids during the school year. Zillow released the 8K for March, and their traffic is up to 32.3 million unique visitors per month, up 67% from March 2011 and well above their peak in 2011 in August of 25 million. I'm confident the dip in the winter months was a seasonal item, and not truly a decline in traffic to the site.
The first quarter conference call will be on May 2nd. The earnings estimate is current $ 0.00. However, the 4th quarter 2011 earnings were projected to be $ -0.03, and actually were $ 0.03, which was a very pleasant surprise, and gave Zillow 2 straight profitable quarters. I expect that to become 3 on May 2nd. 2012 projected EPS is $ 0.13 and 2013 EPS is expected to jump to $0.37.
At the current price of just under $36 a share, that still places forward PE at close to 100. I'm usually quite scared of a huge PE like this, but it is better than an internet giant that we all know, Amazon (NASDAQ:AMZN). They currently trade at around a 140 PE ratio.
Conclusion: Zillow still has a long way to go as a company. However they have innovative ideas and an information advantage over competitor websites. If the consumers continue to flock to Zillow, realtors will have to keep up, and money will be made via realtors paying Zillow to be listed on the site. Hopefully more creative information will continue to be added to the site, such as crime rates, standardized test scores, etc which would make it even more valuable. I placed a small position in Zillow, believing there is growth potential with this unique website, and also growth in the housing market.
Disclosure: I am long (Z)