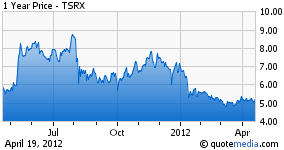 In July of 2011, Trius Therapeutics (TSRX) entered into an exclusive agreement with Bayer Pharma AG (OTCPK:BAYRY) for the commercialization and development of Trius' leading antibiotic treatment, Tedizolid Phosphate (TR-701). Since reaching this agreement, milestones have been met by Trius as Bayer continues to provide financial and commercial support.
Trius Therapeutics, headquartered in San Diego, California, is a biopharmaceutical company which develops and markets a new class of antibiotics needed to treat bacterial infections that are resistant to most drugs currently available. These infections are becoming more life threatening as they become resistant to drugs already on the market.
Trius' leading drug is Tedizolid Phosphate (TR-701), formerly Torezolid phosphate. Having recently completed a successful Phase 3 trial, Tedizolid Phosphate is a second generation oxazolidinone (a class of compounds used in pharmaceuticals as an antimicrobial) administered both intravenously and orally to treat Gram-positive bacterial infections, including methicillin-resistant Staphylococcus aureus (MRSA), which is a strain of bacteria resistant to many common antibiotics. According to the Centers for Disease Control, approximately 278,000 hospitalizations were related to MRSA in 2005, with 19,000 people dying as a result of invasive infections.
In addition to its Phase III drug Tedizolid, Trius has two preclinical programs in development. The first of which is focused on identifying new antibiotics to treat infections caused by both Gram-positive and Gram-negative bacteria.
Bayer HealthCare, a division of Bayer AG, focuses on discovering and developing innovative products dealing with animal health, consumer and medical care, and pharmaceuticals, with its reach extending around the world. As Bayer's "home market", Europe generated nearly $19 billion in sales in 2011, 39.5% of Bayer's total sales. Bayer refers to its Asia-Pacific market as the "important future market" due to the potential for enormous growth. The opportunities presented by this area have Bayer establishing a strong foothold in this region, accounting for $10.3 billion in sales for 2011, 21.5% of its global sales. North American sales represent 22.4% of Bayer's global sales in 2011, earning almost $10.8 billion for the company. Latin America, Africa, and the Middle East account for the remaining global market, earning a little over $8 billion in 2011, 16.6% of Bayer's global sales.
The products produced at Bayer range from healthcare products, for animals and humans, to hi-tech materials such as earthquake resistant wallpaper. Mostly known for aspirin, some of Bayer's other top selling drugs include Cipro (treatment of infectious diseases), Avalox (treatment of respiratory infections), Levitra (erectile dysfunction treatment), and more.
The agreement which was reached between Trius and Bayer AG back in July of 2011 gave Bayer commercialization and development rights for Tedizolid Phosphate in the countries in Bayer's Asia-Pacific market (excluding North and South Korea) and Latin America, Africa, and Middle East markets. This allowed Trius to retain its own development and commercialization rights outside of Bayer's territory, including the United States, Canada, and the European Union.
Bayer agreed to $25 million upfront for these rights, with an additional support of 25% coverage for future development costs needed for global approval in the use of Tedizolid as treatment of acute bacterial skin and skin structure infections (ABSSSI) and pneumonia.
Adding an extra incentive, Bayer made Trius eligible for up to $69 million for any significant development, commercial, or regulatory milestone in addition to earning royalties on sales from the licensed territories.
In September of 2011, Trius reached its first milestone by completing enrollment of its first of two Phase 3 clinical trials. 667 patients were enrolled in sites across North and South America, as well as Europe, to test the efficacy and safety of a six day course of Tedizolid taken orally, compared with a 10 day oral treatment of linezolid (Zyvox®). Jeffrey Stein, Ph.D., President and Chief Executive Officer of Trius stated that "Completing the enrollment of this Phase 3 trial represents another important milestone for Trius as we are the first company to conduct such a pivotal trial under the new FDA guidance for ABSSSI."
Receiving positive results in December of 2011, Tedizolid achieved all primary and secondary efficacy results when compared with the 10 day treatment using linezolid (Zyvox®), while demonstrating lower occurrences of adverse effects.
Trius announced in January 2012 that they earned a $5 million milestone payment from Bayer Healthcare for achieving its objectives in safety and efficacy in this trial.
More positive clinical results were announced less than three weeks ago. In a subgroup analysis of the Phase 3 trial, results showed that patients suffering from severe cellulitis had higher response rates using the six day treatment of Tedizolid versus 10 days of linezolid.
Trius has a market cap. of 194.89M with a 52 week range of 4.71 - 9.00 and last traded at 5.04. Bayer has a market cap. of 56.80B with a 52 week range of 49.00 - 88.00 and last traded at 68.69.
Disclosure: I have no positions in any stocks mentioned, and no plans to initiate any positions within the next 72 hours.