Over the past several weeks, Best Buy (NYSE:BBY) - America's last standing giant in big-box electronics - has come into the limelight on the company's inability to excite consumers along, with its CEO Brian Dunn being ousted. Over Dunn's tenure, the company's stock price has fallen 35% to a rock-bottom price of near $20 per share. The problem does not lie in the immediate financial problems of the company, but rather within the company's long-term systemic inability to be innovative and fight back Amazon (NASDAQ:AMZN) and other retailers that have been gaining market share. In the wake of executive inconsistency, declining operating margins, and a failing business model in the new decade, BBY only has one option for investors to profit: a buyout.
Why a Buyout is the Only Short-Term Option:
Only a few months ago, a buyout of the company would have seemed outrageous, as it is valued at close to $8 billion. The landscape, though, has changed as a result of Dunn's departure and the company's continued inability to excite consumers and drive growth against its largest competitor AMZN. The Star Tribune reports:
A takeover of Best Buy 'is on a lot of people's radar screens,' said Jeremy Brunelli, a retail analyst with Consumer Edge Research in Stamford, Conn. 'Best Buy is an obvious candidate. There's a definite buzz going on.'
The idea of a takeover would excite investors in the company as it has the potential to provide a premium over the current stock price. For these reasons, BBY is becoming a more realistic prospect for a takeover:
The company has nearly halved in value over the last year and thus the cost of a takeover has gone down to roughly $8 billion.
Due to Dunn stepping down over allegations of his relationship with a female employee, the board is being put in the limelight over allegations of them knowing of this behavior. If these rumors were to be true, the board would have less credibility and lose strength. This has the ability to make shareholders more likely to accept a takeover offer.
Anytime weakness becomes systemic within a company and the company does not illustrate its ability to confront the issues at hand, faith is lost within the board and executives. This makes new leadership more appealing and one way to achieve this is through new ownership.
In the event that credible takeover rumors begin to flow through Wall Street, short sellers would need to cover the position. With short interest at nearly 15% (as of March 30th), this would push the stock up dramatically and allow investors an opportunity to get out. The possibility of a takeover is still remote due to the difficulty it would take it pushing it through the board, but if the company continues down the path of losing market share and failing to entice consumers, the option may become more viable. In which case, the stock would jump on speculation of a premium being paid for the company.
(Click to enlarge)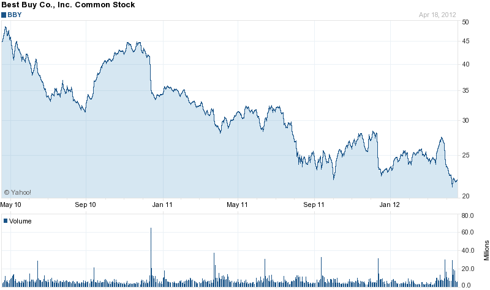 Click to enlarge
(Yahoo! Finance)
Conclusion: In the short-term BBY will be unable to excite investors or consumers due to the company's apparent inability to see a way to compete against its largest rival AMZN. The company will likely experience sales and profit declines due to store closings, no tangible response to AMZN, and the increasingly fickle consumer. If credible rumors of a BBY buyout surface, investors could profit from short sellers covering along with the potential premium the buyer would pay. BBY is in a very difficult situation and without a takeover, the stock will continue down its path decreasing market share and consequently profit and sales.
(All financial metrics referenced above are obtained from Yahoo! finance, CNBC Analytics, S&P Capital IQ & Thomas Reuters)
Disclosure: I have no positions in any stocks mentioned, and no plans to initiate any positions within the next 72 hours.