No equity asset classes - small, large and emerging - has been able to escape the recent market turmoil. While it is impossible to gauge when the heightened volatility will diminish and the market can return to a greater focus on fundamentals, I strong believe that international small caps exhibit many characteristics that may contribute to a full participation in any market rebound. Many index providers, fund houses & ETF companies have found this segment very attractive and are offering new products targeting them.
Small Caps trading at historic lows with attractive valuations relative to large cap: The credit downturn and the market correction have made the international small cap valuations both relatively and absolutely attractive now. Based on price-to-book multiple, international small caps are almost twice as cheap as U.S. large caps and 60% cheaper than U.S. small caps. Emerging markets are also 60% more expensive.
| | |
| --- | --- |
| | |
| Source: Fact Set | |
In Europe, where the sell-off has been sharpest, many small cap valuations have fallen back to ranges, within a whisker of previous cycle lows, be it the recession in 1992 or the credit crisis in 2008. The case is similar in Japan, where small caps are now trading 20% below book value, effectively discounting perpetual negative growth. This is at odds with the strong growth which many Japanese companies are delivering.
| | |
| --- | --- |
| Europe Small Caps | Japan Small Caps |
| | |
| Source : Citigroup | |
Cyclical Sectors Most Sold Off And To Lead the Pack When Rebound Happens: Small caps have a strong cyclical bias. About 85% of international small caps are cyclical as opposed to 67% for international large caps. It should also be noted that International small caps are more cyclical than emerging markets. The greater inherent cyclicality of small caps offers investors potential to capture the upside of a return to fundamentals.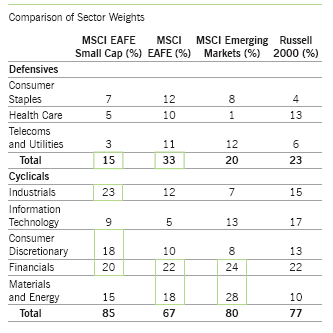 Source: Factset
International Small Caps have strong balance sheet with robust margins profile: Despite the financial market turbulence, many small cap companies have improved their operating margins driven mainly by operating leverage (improved utilization rates and cost control). Also, they have managed to de-leverage their balance sheets, making them less vulnerable to tighter lending norms.
Attractive Emerging Market Exposure: International small caps are often overlooked in favor of emerging markets and yet increasing numbers of small companies are deriving substantial revenues from emerging markets. Moreover International small caps with their broader sector breakdown, offer attractive access to the industrial and consumer segments of many emerging markets. In contrast, emerging markets and international large caps are much more exposed to financial and material/energy names. As well as a different sector profile, international small caps offer both a deeper national and broader international exposure (greater domestic coverage and access to many of the smaller developed markets, such as Norway, Hong Kong and New Zealand, where there are few listed large caps).
Attractive Diversification Benefits: When market rebounds, cyclical assets would help enhance diversified portfolios. Based on modern portfolio theory, correlation of EA FE small cap stocks to U.S. large cap stocks is 0.80, which is a lower correlation than either emerging market or EA FE large cap stocks relative to U.S. large caps.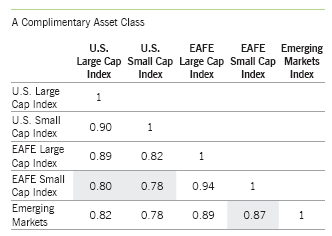 Source: MSIM
Small caps outperformed large caps over the long term on an annualized and risk adjusted basis.
Source: RBS
Relatively Sparse analyst Coverage offers scope for Significant Pricing Inefficiencies to exploit: Small caps are either largely uncovered by analysts or, if being covered by only one analyst, are thus exposed to institutional bias. Such low exposure to analysis creates significant pricing inefficiencies that, in turn, can present investors with considerable opportunities to add alpha.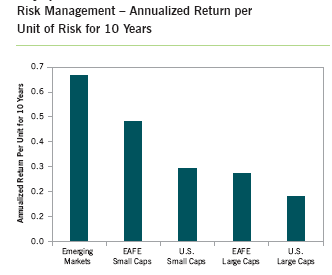 Source: MSIM
Investment Options
Given the nature of the asset class & the huge universe of companies, stock picking is of paramount importance when investing in international small caps. An active manager with a strong track record is much better positioned to understand and exploit the dynamic nature of this large universe, identify true pricing inefficiencies and mitigate portfolio risk through diversification. The best risk-adjusted returns from the international small cap universe are derived when using an experienced specialist team of active stock pickers. I would advise the following ETF's to gain exposure to this segment of the market.
Vanguard FTSE All-World ex-US Small-Cap ETF (NYSEARCA:VSS): The Vanguard FTSE All-World ex U.S. Small Cap ETF seeks to track a benchmark index of international small-cap companies in both developed and emerging markets. The fund attempts to track the performance of the FTSE Global Small Cap ex US Index. The ETF holds approximately 2,100 securities and has an expense ratio of 0.38%, making it lower-cost and more broadly diversified than the other small-cap international-focused ETFs available today.
SPDR S&P International Small Cap ETF (NYSEARCA:GWX): SPDR S&P International Small Cap ETF seeks to replicate the total return performance of the S&P Developed Ex-U.S. Under USD2 Billion Index, an equity index based upon the world (excluding the United States) small-cap composite market. The fund's investment manager is SSgA Funds Management.
SPDR S&P S&P World ex-US ETF (NYSEARCA:GWL): SPDR S&P World ex US ETF seeks to replicate total return performance of the S&P/Citigroup BMI World Ex US Index.
Russell Global ex-U.S. Small Cap Index: The Russell Global ex-U.S. Small Cap Index offers investors access to the small-cap segment of the global equity market, excluding companies assigned to the United States. The Russell Global ex-U.S. Small Cap Index is constructed to provide a comprehensive and unbiased barometer for the small-cap segment and is completely reconstituted annually to accurately reflect the changes in the market over time.
iShares MSCI EAFE Small-Cap (NYSEARCA:SCZ): iShares MSCI EAFE Small Cap Index Fund is an exchange-traded fund that correspond to the price and yield of the MSCI EAFE Small Cap Index. The index measures the performance of small cap stocks in European, Australasian, and Far Eastern markets.
DLS - International SmallCap ETF (NYSEARCA:DLS): This tracks the WisdomTree International SmallCap Dividend Index. The WisdomTree International SmallCap Dividend Index is a fundamentally weighted index that measures the performance of the small-capitalization segment of the dividend-paying market in the industrialized world outside the U.S. and Canada. The Index is comprised of the companies that compose the bottom 25% of the market capitalization of the WisdomTree DEFA Index after the 300 largest companies have been removed.
Disclosure: I have no positions in any stocks mentioned, and no plans to initiate any positions within the next 72 hours.