One of the best things about trading stocks in an IRA is that the Rookie IRA investor does not have to worry about paying taxes. Yes, when he or she take distributions from an IRA, these become part of his or her taxable income for that year, it is true, but as far as making trades, there is no need to work out the trading profit and loss and send it to the IRS, and no need to worry about short-term or long-term capital gains, or any capital gains at all.
There are a number of types of trade that investors in taxable accounts tend to avoid because of tax issues, that can work out perfectly well for IRA investors. For example, selling in-the-money covered calls. How does this work?
CALL OPTIONS
When you buy a call, it gives you the right (but not the obligation) to buy a specific stock at a specific price per share within a specific time frame. A good way to remember this is: you have the right to "call" the stock away from somebody.
If you sell a call, you have the obligation to sell the stock at a specific price per share within a specific time frame - that's only if the call buyer decides to invoke their right to buy the stock at that price.
In an IRA with options authorization, you may sell a "covered" call on a stock you already own, one call for each 100 shares. Covered call means that you already own the shares that you might have to deliver if they are called away. If you did not have them and you sold a call, that would be a "naked" call, which is not allowed in an IRA because nakedness must be covered, and it would expose you to theoretically unlimited loss, which is not allowed under IRA rules.
Let's see how this works with a sample trade. Microsoft Corporation (MSFT) develops, licenses, and supports a range of software products and services for various computing devices worldwide. [Source Yahoo Finance].
The current stock price of Microsoft is $31.14 and if the Rookie IRA Investor looks up the options chart for the LEAP (Long Term Equity AnticiPation) options, he or she sees that he or she could sell the January 2013 $30 call for $2.85.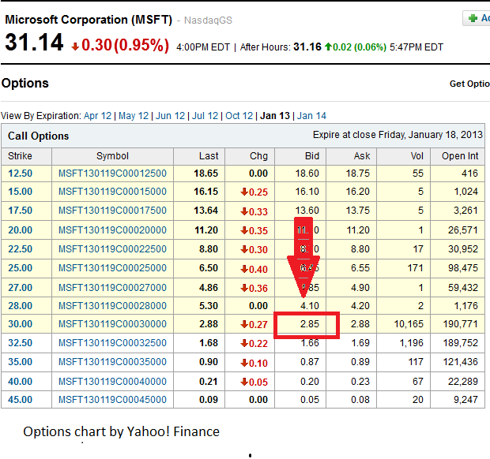 The Rookie IRA investor executes a Buy-Write (Covered Call) and buys 100 shares of MSFT discounted by the $2.85 per share, which is credited to him or her at the time of the trade.
As the stock is currently at $31.14, if the stock price is over $30 on options expiration in January, the stock will be called away for ($30 + $2.85 already received) =$32.85 for the stock PLUS the dividends, which are paid quarterly in the interim.
The Rookie IRA investor's profit will be $1.71 per share in nine months, which is roughly 5% , plus another 60 cents per share for three quarterly dividend payments of 20 cents each, so that is another 2% to add on, bringing the grand total up to 7% in just nine months.
If MSFT stock is below $30 on January options expiration, then all is not lost. Although the stock you hold will have lost value, at least you will keep the $2.85 per share, plus the 60 cents of dividends, so that is $3.45 per share, or 10% of your original investment as a consolation for your undoubted pain. So this downside protection means that the stock can fall 10% and you are still above water on the transaction.
And since the Rookie IRA investor still has his or her stock, he or she can do the same thing all over again.
Sounds too good to be true? So what is the downside to this? Well, if the stock goes to the moon, you will miss out on profits, or if the company is bought out at a premium by a competitor, then you are going to lose out big time on profits. However the probability of MSFT stock either shooting to the moon or being subject to a takeover bid is generally considered rather small.
On the other hand, as a Rookie IRA investor you might be quite happy to take either 7% in 9 months as income if your stock is called away, or 10% downside protection if the stock falls in value.
So why doesn't everyone do this? Well, one of the disadvantages for people who have taxable accounts is that if their stock is called away, a taxable event occurs and they lose part of the profit, but the Rookie IRA investor has no worries on this count, because no taxable event occurs and he can just turn right around and buy his stock back, and do the same thing all over again with no tax consequences.
This is just one of the little known advantages of being a Rookie IRA Investor.
Disclosure: I am long MSFT.