As earnings come up for ConocoPhillips, analysts are looking at the company in a more favorable light since it started its slide down the first of March. Estimates have earnings increasing by 13.7% from a year ago, and recent revisions have gone up 10 times in the last 30 days. Earnings may increase, but revenue is expected to decrease by about 3.8% year over year. Revenue has grown by double digits year-over-year for the last four quarters.
After spinning off the refining business, ConocoPhilips is a straight oil and natural gas producer. It is interested in attracting income investors with a very large dividend of 4%. This enlarged dividend is a strategy to help offset lower production and earnings than rival companies give. No doubt, the challenge for the company will be to cut capital spending to be able to continue to meet the dividend goals. Profitability through production will be at the mercy of oil prices this year.
Where is oil going this year? Even though the company has gone down in price by about 10% the last 6 weeks, it is expected to rise again when oil continues to rise, but that may not be until fall.
Short Term Oil Prices
Short term, the EIA has lowered the forecast 2012 average U.S. refiner acquisition cost of crude oil by $2 per barrel from last month's Outlook to $112 per barrel, still $10 per barrel higher than last year's average price. Oil prices dropped after the government said U.S. supplies grew more than expected last week. U.S. Crude supplies grew by 3.8 million barrels recently while analysts expected the growth to be 400,000 barrels. Motorists are not filling up as expected, possibly due to an expected increase still forthcoming for the summer. Gas is likely to rise to around $4 per gallon during the next few weeks as more refiners switch to producing summer blends of fuel.
Long Term Oil Prices
Long term, oil prices are expected to climb. Shell Oil CEO Peter Voser says oil's long-term price trend will only go in one direction, and that's up. Exxon Mobil Corp (XOM) is cutting its long-term production forecast due to higher oil prices. Exxon Mobil's Chief Executive, Rex Tillerson, said the company estimates its total oil-and-gas production in 2014 will be up 2% to 3% from 2009, instead of its previous estimate of an increase of 4% to 5% over the period. It also expects crude prices to remain high for the next few years to come.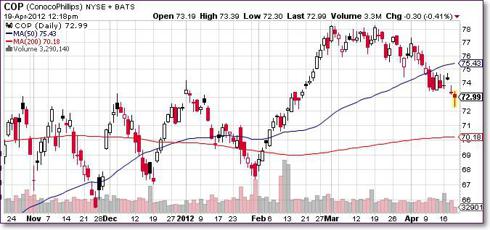 Being able to increase production, it looks like we are going to be waiting toward the end of the year when oil prices are expected to rise again. But as the stock moves down, we are in a good position to capture with a Bear Put Spread.
The Option Play
USB maintains a bearish price target for about $64, and it is presently trading at $72.98.
Buy an August '72.50' put (priced at $3.95)
Sell an August '70.00' put (priced at $2.80)
Net Debit to Start: $1.15
Maximum Profit: $1.35
Reasoning behind the Trade
Stock is in a bearish trend with no immediate end in sight.
The trade is well within the bearish price target.
Short term oil prices are not expected to rise.
There is a surplus of oil in the U.S. at present with less consumer usage.
Disclosure: I have no positions in any stocks mentioned, and no plans to initiate any positions within the next 72 hours.