A search to find the highest returning protected covered call or collar, using PowerOptions search tools for profitable companies with a stock price in an uptrend and near the lower Bollinger band, produced the consulting outsourcing company Cognizant Technology Solutions (NASDAQ:CTSH), as shown below:
Click to enlarge images.

Selecting to search for companies with a stock price near the lower Bollinger band produces stocks of companies that have recently had a pullback in price and may potentially be set up for a leg up in price. Additionally, positions were searched for with a maximum potential loss of 8%, as an 8% loss or less can typically be recovered fairly quickly using income generating investment strategies.
Following close behind Cognizant Technologies in the table above were the graphics chip company NVIDIA (NASDAQ:NVDA), the bakery-cafe company Panera Bread (NASDAQ:PNRA), the entertainment company Lions Gate Entertainment (LGF), and speech recognition software company Nuance Communications (NASDAQ:NUAN).
A protected covered call may be entered by selling a call option against a purchased or existing stock and using some of the proceeds from selling the call option to purchase a protective put option. The Cognizant protected covered call has a potential return of 2.7% (32.9% annualized) and a maximum potential loss of 7.9%, even if the stock price drops all the way to zero.
Profitable companies were found by searching for a price-to-earnings ratio (P/E) of greater than zero. Stock prices in an uptrend were found by selecting to search for a 100-day moving average greater than the 200-day moving average. Highest potential return positions were found by selecting to sort based upon the highest potential return.
Cognizant Technology Solutions provides information technology and business consulting primarily in North America and Europe, but also provides consulting outside of North America and Europe as well. The company serves a variety of industries including banking/financial, communications, consumer goods, energy/utilities, healthcare, information, insurance, life sciences, manufacturing, retail, technology, transportation/logistics and travel/hospitality.
In Cognizant's Q4 2011 earnings call, the company indicated North America performed well but Europe was tepid, as the macro environment in Europe was volatile and is expected to be volatile for the next several months and possibly throughout 2012. The company's revenue grew nearly 4% on a sequential basis and 27% year over year with respect to Q4 2010. Quarterly revenue was $1.66 billion and full-year revenue was $6.12 billion, which represented a 33% growth over 2010. The company added 317 new clients and 33,000 new employees in 2011.
The company sees a lot of potential in Europe, as the shrinking populations in some European companies is creating a talent gap that is even more intense than in the U.S. Some European financial institutions are relocating technology and operations activities to regions such as Asia-Pacific in order to address talent gap issues. The movement of operations to Asia-Pacific is expected to fuel the company's growth in those regions. The company is projecting growth in revenue of 23% for 2012. On a negative note, the company's European business was down 5.6% sequentially, and the company expects information technology and business operations to remain flat in 2012.
Competitors to Cognizant include Infosys (NASDAQ:INFY), Wipro (NYSE:WIT) and Tata Consultancy Services.
Cognizant's stock price has recently been approaching its all-time high in the $83 range, but has pulled back to the $73 range as shown below: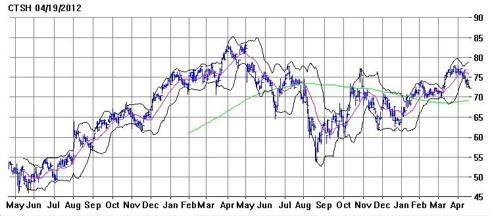 A possible reason for the high potential return for the protected covered call shown above is Cognizant's upcoming earnings release on May 7, 2012, as option volatility for a company tends to increase near a forthcoming earnings release. A current investor seeking to protect a long position in Cognizant in case of bad news concerning the company, or a new investor seeking to take advantage of the high potential return, could enter the protected covered call shown above by selling a 2012 May 72.5 call option at $2.90 and purchasing a 2012 May 65 put option for $0.80. A profit/loss graph for one contract of the protected covered call position is shown below: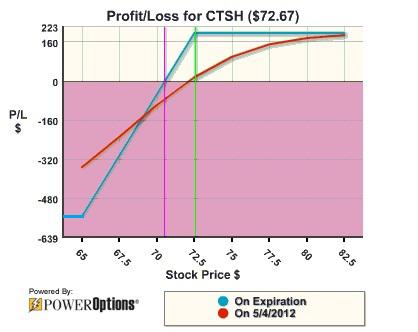 For a stock price less than the $65 strike price of the put option, the value of the protected covered call remains unchanged (at expiration). If the price of the stock increases to around the $80 range, the position can most likely be rolled in order to realize additional potential return.
Disclosure: I have no positions in any stocks mentioned, and no plans to initiate any positions within the next 72 hours.