April has rained on the market's parade thus far (the S&P is down almost -3.00% through 4/19/12), which sent us looking for dividend paying stocks that are bucking the new downward trend.
We found 2 contenders, Caterpillar (CAT), and Home Depot (HD), that have held their own in this month's market pullback, and have also done well in recent rallies: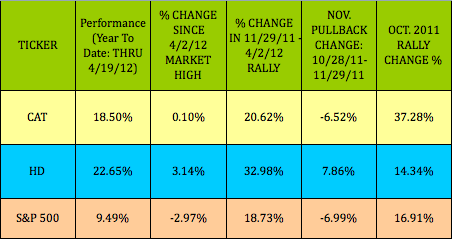 HD bested CAT in the Nov. 2011 pullback, and has also had stronger share performance year to date and this month.
Valuations & Earnings Growth: Both firms have had strong earnings growth in their most recent quarter and fiscal year. However, even though it's up over 18% this year, CAT still looks way more undervalued on a PEG basis than HD.
We'll find out if CAT's current EPS projections hold, when it reports earnings, on its upcoming April 25th morning conference call next week. (Judging by how far off analysts have been in their CAT estimates in recent quarters, it should be an interesting report.)
(click to enlarge)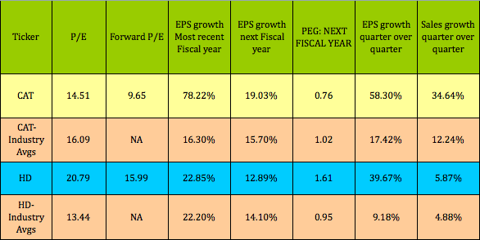 Dividends: While these aren't high dividend stocks, both firms have a 5-year dividend growth rate that's above their industry averages.- CAT's is 9.62%, and HD's is 9.03%. CAT has a Dividend Payout Ratio that's more conservative than its industry averages, while HD's is much higher than its industry's average of 26.4%:
(click to enlarge)

Covered Calls: Using a combination of selling covered call options on dividend stocks is a simple way to create much more immediate income than many stocks' dividends offer during a short period of time, such as 1 - 3 quarters, for example.
The increase in income is particularly high in a stock like CAT, which has high options yields. The tradeoff is that you may forgo potential future price gains, in return for being paid a call option premium now.
In the trade below, CAT's August $110.00 call option pays well over 12 times its $.46 quarterly dividend.
(click to enlarge)

If CAT is above $110.00 at or near expiration in August, your shares will be sold/assigned for $110.00, no matter how much higher CAT rises. You'll receive an additional $2.64/share in price gain, for an additional assigned yield of 7.54% annualized, and the total potential assigned yield is 25.86%.
How would this compare to just buying CAT outright at $107.36? Since you received a call premium of $5.95, at a strike price of $110.00, your maximum price point potential is $115.95. If CAT doesn't go as high as $115.95 during this 4-month term, you'd be ahead by selling this covered call.
Each option contract corresponds to 100 shares of the underlying stock. The 3 income streams in this covered call trade are:
1. Call premium of $5.95/share, (paid within 3 days of the trade): $595.00
2. Quarterly dividend of $.46/share, (paid in August, ex-dividend date in July): $46.00
3. Potential assigned price gain of $2.64/share, if CAT is above $110.00 at or near expiration: $264.00
(You can find more details for over 30 other high options yields trades in our Covered Calls Table.)
Technical Data: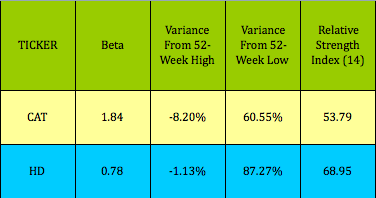 As the table above illustrates, both of these stocks are fairly close to their 52-week highs, which leads us to another option selling strategy - selling puts.
Cash Secured Puts: By selling cash secured puts below a stock's current price, you'll achieve a lower break-even price, and also get paid within 3 days of making the put sale. However, you won't qualify for any dividends, but, as you can see, the put options listed below pay out over 6 to 14 times what these quarterly dividends pay.
For each put option that you sell, your broker will secure enough cash in your account to purchase 100 shares of the underlying stock, at whatever the put option's strike price is, hence the name "cash secured puts". In the CAT put option trade below, the broker would hold $10,500.00, (100 times the $105.00 strike price).
You can find more details on these and over 30 other high yield Cash Secured Puts trades in our Cash Secured Puts Table.)
(click to enlarge)

Financials: Both firms' metrics outshine their industry averages, except for CAT's higher debt load. However, CAT has an interest coverage ratio of 6.4.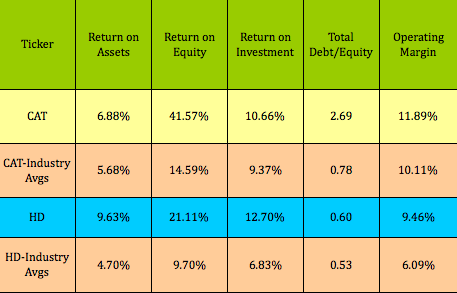 This article is written for informational purposes only and isn't intended as investment advice.