Thursday morning, Alvarion (NASDAQ:ALVR) announced the hiring of Hezi Lapid who replaces Eran Gorev as its CEO. For ALVR shareholders, Lapid's background paints an interesting picture of what's in store for Alvarion. Specifically, Pipeline Data believes that this move sets Alvarion up to be acquired. Here's why:
Hezi Lapid was most recently the CEO of Axerra. In October 2010, Axerra was acquired by DragonWave (NASDAQ:DRWI). Prior to that, Lapid was the CEO of Innowave. Interestingly enough, that company was purchased in February 2003 by Alvarion. Thus, we establish Lapid's propensity for leading companies to acquisiton. just as important, a deep dive shows that buyers have been quite pleased with what Lapid has sold them.
In the case of Innowave, our research found that many Alvarion insiders credited Lapid and Innowave with ALVR's success in 2003. The impact on ALVR's stock was spectacular. During Lapid's only year at ALVR, its stock rose by 800%, culminating in a 2004 high of $17 per share. Since his departure, the shares have steadily fallen.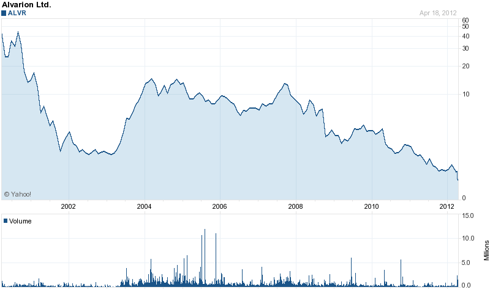 Lapid's sale of Axerra to DragonWave appears to be off to a similarly positive start. On the first earnings call after its acquisition, the company stated:
(Axerra's) product portfolio will strengthen DragonWave's solution for existing 2G and 3G networks, and their evolution to 4G packet architectures. As you can see, Axerra is already contributing.
In the following quarter, DRWI's CFO said:
Before we bought Axerra, they were doing $2 million to $2.5 million a quarter. In the two quarters that they've been with DragonWave, they've been in the $4 million per quarter range.
These successes provide potential acquirers with plenty of comfort in the quality of assets they obtain from under Lapid's leadership. So, what does this mean for ALVR's future under Lapid?
A deeper look into Axerra provides insight into why DRWI might consider buying ALVR next. The following slide from an Axerra presentation shows that its technology gives DRWI with a greater vested interest in WiMAX (ALVR's primary technology). In fact, Axerra allows service providers to convert any packet access network (Carrier Ethernet, broadband wireless including WiMAX, cable HFC, xDSL, xPON, etc.) into a full-service alternative to TDM access. We believe this capability could make ALVR / DRWI combination very synergistic.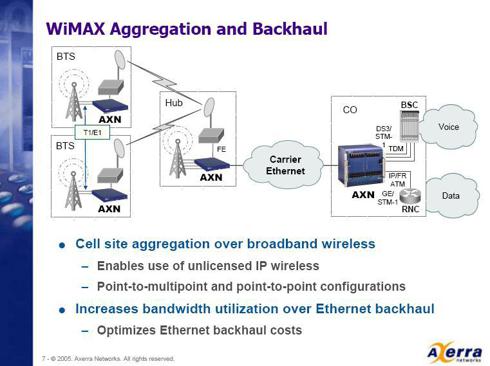 On the buyer side of the equation, DragonWave's website states that its CEO, Peter Allen has
extensive experience in mergers and acquisitions and has been involved in numerous multi-billion dollar transactions
Indeed, the company has acquired a company in each of the last two years. Looking at ALVR's cost structure, it's easy to see how an acquirer could take advantage of operating synergies to make Alvarion a very accretive deal.
So, will DRWI's 2012 target be ALVR? Time will tell. In the meantime, investors will be heartened to discover that ALVR's board believes that Lapid's primary strength is business execution (no doubt, a reputation he first earned during his earlier stint with Alvarion). Indeed, a company contact informed us that ALVR's board is "intent on execution and returning the company to profitability" and referred to Hezi Lapid as "Mr. Execution".
In "3 Stocks To Triple On The Mobile Data Offloading Boom", we discussed ALVR's current valuation and opportunity. The company has certainly suffered from poor execution, but if you've done your homework, you can see that the company possesses a substantial amount of unlocked shareholder value. It has a large customer base, almost $200 million in revenue, continues to sign multi-million dollar deals, and files new patent applications at a near-monthly pace (and, more importantly, have been granted new patents at an equally torrid rate).
Yet, due to its many miscues, investors have left the company for dead. But this is how bottom fishing works. Through careful research, investors can assess the unlocked value of companies that are priced for death. With one right move, the company can find a way to unlock its true value. When that happens, investors can make several times their money.
To maximize profits, you can't invest after the fact. By that time, everyone sees how much unlocked value the company has and the shares are already significantly higher. You have to have vision into what can be done with the company's various assets under certain circumstances.
In the case of ALVR, the company has just handed the reigns to an executive with a track record of execution, value creation, and acquisition, potentially signaling a turning point in the company's fortunes...and that of its investors.
Disclosure: I am long (ALVR).