Apple Inc. (NASDAQ:AAPL) has been improving performance (computational performance and battery life in the face of feature improvements) while making its desktop and mobile development environments attractive to top-notch third parties. Its gross margins have remained outstanding, and its unit volume has been increasing. Apple has a trailing P/E just recovering from under 15 and headed toward 20. Even as Apple's price has soared, its trailing P/E has incongruously slumped: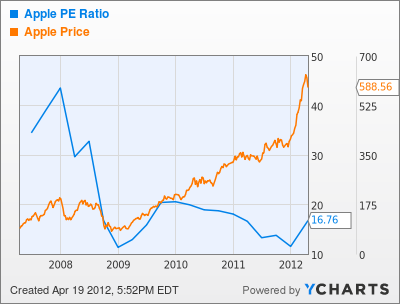 It's not like Apple's performance is slowing. Data suggests unit sales of iOS devices - Apple's largest business - will grow 100% year-on-year in 2012. It's hard to find a firm comparable to Apple - a top-5 PC vendor in the U.S. and in Europe, a leading smartphone manufacturer, and the owner of the softeware platforms for both product lines. Apple's sales volumes are so large that it is the single largest buyer of Flash RAM on the planet; iPad overcame weak tablet sales to grow global flash RAM consumption 8%, with Apple projected to buy a quarter of the world's NAND storage in 2012. Who else can get volume pricing like that?
Yet the unsung heroes in Apple's enormous profits are the many details Apple's workforce has carefully tended to produce products people don't just like, but love. Who pays attention to the power architecture of an electric gadget? There's a reason Apple products top quality lists. What people seem to overlook is that Apple's outstanding feature set helps it to top bargain lists, too (the link touts a MacBook Air among reviewers' "best laptop deals"). Just because it's possible to buy a notebook computer for $500 doesn't mean it's for everyone - and for the discriminating buyers, Apple seems to capture outsized share of the market. By some estimates, nearly all of it. Article after article reports Android vendors' competition with Apple for the smartphone market, but in the competition for the profit in the smartphone market the competition is pretty thin. Apple's profit share in the PC market is ample illustration that dominant profit share need not require an especially impressive-looking share of unit sales. The fact that the market is being threatened with Microsoft-subsidized (NASDAQ:MSFT) phones from Nokia (NYSE:NOK), and that zillions of units of Android are being consumed, does nothing to counter that Apple has not just the most valuable brand, but the most valuable platform on the planet.
While its certain that unit share is in contention in every market in which Apple participates, Apple's profit share is simply crushing everyone else in the markets that are material to its bottom line. Shareholders don't benefit from sales, unit sales share, or marketing surveys. Shareholders benefit from profit. And unlike most of the competition, Apple has it. Gobs of it.
Standards Aid Apple's Competitiveness
Apple's profits don't come from trickery that prevents competition: there are PC vendors and smartphone vendors and operating system vendors to be had in quantity. Apple's outsized profits result from products for which people will pay Apple a lot more than Apple spends per unit. There's little evidence that trend is in any near-term jeopardy in PCs or in smartphones. Unlike commodity vendors that pay intellectual property owners a fee to sell hardware that enables customers to access someone else's software platform, Apple owns the platform. Unlike Microsoft - which sells its operating systems and separately sells the software tools for building software to run on its operating system - Apple allows anyone who wants to develop for Apple desktops or mobile devices to do so for free. In fact, giving away software to make its platforms more valuable goes much further: since Apple's WebKit HTML rendering engine was released as an open-source project in an era in which virtually the whole world used a Microsoft browser, genuine standards rather than proprietary protocols has become the order of the day for the world's web traffic. A look at the share of WebKit platforms running Safari, Android, Symbian, BlackBerry, it's clear that the fast-growing mobile segment of the world's web clients is now overwhelmingly running WebKit.
Why does this benefit Apple? Back in the bad old days, Apple's software platform subsisted at the sufferance of a third-party developer - Microsoft - whose browser and office productivity software could make or break a platform's viability. (OS/2, anyone? BeOS?) Now that access to web sites no longer depends on undocumented features of a Microsoft browser, Apple's customers no longer fear that their web access will be incomplete or somehow stifled by differences in release schedules or version features that are beyond Apple's control. Google (NASDAQ:GOOG) and Apple share the same incentive in this area: a standard for web clients means that users are free to access web content from any platform. Widely-adopted standards means that Google can display ads to any user on any platform, and it means that Apple's customers can enjoy access to any site that isn't broken by dependence on some proprietary product that has no business on the modern web. (Broken web services exist by virtue of development resources sunk into tools built by developers using Microsoft's Microsoft-targeting development tools. On the public-facing web, crippled sites would make a modern firm a laughingstock. However, internally-directed web development investment can be hard for companies to replace because the only people who suffer from them are employees. The worst offenders the author has lately seen have been accessible on Fortune 500 intranets. This kind of development is part of how companies' legacy software keeps them stuck with Microsoft desktops and servers.)
If Apple's mobile products process web pages the same way as Android products, developers will have little choice but to support Apple's mobile products unless they wish to risk the Android market. Developing for a Microsoft-only mobile platform is laughable at present, as the company has less than 2% share of the mobile market and has been fighting to make its browser standards-compliant in order to keep it relevant. Microsoft's browser may still lag others in key HTML5 feature implementation, but you can check your browser out here. Web standards make competition easier by lowering barriers to switching platforms, which is a plus for vendors like Apple that seek to sell to a differentiated market rather than to a mass market. We may think the iPod is normal for Apple, but at heart it makes Macs and high-end smartphones: high-margin products. Just because Apple has exceeded Steve Jobs' stated goal of achieving 1% of the global cell phone market doesn't mean Apple is not trying to sell a high-margin differentiated product.
The fact that the world is moving toward increasing standards is a guarantee that Apple's differentiated product strategy will not leave it alone on an island of incompatibility. Apple and its customers are safe from the fear others might take "share" of low-margin units.
Quality Matters
Apple's products succeed because they are loved. They are loved because they are carefully crafted to solve users' problems in a way that is easy enough that non-experts can enjoy the products' main features. Apple doesn't need to exclude anyone from the market to succeed, it need only maintain the user-friendliness that gives is such high satisfaction while continuing to advance its hardware. The fact that Apple has become a Goliath in OEM purchasing volume and in cash-on-hand gives Apple some interesting opportunities, but doesn't commit it to pursuing a mass-market commodity business. Apple is about profit share, not unit sales share.
And Apple's profit share isn't at risk.
Disclosure: I am long AAPL.