Coach (NYSE:COH) reports 3Q12 results on April 24th. The Street expects:
Revenue: $1.1 billion
EPS: $0.75 per share
Q4 revenue guide: $1.19 billion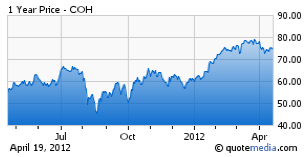 In Q2, Coach posted solid results, driven by sales in North America, increasing contribution from menswear and China.
Heading into earnings investors can expect:
Continued focus on growing women's business in North America
Expansion of men's category
Strong China numbers, with other Asia Ex. Japan countries to emerge as new drivers
In North America, Coach will continue take market share at the expense of less favorable brands, such as Juicy and Dooney & Bourke, in the handbag category.
Meanwhile, the men's category will continue to outperform and become bigger revenue contributor. According to management, the men's category is on track to double its revenue to $400 million this year and can account for 15% of the company's sales, which translates to $1 billion plus in annual revenue. Men's was an overlooked category in Coach's product portfolio until it gained solid traction in China, where men's accounts for 40% of premium accessory purchases. Judging by the initial success men's is having in North America, Coach is likely to be aggressive in pushing men's store concept across North America.
Asia will continue to be a key driver. The premium handbag and accessories market in Asia is approximately $12 billion compared to $10 billion in the US. Excluding Japan, sales in the region have been growing by double digits, driven by China, Korea and Southeast Asia. Management reaffirmed its China guidance of $300 million in sales for FY12. Despite concerns of a hard landing, Coach's sales in China continue to exhibit double-digit comps.
Looking ahead, the company currently operates in 28 cities and has room to expand to additional 120 cities with more than 1 million in population. Currently, Chinese consumers account for 5% of Coach's global sales, compared to 25% for Coach's European peers, indicating significantly more upside as the company makes further penetration into the country.
While Coach will continue to place a firm emphasis on China by opening 30+ new stores annually, other areas such as Singapore, Taiwan and Malaysia are emerging as new growth drivers as the company takes ownership of their current wholesale partners. I note that Singapore and Taiwan already have 30 stores combined.
Disclosure: I have no positions in any stocks mentioned, and no plans to initiate any positions within the next 72 hours.