When it comes to the consumer there is always a hot brand that is defining/creating some new sub-segment of an industry where the old rules seemingly don't apply. These aspirational brands quickly become market darlings as they separate themselves from the rest of the pack. North America has a bunch of these companies right now.
You have Lululemon (NASDAQ:LULU) in the apparel space selling yoga wear to the masses; in the grocery space you have Whole Foods (NASDAQ:WFM) doing the organic thing, and in the restaurant industry you have Chipotle Mexican Grill (NYSE:CMG) the fast casual king selling food with integrity. All these companies are growing fast, and as a result trading at huge premiums to industry peers.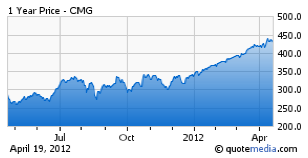 In Chipotle's case, though, the metrics are so shocking that you start to wonder whether the company is simply in the wrong industry. At 65x trailing earnings and 31x Ev/Ebitda Chipotle trades more like a luxury goods company than a restaurant. To put this in perspective, Hermes' (OTCPK:LVMHF) current Ev/Ebitda multiple is also roughly 31x. Here is the world's ultimate luxury good retailer - literally people buy from them simply because they know this is the most expensive brand around, with operating margins over 30% trading at the same multiple as a burrito chain with 15% margins. And remember, Hermes' valuation is boosted by an incredibly thin stock float, and the fact that LVMH has been building a major position.
Now try to compare Chipotle's Ev/Ebitda multiple to those of companies in its own industry. Panera (NASDAQ:PNRA), which is probably the best available listed comparison, trades at 14.8x, Mcdonald's (NYSE:MCD) is at 11x, Buffalo Wild Wings (NASDAQ:BWLD) is at 11.8x, and Yum Brands (NYSE:YUM) is at 13.6x. Even Starbucks (NASDAQ:SBUX), which is effectively selling an addictive drug at premium prices and has been on a tear of late, is trading at 19x EBITDA.
Simply put, these numbers are impossible to justify. Chipotle grew net income 20% last year on the back of 23% revenue growth. Lululemon grew their bottom line by 90% and is still trading at roughly the same EBITDA multiple. Crazy, right? Even if same store sales keep growing at a 10%+ clip (they won't) and they keep growing the restaurant base 12-13% (they can't) a year for the next five years, this multiple is too rich.
Sure, Chipotle can grow into this valuation, but right now you are already grossly overpaying for a very good coming five years. Not exactly a smart investment even if they have a cool new social media marketing video. Can it go higher? Yes, of course it can, and I'm sure with this chart another 10-15% upside risk should be assumed.
But the better question here is whether the downside risk is now large enough to warrant a short position. And in my humble opinion it is. Great company, expensive stock. Better off buying their product here and waiting for a 30-40% decline before revisiting the long-term investment case.
Disclosure: I have no positions in any stocks mentioned, and no plans to initiate any positions within the next 72 hours.