I am a long term fan of Sirius XM Satellite Radio (NASDAQ:SIRI). In fact, I have long had a website, SiriusBuzz, dedicated to following news relating to the company. Many years ago, with satellite radio in its infancy, I was fortunate enough to have bought shares in both Sirius as well as XM. I saw both equities rise substantially and benefited from that rise.
Throughout the years I have invested in many other equities as well. Despite having a website dedicated to satellite radio, I have tried to keep my emotions in check and seek out investment opportunities that will give me maximum returns. With Sirius XM being such a high profile stock, I come across many investors that use the satellite radio provider as the major position in their portfolio with little diversification. Many of those contacting me believe that Sirius XM alone is their path to riches. I love the company, but will never put all my eggs in one basket. Perhaps by looking at some other companies in my portfolio, investors in SIRI can begin to understand why diversification can not only be your friend, but can ease your stresses as well.
Today I want to take a moment to look at three equities that are in my portfolio and analyze the performance over the past year. I chose three equities that have produced about the same 20% stock gains over the past year. Those companies are Sirius XM , Cal-Maine Food (NASDAQ:CALM), and Landstar Systems, Inc. (NASDAQ:LSTR). Three companies in three very different sectors, all delivering roughly the same performance at first blush. Digging deeper though can provide some understanding in why some diversification is worthwhile and why volatility, which can cause sleepless nights, may not always be your friend.
Sirius XM
The satellite radio provider is full of promise. With the company now producing profits, limited debt exposure this year, minimal capex expenditures for 2012, and billions in NOL's to offset profits, investors have reason to be excited. The problem is that the stock can be quite volatile and there are some clouds that overhang the company. Liberty Media (NASDAQ:LMCA) holds a 40% stake in the company and many feel that the Media conglomerate will soon make a move to wrest control away. That news will likely be a positive, but for some reason retail investors seem to swallow that pill with reluctance. Being invested in Sirius XM means being able to stomach volatility (see chart below).
(Click to enlarge)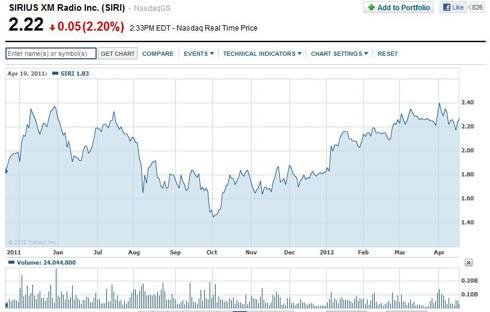 As you can see, investors in Sirius XM have had to endure significant drops several times during the past year. Yes, the company has had a 20% gain, but the process may leave some investors with ulcers.
Cal-Maine Foods
Cal-Maine Foods is in the egg business. If you buy or eat eggs, there is a better than decent chance that you have consumed their product. Investing in Cal-Maine is sort of a cross between being invested in a stock and being invested in a commodity. The company is sensitive to many things like grain prices, fuel costs and other things, but it is a food staple that always has customers.
Unlike Sirius XM, Cal-Maine Foods pays dividends. In addition to that, the stock is far less volatile. During the past year CALM has paid dividends of $0.47, $0.102, $0.044, and $0.325. These dividends have come on top of the 20% gain that the company posted over the last 12 months. In short, an investment in CALM has outperformed an investment in SIRI and has been less volatile (see chart below).
(Cick to enlarge)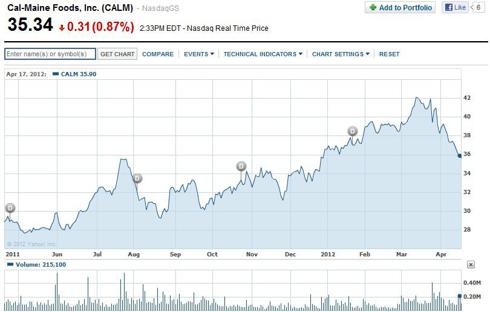 While CALM is down from a peak at $42, it remains in my portfolio and will for some time to come. Like Sirius XM, it is an equity that I have been invested in for years.
Landstar Systems
Landstar Systems is a trucking company that is another equity I have been invested in for quite some time. I like this company because it seems to be a consistent and steady performer and in addition to that, pays dividends. Over the past year, Landstar, like Sirius XM, has produced about a 20% gain over the past year. One advantage investors have in a company like this is that it is sector-driven (trucking). Recently, Landstar competitor J. B. Hunt (NASDAQ:JBHT) announced a sharp rise in shipper volume. This does not mean that Landstar will do the same when it announces earnings on April 26th, but in this sector, if one company increases shipper volume, others do as well. The benefit here, vs. Sirius XM, is that you can garner hints from other companies within the same sector that can offer clues as to what will happen with the company you are invested in.
In addition to the 20% gain over the past year, Landstar also pays dividends. On four occasions over the past year, Landstar has issued dividends of $0.05, $0.055, $0.055, and $0.055. Add this to the 20% equity gain and you have something compelling. In addition, looking at the chart for Landstar you can see far less volatility.
(Click to enlarge)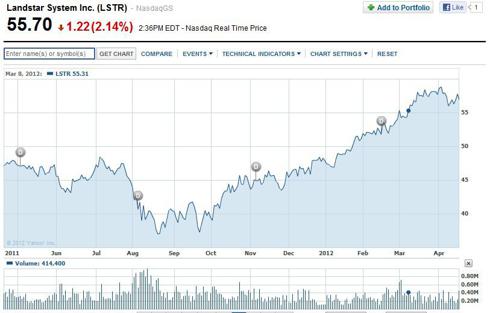 The lesson here for Sirius XM investors is not that you should invest in these other equities, but rather that you may want to consider diversification. Other equities can and do provide opportunity that rivals what Sirius XM can do. Believe it or not, there are even equities that perform better! If you are diversified already that is great. If not, broaden your horizons.
Disclosure: I am long SIRI, LSTR, CALM.
Additional disclosure: I have no position in LMCA