American Public Media's Marketplace has a partnership with Gallup called "Attitude Check." On April 19, Gallup appeared on Marketplace to announce the latest results of its poll of the saving and investing habits of Americans. They found that retail stock ownership is at its lowest level since 1998.
Gallup asked the following question of adults aged 18 and over: "Do you, or jointly with a spouse, have any money in the market through an individual stock or a mutual fund or a 401(k) or an IRA?" Today, 53% of Americans answered yes to this question. In 2002, a peak 67% answered yes. In 1998, it was as low as 60%. (It was not clear whether the polling started in 1998). This answer is significant because 401Ks and IRAs have been increasingly touted as vehicles for saving money for retirement.
This poll corroborates all sorts of data that has tracked declining trading and investing in stocks by retail investors. For example, in "A Contrarian's Dream" (Feb. 2, 2012), Doug Kass provides the following statistics demonstrating the strong preference for bonds over stocks by retail investors:
"According to the Investment Company Institute, in 2011 retail investors liquidated $130 billion of domestic equity mutual funds, accumulated $1.7 billion of international stock mutual funds, purchased $120 billion of bond funds and bought $8.4 billion of high-yield funds. Since the beginning of 2007 (through 2011), retail investors liquidated over $450 billion of domestic equity funds, accumulated $130 billion of international stock mutual funds and purchased $930 billion of bond funds. The near-$1.4-trillion swing out of domestic equity mutual funds and into bond mutual funds is unprecedented.

Since 2001, as measured by stock holdings as a percentage of total financial assets, individual investors' share of stocks has declined from 25% to only 18%. In the same time frame, stock mutual funds have dipped from 79% of total mutual fund assets (excluding money market funds) to only 65% at year-end 2011."
Bolstering the trend was a surge in bond fund buying 2009. According to Marilyn Cohen from Envision Capital, more money went into bonds in 2009 than in the previous 10 years.
Of course, no one is surprised anymore by these statistics given the roller coaster ride in the stock market since 2000 that has resulted in a stock market going nowhere over this time. For passive investors who dutifully dollar-cost average in the S&P 500 (NYSEARCA:SPY), the opportunities to buy at the market lows have created positive returns. If an investor started dollar-cost averaging with the same amount at the end of each month starting January, 2000, s/he ended March, 2012 with an overall gain of 17%, roughly annualized to 1.4%. These returns have come with high volatility and high risk. The bulk of the net gains have come in the recovery from the 2008-2009 crash. In other words, the past 12 years have been a nerve-racking ride that has not delivered anything close to the long-run high single-digits (not adjusted for inflation) assumed by retirement calculators. So, if stocks are actually going to fund retirements in the next generation (like mine!), the stock market will need to go into hyperdrive again within the next few years.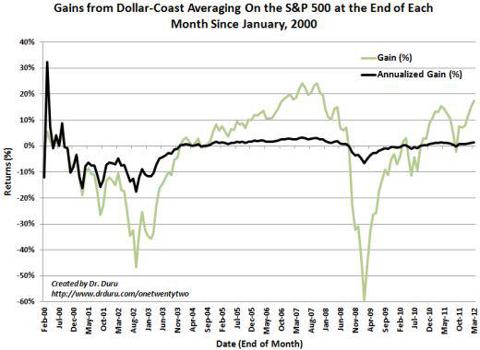 Gains from Dollar-Coast Averaging On the S&P 500 at the End of Each Month Since January, 2000
Source for S&P 500 month-end prices: FreeStockCharts.com
Be careful out there!
Disclosure: I am long SDS.
Additional disclosure: I am also long SSO shares