P&C insurer Chubb (NYSE:CB), after reporting an outstanding 1st quarter, closed Thursday at $72.19, just off a 52 week high. The stock is fairly valued by my methods. Management may find it difficult to create value by doing buybacks at discounted prices going forward. This article starts with a discussion of valuation, and moves on to consideration of expected long-term return holding Chubb at today's prices.
I wrote the company up favorably in February 2010 when it traded in the $50 area. At the time, I had a target of $63, with $70 as a distinct possibility. Both have since been met. Dividend Monk covered the operations capably in an article dated February 2012.
A Digression on Guidance
An accurate estimate of forward earnings is critical to determining valuation. If management provides guidance, the analyst should rely on it, unless he has cogent reasons to put forth his own estimates. In Chubb's case, guidance for many years has been included in the press release with 4th quarter earnings, and can easily be located by checking the 8-K on the SEC web site. Using that information, I compiled the following table: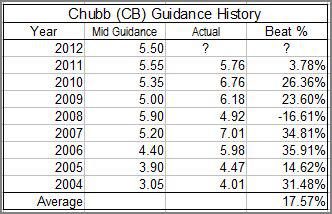 CEO John Finnegan is demonstrably conservative when offering guidance. After looking at the table, I increase guidance by 20% in order to develop my estimate.
Valuation
Estimating 2012 earnings at $6.60, and using actual earnings for 2008-2011, projected 5 year average EPS works out to $6.04. Applying a long term average multiple of 11.25 on that metric, fair value is $68, which I would feather up to $70 because multiples in 2008 and 2009 were extremely low.
Tangible book value was $55.45 as of 12/31/2011. Increasing that by 11.2%, the average for the past 5 years, 2012 is estimated to come in at $61.27. Applying a historical average of 1.21 on that metric, projected fair value is $73.84, which I would feather down to $70 because the company has a lot of unrealized capital gains included in book value.
It should be borne in mind that fair value as estimated here gives due consideration to what the market has been willing to pay in the past.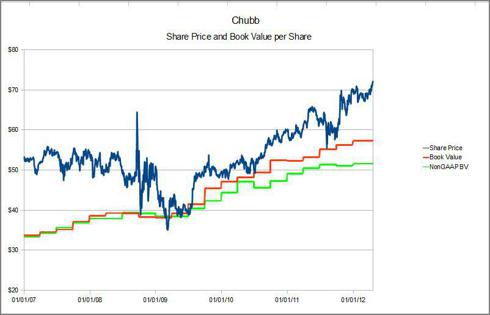 Click to enlarge
The above chart demonstrates that Chubb is now trading toward the high end of its range when considered on P/B.
Value Creation
Chubb is one of those cases where the investor can track a long history of value creation by looking at tangible book value per share. TBV has increased by an average 11.2% for the past 5 years and 13.2% for the past 10.
Management has been diligent in deploying excess capital to benefit shareholders. The dividend, currently yielding 2.16%, has increased over that time on a somewhat irregular schedule. Share counts have decreased rapidly in recent years - an average reduction of 7.2% for the past 5.
Management appraises their performance by referring to non GAAP BV with available-for-sale fixed maturities at amortized cost. Using that metric, and adding in dividends received, a holder of CB has been rewarded with a return of 12.65% annually over the past 5 years, which included the financial crisis and resulting recession.
Estimating Forward Returns
Past performance is no guarantee of future results. That having been said, the past 5 years have been very difficult for the P&C insurance industry. Increasing catastrophe losses have combined with a soft market in commercial lines to depress profitability. There are signs that both headwinds may be alleviated going forward.
With that in mind, an investor who buys Chubb at today's fair value of $70 has a plausible expectation of receiving a combination of dividends and share price appreciation worth 12.44% annually. However, there is one caveat. The ability to buy back shares at discounted prices has been a large part of the value creation process here. This creates something of a catch 22: If share prices reflect past performance, it will not be possible to equal past performance.
Insurance is a tough business. There is always something coming up that no-one expected, along the lines of asbestos and environmental liabilities, or well above average catastrophes. Competition is characterized by brutal price cutting for a commodity type product. The market prices that in; and to judge by the past, more than prices it in.
Strategy and Tactics
Chubb is a fine company. However, I would resist the urge to chase it at today's share prices. Chuck Carnevale has mentioned in a number of articles the importance of not overpaying, even for quality companies. Buybacks won't create value unless the shares are cheap.
With that in mind, a policy of patient accumulation seems in order.
I've been playing this situation with deep in the money LEAPS, against which covered calls have been sold. My current position is a vertical call spread, long Jan 2013 55 calls and short Jan 2013 70 calls. As of this moment, I plan to hold the position through to expiration.
Disclosure: I am long CB.