Pepsi (NYSE:PEP) will report its 1Q12 earnings on April 26th. The Street expects:
Revenue: $12.36 billion
EPS: $0.67 per share
Q2 Revenue guidance: $16.97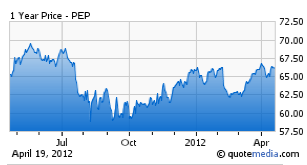 Last quarter, Pepsi reported a decent EPS but weak volume growth in North American beverage, a volume decline in Quaker Foods and high cost inflation in Latin America outweighed the strength in Europe where snack and beverage volume were up 36% and 22%, respectively, and in Asia where China and India continue to see double digit growth in the organic snack segments.
Despite strong international growth trend, management guided a 5% EPS decline for 2012 as it shifts focus on investments for future growth, which include:
Increasing advertising and marketing by $500-600 million, and total market place spend by $600-700 million.
Focus on brand building for its 12 mega brands around the globe
Achieve $500 million in incremental cost savings this year and $1.5 billion for the next three years
Reduce capital expenditure to 4.5% of net revenue
Generated >$6 billion in management operating cash flow
Return $3.3 billion in dividend, which is a $100 million increase compared to 2011
Repurchase $ 3 billion in shares, or $600 million more than that in 2011
At the CAGNY presentation in late February, Pepsi once again reaffirmed its long term growth targets which include mid-single-digit organic revenue growth and high single digit EPS growth. However, heading into the quarter, the management also expects EPS to decline in the high single digit excluding foreign exchange impacts, which could indicate that the Street consensus is a bit overly optimistic.
Nonetheless, I am encouraged to see Pepsi moving towards the right direction. Last month it bolstered its management team with the promotion of John Compton, who was former CEO of PepsiCo Americas Foods, to President of PepsiCo, a newly created position. Compton will report directly to Indra Nooyi and will oversee all of Pepsi's divisions, including Global Category Groups, Global Operations and Global Marketing. In my view, this move is likely to pave way for Compton's eventual promotion to the CEO role, but the timing of such transition is still uncertain.
In addition to Compton, Brian Cornell, who was previously CEO of Sam's Club, was named PepsiCo Americas CEO. Cornell will also report directly to Nooyi and oversee the food division which includes Frito-Lay and Quakers.
Disclosure: I have no positions in any stocks mentioned, and no plans to initiate any positions within the next 72 hours.