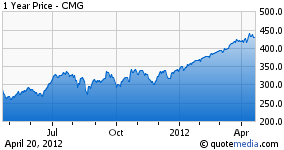 Chipotle (NYSE:CMG) reported strong results after the close Thursday. Though the firm continues to post solid same-store-sales growth and has a nice earnings trajectory, we think the burrito-maker is one of the most overvalued companies on the market today. We continue to steer clear of the shares and may open a put position on the company in the portfolio of our Best Ideas Newsletter in coming periods. The high end of our fair value range on the firm based on our DCF valuation model is less than $300 per share. However, we're waiting for the firm's upward momentum to slow before betting on a price fall.
In its first quarter, revenue advanced over 25% thanks to a better-than-expected 12.7% jump in comparable restaurant sales, which were bolstered by higher traffic and menu price increases implemented last year. The upscale burrito chain's restaurant level operating margin increased 220 basis points, to 27.4%, thanks to lower promotional costs, which drove net income more than 35% higher in the quarter. Diluted earnings per share came in at $1.97 for the period, a 34.9% increase (consensus was at $1.93 per share).
Looking ahead, Chipotle will open between 155 and 165 new restaurants during 2012 and is forecasting mid-single digit comparable restaurant sales growth, the latter very conservative based on performance during the already-completed first quarter. If Chipotle were to hit that guidance range, we think the market would quickly reset its price to our valuation. Food inflation is expected to be in the mid-single digits, and we're skeptical the burrito-maker will be able to continue to cut promotional expenses to drive margins higher through the course of this year. We prefer Buffalo Wild Wings (NASDAQ:BWLD) to Chipotle, but even the former is becoming a bit pricey at current levels.
Disclosure: I have no positions in any stocks mentioned, and no plans to initiate any positions within the next 72 hours. BWLD is included in the portfolio of our Best Ideas Newsletter.