The first round of France's presidential elections will take place this weekend. The real outcome will arrive on May 6th, the same day as Greece's general elections. Without commenting on what it would mean from an election platform standpoint -- what will drive the OAT/Bund spread in the medium run is the state of the economy, much more than the head of state -- we will try to figure out if a Francois Hollande victory has already been priced in and the implication for the CAC/DAX ratio.
We do not rely on polls, as the second-round vote will be highly influenced by next Sunday's result. The chart below shows the Intrade probability of a victory for Hollande.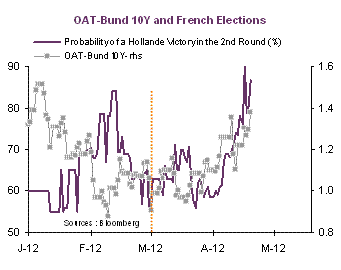 It looks as if the 10-year OAT/Bund spread has embedded the "political risk" only recently. The co-movement could also be the result of a spillover from the Spanish crisis. But what matters most is that the current level of OAT/Bund spread is already pricing in what some investors would have called a "fat tail" event a few years ago.
We cannot rule out a negative surprise in the market sense of the term. Here is what could be at stake. The first chart shows the link between the one-month change in the OAT/Bund spread and the one-month relative performance of the DAX vs. the CAC. As can be seen above, the OAT/Bund spread widening comes along with CAC underperformance against the DAX.
Click to enlarge image.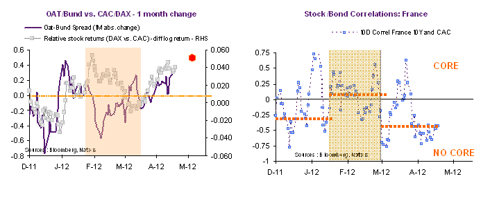 Click to enlarge
The link broke temporarily, before and shortly after the LTRO2. It happened during a period when the stock/bond correlation in France stood at a "normal" level (a negative link puts France in the non-core camp).
The red point on the chart factors in my target for the OAT/Bund spread at the end of Q2 (150 basis points). It reflects the ongoing political and market uncertainty, not expectations about election results.
The impact on CAC over/underperformance will depend on how stocks and bonds behave. There is a strong likelihood that the political uncertainty will maintain the stock/bond correlation in the new (non-core) regime. It is therefore too early to play a CAC/DAX mean reversion.
Disclosure: I have no positions in any stocks mentioned, and no plans to initiate any positions within the next 72 hours.