On Wednesday, Ebay (NASDAQ:EBAY) reported strong earnings, sales, and profit on the heals of growth within its PayPal division. The company's first-quarter earnings are as follows:
These earnings show healthy growth and this is met with the stock closing at a four-year high. The story behind this growth in earnings along with its stock price performance is due to the company growing its marketplace business along with its ability to scale its PayPal business into brick and mortar retail outlets. EBAY has strong financials and is fairly price - leaving the company with plenty of room to grow both in earnings and in stock price over the coming quarters and years.
Expansion of Marketplace and PayPal:
EBAY's ability to expand its PayPal business represents an incredible opportunity for PayPal to become a staple payment method for consumers on an everyday basis. The company reported:
PayPal business delivered strong first quarter performance. PayPal ended the quarter with 109.8 million active registered accounts, a 12% increase over the first quarter of 2011. PayPal revenue increased 32% year over year, driven primarily by increased penetration on eBay as well as continued merchant and consumer adoption. PayPal's net total payment volume (TPV) grew 24% year over year to $34 billion. PayPal continues to invest in innovation, focusing on its core platform as well as mobile and point of sale initiatives. PayPal expects to process $7 billion in mobile TPV in 2012. PayPal launched an expansion of its payment services to offline merchants in the first quarter. The Home Depot has launched PayPal payments in all of its nearly 2,000 U.S. stores, giving shoppers the opportunity to pay using just their mobile phone number or PayPal payment card and PIN. Users can switch between paying with their phone or payment card at any time. The company also launched PayPal Here in the U.S., Australia, Canada and Hong Kong. With PayPal Here, small businesses can now process almost any form of payment online or offline, including credit and debit cards, checks and PayPal using only a smartphone.
What is of particular note is Home Depot's (NYSE:HD) adoption of this payment method. If more brick and mortar companies, like HD, adopt the service, this could open the floodgates for EBAY growth in this market segment. It is clear that EBAY has not capitalized fully in this segment and if the company is able to play its cards correctly, this business could double in size. Bloomberg reports that "PayPal continues to be a star," Colin Gillis, an analyst at BGC Partners LP in New York, said in an interview. "The traction in the marketplace has been slow and steady." Steady results within the company's marketplace along with PayPal's potential make EBAY a company that is poised for continued growth into the coming year.
Financials/Valuation:
Price/Earnings: 15.21. This PE ratio is not extreme for an ecommerce operator and stands drastically lower than Amazon's (NASDAQ:AMZN) of 74.65.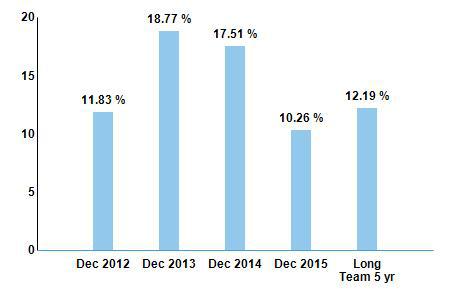 (Nasdaq)
PEG Ratio: 1.21, this PEG illustrates that EBAY is trading within a reasonable range and if the company is able to expand its PayPal business, the valuation could decrease significantly.
Cash-Debt: $3.84 billion, EBAY has a substantial amount of cash on hand and this will help the company fund its expansion of PayPal into brick and mortar as well as give the company and its investors a level of stability.
Conclusion: EBAY's first quarter 2012 results point to its strategic plan to expand its MarketPlace and PayPal businesses are taking hold and this is the beginning of what could be an incredible time for PayPal. EBAY is poised for growth and prosperity - Benchmark Capital is setting the tone by raising its price target from $37 to $45.
(All financial metrics referenced above are obtained from Yahoo! finance, CNBC Analytics, S&P Capital IQ & Thomas Reuters)
Disclosure: I have no positions in any stocks mentioned, and no plans to initiate any positions within the next 72 hours.