I became interested in IBM after reading about one of its latest creations: Waston. If you are unaware, Watson is an artificial intelligence computer system capable of answering questions posed in natural language. Initial tests run on Watson were conducted in 2006, and by 2011, Watson was able to beat two record-holding champions on the game of Jeopardy! I was blown away by this new technology, and impressed that it has already begun generating revenue from large corporate clients like Citi (NYSE:C).
Unlike Dell (NASDAQ:DELL) and Hewlett-Packard (NYSE:HPQ) - two companies I covered in previous articles -, IBM is not a cheap stock. However, cheap is not always good (as is the case with HP), and good is rarely cheap.
IBM's Transformation: The Story
The company was founded in 1911 as the Computing Tabulating Recording Corporation and adopted the name International Business Machines in 1924. In its early years, the company focused on providing large-scale, custom-built tabulating solutions for businesses, which enabled organizations to process unprecedented amounts of data.
IBM's 100-year history is marked with innovation and evolution. As remarkable as IBM's crucial contribution to technology - ranging from space exploration to artificial intelligence - is the company's ability to stay relevant through change:
1991: divested its printer and printer supply operations to the investment firm Clayton & Dubilier in a LBO (forming Lexmark)
2002: acquired PwC consulting, the global management consulting and technology services unit of PricewaterhouseCoopers
2003: initiated a project to rewrite its company values by involving 50,000 employees and some nifty technology
2005: sold its personal computer business to Lenovo
2009: acquired software company SPSS Inc. to expand IBM's Information on Demand (IOD) software portfolio and business analytics capabilities
The above examples are, of course, only a small sample of IBM's strategic repositioning over the past two decades; since the beginning of 2000, IBM has acquired 130 companies in strategic areas including analytics, cloud, security and Smarter Commerce. The company has made remarkable progress by shifting its business mix to more profitable segments and by increasing productivity. Currently, more than 90% segment profit in 2011 was from software, services and financing.
IBM's Transformation: Historical Valuation & Financial Performance
(All numbers are in USD except for ratios)
People tend to look at IBM's stock chart and think, "Ah shucks! Looks like I missed the boat again."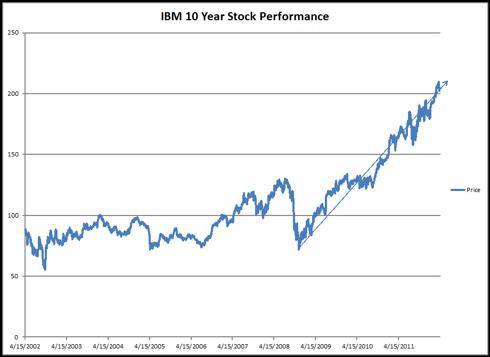 However, IBM's 10-year valuation metrics tell a different story: it's getting more expensive recently, but it isn't so bad.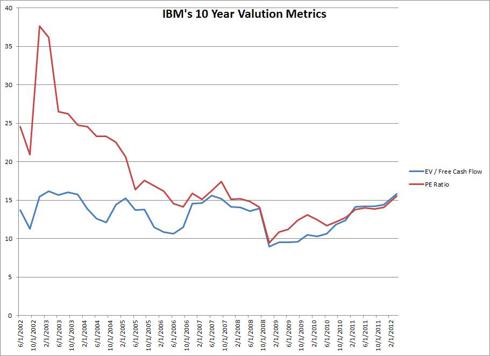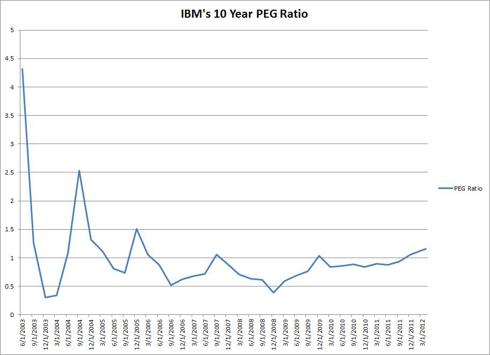 But there is a reason IBM is getting more expensive: IBM is not the same IBM from 10 years ago. If we adjust for the quality of the company, valuations don't look expensive at all. I'll let the charts do the talking.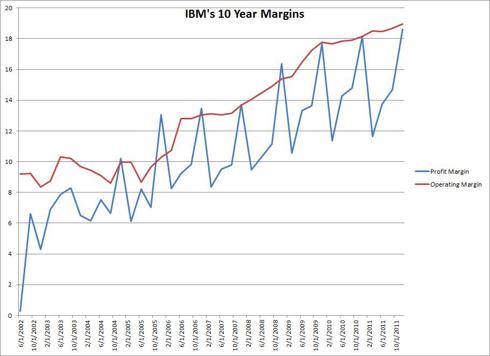 *note, Operating Margin is TTM, which explains why the line is smoother than Profit Margin, which is subject to seasonality.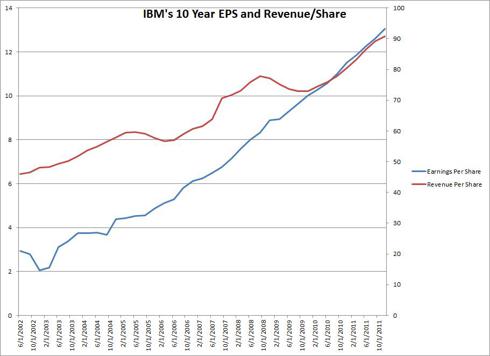 Moreover, IBM has returned $133 billion to shareholders since the beginning of 2000 by aggressively buying back shares and raising dividends by 600%.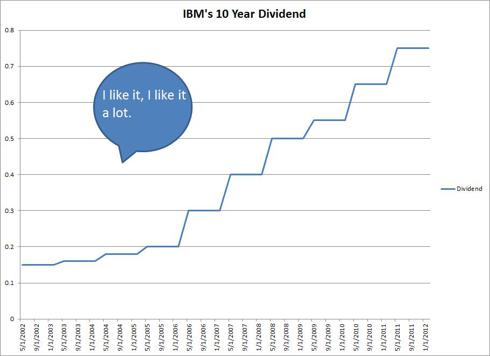 IBM is currently trading at ~ 15x earnings, which isn't cheap, but isn't expensive either given the company's historical valuation metrics. If you also consider improvements made in IBM's businesses, and the company's outstanding record of dividend raises and share buybacks, current valuation seems rather... cheap!
IBM's Strengths
Looking deeper into IBM, here are a few things that I noted, which are quiet impressive (in notes form):
IBM's profits and margins at an all-time highs, and the company has been able to increase profits and margins at a steady pace not seen in its competitors… this steady growth allows the company to lever up without adding much risk (i.e. a more optimal capital structure)
In 2011, the company experienced higher than market growth in nearly all businesses, across nearly all geographies… this is evidence of IBM's broad-based competitive advantage
Strong client retention with significant revenue generated from ongoing client support
Unmatched IT capabilities; especially dominate in the large IT projects space
IBM's Valuation vs. Related Companies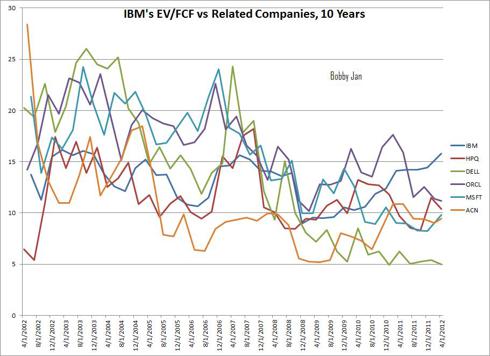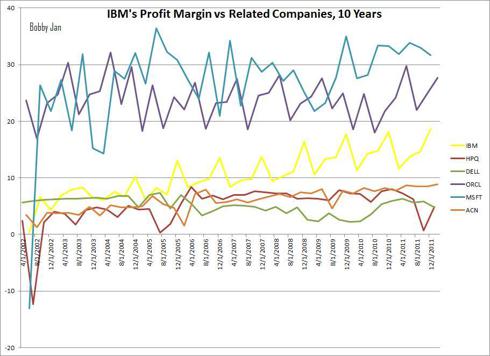 While I believe IBM looks cheap given its historical valuation and growth, it might not be the best deal in the market at this point. Looking at the EV/FCF chart, IBM's EV/FCF is the highest among its peers.
Another thing that is giving me pause is IBM's popularity right now, especially after Warren Buffett disclosed his position in IBM late last year. Had I discovered IBM in 2010, when it was still trading at 10-11 EV/FCF, it would scream "BUY ME NOW!" However, IBM is currently "in fashion," and IBM's valuation relative to its peers shows that. At the current price, while I feel that IBM is still a decent long-term investment, it no longer screams "BUY ME NOW!"
In my opinion, an example of a compelling investment would be Dell. In the case of Dell, you just need to look at is the company's strong cash flow and balance sheet given its low valuation-Dell has a EV/FCF of ~5, which means the company can theoretically buy itself back in five years - and have a reasonable assurance that earnings will not contract. In fact, Dell's recent performance under Michael Dell, who became CEO again in2007, looks very promising, giving you the opportunity to pay very little for a company with strong cash flows and upside potential.
While IBM might be a great long-term investment, it just isn't an easy call like it is with Dell, so unless IBM pulls back to below $180, I believe more compelling investment cases can be made elsewhere. In other words, I will keep shopping, and perhaps come back when the discount increases or if I gain further insight into IBM.
What do you think? Let's discuss below.
Disclosure: I am long DELL.