Crocs, Inc. (NASDAQ:CROX) is primarily an international wholesaler/retailer of footwear. The company has grown from a fad specialty retailer to a competitor to one of the largest footwear companies in the world. We believe an investment in CROX at current levels provides an opportunity for significant capital appreciation as the company continues its international expansion and diversification of its product line. Our target price at the end of 2012 for CROX is $25.90 or higher.
A majority of the data in this paper can be found in the most recent annual report.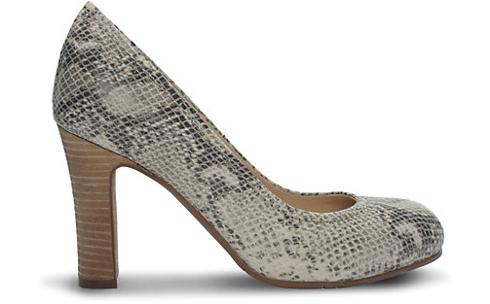 Strengths
The company isn't just about clogs and Jibbitz anymore. Clogs as a percentage of revenue were down to 48% in 2011 compared with 54% in 2010. What was once a stock we considered a fad can now be looked at as a growth stock with the potential to become the largest footwear seller in the world.
Sales in the Asian market were up 34% in 2011 to $382M. Stores in Asia have grown from 159 in 2010 to 198 in 2011 with expectations to open 20-50 more in 2012. The continent is in love with Crocs and the company just moved manufacturing from China to Vietnam to lower costs even further.
Average selling prices are up 15% in Q42011 compared with Q42010. This combined with the sales backlog of $307M (up 19% compared with last year) and the shift to a more diverse, popular and profitable product line leads us to believe the company is on the right track to deliver value to shareholders.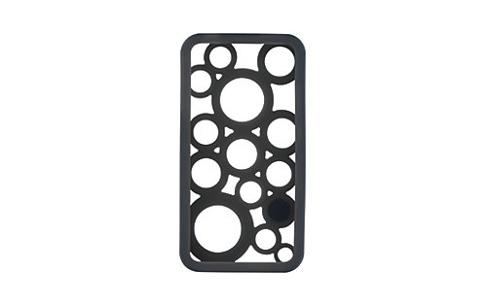 Weaknesses
The company will be closing 25 or so kiosk locations in the U.S. in 2012. This can be viewed as a positive because it shows management is not afraid to admit a mistake and change course.
In Europe, sales grew by only 6% in 2011. The store count in Europe finished 2011 at 35, up from 22 at the end of 2010. Retail locations in Europe are expected to increase by 20-25 in 2012. Our hope is that the company is at least getting favorable rents in Europe right now because it isn't performing very well on the continent.
Opportunities
The company is primarily a wholesaler in Asia and expects to increase sales as the product line grows. Global footwear unit sales in 2011 were 47.7M, up 12% or 5.1 million from 2010. We think global footwear unit sales combined with average selling prices are the best measure by which to judge the company. Double-digit growth in both metrics gives us confidence that share price will continue to rise.
New product introductions represented about 31% of Q4 unit sales. This supports our outlook that the company can and will continue to grow new product lines successfully. If the percentage of sales that comes from clogs continues to decline, the better we believe the prospects for the company and the shares.
A full 91% of cash reported on the balance sheet (approximately $240M) is held in international locations and is subject to taxes. A tax repatriation holiday would benefit shareholders immensely as the company could use the funds to buy back shares or initiate a dividend payment.
Threats
There was a big push by the company to open more retail locations in Q42011, so SG&A increased 17% to $95 million, compared with $81 million in Q42010. A better way to look at the increased expense is to see if the expense generated more sales. As a percentage of sales for the quarter, SG&A was 46.6%, up from 45.3%. Hopefully this is just a temporary setback, and it very well may be, considering as a percentage of sales SG&A for fiscal 2011 decreased to 40.2% from 43.3% in 2010.
Europe - The continent is in shambles and less able to handle the recession than the United States was back in 2007. While it may be a long time before the continent recovers, Crocs is expecting to increase store count by 66% in Europe for 2012. Crocs may be a very popular product, but we aren't sure it's recession proof.
Worst-Case Scenario $16.92
EPS increasing 15% to $1.41 per share and an earnings multiple declining from 16 to 12 due to slower growth in Europe and slower EPS growth compared with 2011. We consider this an unlikely scenario, but should shares somehow reach this level it would provide an incredible entry point.
End of 2012 Target Price $25.90
EPS increasing 20% to $1.48 with an earnings multiple rising to 17.5x (what we expect the overall market's multiple to be at the end of 2012). This earnings estimate may prove to be far too conservative as CROX has shown significant strength in Japan after the tsunami and has become more and more popular in Northern Europe. CROX has beat consensus analyst estimates for five of the past eight quarters and this quarter seems like a very easy hurdle to jump.
Technical Analysis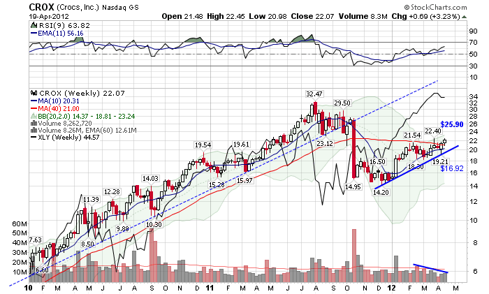 The weekly chart shows CROX now trading above both the 10- and 40-week moving averages. The moving averages are setting up for a Golden Cross , yet the recent move higher has been on declining volume, which tempers our enthusiasm for a sharp move higher in the near term. Interestingly, the uptrend that began in December is following a similar slope to the multi-year trend that existed from late 2009 until it was broken in October 2011 (the move precipitated by disappointing Q3 guidance).
Our independently derived upside target of $25.90 falls within an area of consolidation near the 52-week high. Price action and volume should be followed closely as we approach these levels once again.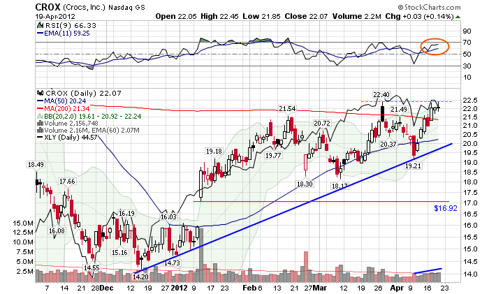 CROX's daily chart also shows price recently breaking above its longer-term moving average (200-day), which currently sits above the rising 50-day MA. Should prices continue to trend higher in the short term, the well-established uptrend will remain intact. With volume strengthening and the RSI not quite in overbought territory, the current move could last awhile longer before any pullback cools momentum indicators, tests support and ultimately presents another opportunity for entry.
Summary
CROX has grown from a specialized retailer to a real player in the worldwide footwear market. The percentage of revenue derived from the clog category has fallen to 48% and should continue to fall for the foreseeable future. Crocs' continued growth in Asia is impressive and has shown no signs of slowing. We believe these positives combined with the current technical picture support our upside target of $25.90. This is no longer a company just selling clogs and Jibbitz, CROX is an international wholesale/retailer with significant upside potential.
Disclosure: I have no positions in any stocks mentioned, and no plans to initiate any positions within the next 72 hours.