On April 13, Procter & Gamble (PG) announced its annual dividend increase - like it was some kind of big news or something.
Sounds sarcastic I know, but it's actually a compliment in disguise. This is the 56th year in a row that the company has raised its dividend. It would have been big news if they didn't raise the dividend. So if you want an example of a dividend "aristocrat," you can't find a better example than Procter & Gamble.
What was a little disappointing was that the increase was only 7% - to 56.2 cents per quarter. That's the smallest increase in the last 10 years. It's hard to complain, though, because the company raised its payments by 14% in 2008 and 10% in 2009, an era when investors surely appreciated the additional yield support that comes from increasing payouts.
Speaking of yield support, it's interesting to take a look at various yield levels for the stock, if only to determine how the current share price corresponds to past yield levels.
Here's a chart showing some of those yield levels based on the dividends paid: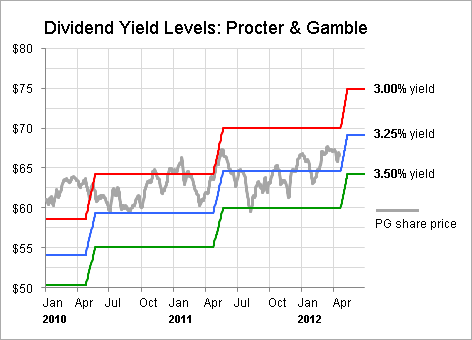 I like charts like these because if the market tanks - taking a quality stock like PG with it - you can see how past yields compare to current yield.
For example, in the past two years, PG has traded near the 3% yield level. Last summer, the stock gave you a chance to grab a 3.25% yield at around $60. Today that same yield corresponds to a price of $64.
All-time high ahead?
On the flip side, Procter & Gamble did trade up to a yield of 3% back in 2010 when shares were around $65. Today that same yield corresponds to almost $75 per share. That would be an all-time high for the stock (at least for the past 40 years anyway) - taking it above its 2007 high.
So all you need for this stock to hit an all-time high is for it to yield "as little" as 3%? That sounds like a great deal to me. The stock has certainly traded north of that yield in the past.
Anyway, Procter & Gamble is one of those stocks that can really pay off if you reinvest dividends. It's not a high flyer, but a steady grower over time.
If you're interested in PG, take a look at the company's direct investment program. It looks reasonably priced. There's no enrollment fee or investment fee. You have to start with $250, but you can invest as little as $50 per month. I'm not in the program, but it seems like a good low-cost approach to investing.
Disclosure: I am long PG.