The Portuguese Economy

Portugal is a developed country and a member of the European Union. It has a very high Human Development Index and high quality of life. Portugal pioneered the Age of Discovery in the 15th and 16th centuries and that ultimately lead to a giant Portuguese empire with numerous colonies all around the world. The global might of this empire lasted almost 600 years from 1415 to 1990. Its biggest colony was Brazil that gained independence in the early 19th century. The economy is largely based upon a service sector that contributes almost 2/3rd to the GDP, which is a bit worrisome. The country is a large producer of wood products like cork. Portugal has been facing a major economic crisis much like other weaker European economies of Ireland, Italy, Greece and Spain (the so-called PIIGS nations). The country has mounting debt and has required bailout funds from the IMF and the European Union.
I have been creating short lists and watch lists for stocks that offer decent investment opportunity and are worth closer inspection. I searched for Portuguese stocks that can be bought on the U.S. exchanges and that are worthy of further investigation. I'll give a brief overview of the only two stocks that I found worth discussing.
Dividends as Stock Screen
I firmly believe that dividends are real cash and hard to fake. They are paid out of positive cash flow and while accounting gimmicks (and even fraud) can be used to window dress earnings per share, dividends are typically honest. I use inconsistent dividend history and/or big cuts to exclude stocks. I prefer stocks with increasing dividend amounts in native currency. I do understand that the U.S. dollar amount may vary due to conversion rates but since I don't use dividends as income that does not bother me at all.
I have included a simple chart for the companies that shows the dividend distributed in the last few years (in euros). Some companies make it straightforward to collate dividend history while for others I had to sift through previous annual reports in PDF format. Luckily, every company in my short-list listed the dividend history. I plan to include a measure of "dividend pride" as introduced by fellow Seeking Alpha blogger - SDS. The number of clicks is the count of mouse clicks it takes to find dividend history for at least the last five years. I try to find dividend history for last 10 years but beyond five years I find it acceptable to look into past annual reports. The latest dividend distribution and yield is quoted in USD assuming a euro to dollar conversion rate of 1.314.
Stock

Ticker

ADR
Ratio

Price
(Euro)

EPS
(Euro)

P/E
(Euro)

Price
(NYSEARCA:USD)

Div Amt

Yield

Div Growth
1-Yr

Div Growth
3-Yr

Div Growth
5-Yr

Num Clicks
to Div Info

Energias de Portugal

10

2.088

0.3023

6.91

27.19

2.431455

8.94%

8.82%

9.74%

10.96%

1

Portugal Telecom

1

3.8

0.4138

9.18

5

0.854295

17.09%

0.00%

4.17%

6.47%

3
Withholding Tax on Dividends
Portugal withholds tax on dividends at the rate of 25% for non-resident investors. An individual investor can file for tax credit on Form 1040 if the shares are held in a regular brokerage account subject to certain limitations. Amounts up to $300 ($600 for joint returns) can be claimed directly on the 1040 but greater amounts or carry-forward/backward requires Form 1116. If the shares are held in a tax-deferred account like an IRA or 401(k) then there is no mechanism to recover the withholding foreign tax and it is lost thereby reducing the effective dividend yield. As always, consult your tax advisor on all tax-related matters since each individual case is different and I am definitely not qualified to advise.
Energias de Portugal SA

Energias de Portugal is an electric utility that generates and distributes electricity primarily in Portugal. It also provides telecom and information technology services. In addition to its activities in Portugal, the EDP group is present in Spain, Brazil and the United States as well. The company has a significant presence in the gas sector though limited to only Portugal and Spain. It owns a majority stake in its renewable energy subsidiary - EDP Renovaveis, which is the 3rd-largest producer of wind energy. It used to be majority owned by the Government of Portugal but over the last few years the Government has shed its stake in the company. The latest remaining stake was sold to China Three Gorges Corporation.
The company has a declared dividend policy of increasing the dividend every year by €0.015/share every year. This does mean that every year the percent increase will reduce a bit but so far the dividend growth has been approximately 9% of the last three years, which is quite respectable for a utility stock. The current yield is also very attractive at 8.9%.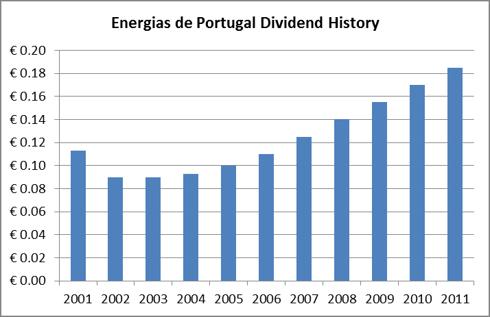 Portugal Telecom (NYSE:PT)
Portugal Telecom is the biggest telecom provider in Portugal with operations in Brazil, Cape Verde, Mozambique, Angola, Kenya and even China. It operates fixed land lines, is an Internet Service Provider and mobile phone services. The company also provides IT and shared services. It owns 22% of Telemar Norte Leste, which is Brazil's largest telecom firm. In addition it owns 30% of UOL, which is a Brazilian ISP. It has various other investments in African countries that were all once Portuguese colonies.
At the face of it, Portugal Telecom appears financially weak and the market has reacted by bringing down the share price so drastically that the stock now yields close to 17% based on the indicated distribution amount of $0.85 per ADR share. The EPS was only €0.38 but the dividend is well covered by the cash flow. There have been a few articles on Seeking Alpha that have detailed the investment thesis behind Portugal Telecom. Fellow contributor, Labutes IR, has a few excellent articles on Portugal and Portuguese stocks. I like the yield but am not fully convinced just yet. I prefer dividend growth and higher quality earnings than the current yield. The management has indicated that the dividend for the current year will be maintained at the same amount as that for 2011 and might be increased by a small percent for 2013.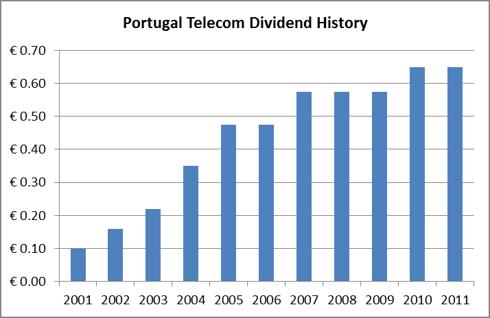 Other Stocks
I ruled out a few other stocks like Brisa-Auto Estradas de Portugal (OTC:BRSAY), which constructs and operates tolled motorways. Even though this sounds like a utility business - slow and steady, the earnings declined substantially in the latest year and are not expected to be much better for 2012. The stock does yield an attractive 12% and received a takeover bid by existing shareholders. It is possible that Tagus Holdings may acquire the entire company so I didn't look further into the company financials and dividend sustainability.
Banco Espirito Santo (OTCPK:BKESY) provides financial services including retail banking, asset management and corporate banking. The 2010 dividend was approximately a fourth of what was distributed in 2007/08 and no dividend has been declared for 2011.
Concluding Remarks
I am not sure whether the U.S. will continue to be an economic superpower in the coming five decades in the face of mounting federal debt and increasing trade imbalance. I also want to reduce geo-political risks. Additionally, the U.S. market is at a four-year high and there are few bargains in the dividend bucket. I am slowly selling some of the holdings at multi-year highs and investing sale proceeds along with any new savings into foreign dividend paying companies. Currently, I do not hold any stock from Portugal and do not find any in the value territory. The sovereign and private debt of Portugal is worrisome and I am concerned that other European nations may force austerity measures that may further stymie growth.
Disclosure: I have no positions in any stocks mentioned, and no plans to initiate any positions within the next 72 hours.