In last month's fourth quarter conference call, incoming Research in Motion (RIMM) CEO Thorsten Heins twice discussed on the Q&A his company's new focus on the BYOD (Bring Your Own Device) trend in the enterprise smartphone segment. I noted the next day that even the admission that BYOD was challenging RIM's traditional dominance in the enterprise space was a marked change for the company.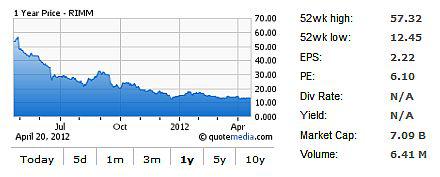 The BYOD trend has the potential to affect the IT landscape. One of the trend's beneficiaries may be privately held Enterproid. Enterproid's Divide application allows companies to create "dual-persona" content for employee devices, and adds data security and management tools to aid IT departments implementing BYOD policies. Enterproid's Vice President of Marketing, Dan Dearing, was kind enough to answer a few questions on what Divide does, how BYOD affects the IT landscape, and who might be the winners and losers as BYOD continues to see increased adoption. Our Q&A is below: The transcript has been lightly edited, and all parenthetical additions are mine:
VM: The Divide platform allows companies to manage - and secure - employee devices through what you call a "dual-persona user experience." Can you explain briefly for us how Divide works?

DD: Divide for Android gives users a separate, fully-encrypted work persona to connect to their business environment, so they can securely access contacts, calendar, email, apps and other IT services. When users are off the clock, they can quickly - with two taps of the 'home' button - return their device to the personal persona. It's easy to use and has the same native device look and feel regardless of what persona users are in. More importantly, the work persona is completely separated from the personal side of the device. So there is no risk of corporate data getting copy and pasted to the personal side of the device. And if their company supports a "bring your own device" (BYOD) policy, Divide consistently protects the employee's privacy by keeping their personal device use (apps, photos, text, emails, etc.) private during those times when IT administrators have access and control of the employee's work persona.

For business IT, the Divide platform provides a full set of IT features and policies with full data encryption and security, touch-less over-the-air provisioning and remote device wipe via Divide Manager. A self-service portal, MyDivide, also gives employees complete control over the device and offloads common help desk tasks, such as device unlock, from the IT support team.

VM: How many companies have implemented BYOD policies? What type of growth is expected? Is BYOD the new IT standard? If not, does it have the potential to be so in the near future?

DD: While we don't have an exact number, we do believe the BYOD trend is increasing. As Android [from Google (NASDAQ:GOOG)] and iOS [from Apple (NASDAQ:AAPL)] platforms grow in popularity, more and more employees are bringing their personal devices to work and employers are seeing the benefits of moving from the legacy infrastructure often needed for BlackBerry support and at the same time keeping their employees happy with technology. In the last 6 months, we have seen growing interest in the BYOD phenomenon among three stakeholders: Mobile network operators, enterprises, and consumers. Indicators to us include our expanding engagement and discussions with major mobile network operators in North America, Asia and Europe; increasing inquiries from large Fortune 1000 companies and non-profit organizations operating in regulated markets; and divide downloads surpassing the 100,000 milestone in Google Play.

BYOD is the standard for business mobility, with dual persona offering the most potential and benefit to both stakeholders (the user and IT) as companies look to integrate business mobility throughout their organization. In the past, when email was the primary mobile application, typical use of mobile devices was limited to a small set of employees - about 20% of typical employee bases - who needed always-on access to email. With the advent of tablets and increasingly sophisticated smartphones and a blended lifestyle of work and home, employees are embracing a collection of devices (smartphones, tablets, laptops) to do their job no matter their location or the time of day. CIOs can leverage BYOD as a tool to rapidly scale their mobility strategy to all employees, in effect sharing the mobility costs with employees to fund their strategy while also leveraging and riding the market innovation curve of consumer devices.

VM: BYOD policies appear to be more popular in the corporate world. From an IT standpoint, are there benefits to employers through this policy, or is it more a matter of satisfying employees? In other words, since many employees are likely to use personal smartphones and tablets for work anyway, are companies simply trying to take control of the problem, or are there actual cost and/or labor savings available through BYOD implementation?

DD: Both. Employers want to find a solution that makes their employees happier and more efficient, while not sacrificing their corporate security. Furthermore, as a company called Arrow Container has proven, there are several other benefits to Divide by Enterproid. Divide provides Arrow with a secure client on the Android device and delivers device management and the policy control needed to oversee the deployment of devices. Arrow has noted additional benefits such as a 50% reduction in monthly mobility expenses with no contract commitments; the ability to leverage the openness of Android, giving IT flexibility to quickly build business apps as the business requires; cloud deployment eliminates maintenance and management overhead of the BlackBerry Enterprise Server long used to manage mobility; and, a flexible framework that supports both corporate-owned and personal devices. By using Divide to manage their fleet, Arrow is both meeting the enterprise's security needs while also addressing the demand of their employees - consumers - to maintain control over their privacy and their personal persona.

VM: In the Q&A on the fourth quarter earnings call, Research in Motion CEO Thorsten Heins mentioned a renewed focus on BYOD for RIM, which until recently dominated the enterprise business. How big a threat is BYOD to RIM? Given its recent struggles, where does RIM stand in the North American enterprise segment right now, and does it have a chance to regain some of its former market share?

DD: It's a bit early to say "game over" for RIM. Too many companies still rely on its platform. However, more and more companies are turning to alternative options and embracing BYOD and the use of mobile applications including companies like Arrow Container which recently shifted its company's fleet of phones from BlackBerry to Android and is managing them with Divide by Enterproid. Additionally, BYOD is a huge threat to RIM because employees make the buying decision, and the market numbers show that consumers favor Android and Apple devices over BlackBerry.

VM: Divide currently supports Android phones, with iOS capabilities coming this summer, according to the Divide website. Does the BYOD phenomenon give an edge to either operating system, or to any of the smartphone manufacturers?

DD: BYOD is about IT not being prescriptive in what mobile devices the employee can use at work. Users are free to use their device of choice as long as it meets IT standards for security and manageability. Our business is centered around helping IT adapt personal devices for work while also ensuring user privacy and freedom of choice. Employees make the choice as consumers and as we discussed, today that gives the edge to Android and Apple devices.

VM: To those outside the industry, it appears that BYOD is simply eliminating the enterprise segment as a competitive sphere. Without company-issued, company-controlled devices, smartphone makers and platforms are competing solely at the consumer level, with enterprises then forced to adapt to consumer choices. Is this a fair assessment of the enterprise smartphone segment right now?

DD: I don't believe it's that black and white. BYOD definitely has an impact on the knowledge worker, but they are just one type of employee. Increasingly mobile devices are being used throughout companies to increase the productivity of all employees and that will require the use of a corporate owned device dedicated to a certain application or use. Tablets seem to be the big game changer there. For example, in the airline industry we are seeing tablets replace paper manuals in the cockpit, while flight attendants use tablets to better serve passengers in the cabin. On the tarmac, mobile applications such as myEngine from GE Aviation [a unit of General Electric (NYSE:GE)] help ground teams track important maintenance information to help keep planes flying. So BYOD will have a role, but ultimately companies will have a mobility strategy that will leverage both corporate owned and personally owned devices.

VM: Final question: From an investing standpoint, BYOD has clearly hurt RIM's North American market share, one of the myriad reasons for the stock's long decline. Are there other companies - besides Enterproid, of course - or sectors who might benefit from this sea change in the IT landscape?

DD: There is a whole mobile ecosystem of mobility companies that are focused on helping organizations in the public and private sectors retool their mobility environment for the next generation of work mobility. Some examples might include:
Mobile device managers, over 60 companies led by MobileIron, Afaria [a product from Sybase, now owned by SAP (NYSE:SAP)] and others that help manage non-Blackberry devices.

Mobile application managers such as Apperian and Antenna Software that help manage the apps that are supported on non-Blackberry devices

System integrators such as IBM (NYSE:IBM) and Computer Sciences (NYSE:CSC) that help organizations make it all work
Disclosure: I have no positions in any stocks mentioned, and no plans to initiate any positions within the next 72 hours.