The oil services sector has been hammered over the last nine months, mainly on concerns about the impact of low North American gas prices on exploration activity. The sector has underperformed the market by over 20% during that time span (See Chart). However, earnings reports in the last few days from two of the giants in this industry, Halliburton (NYSE:HAL) and Schlumberger (NYSE:SLB) should allay these fears and provide proof these worries were significantly overblown. I detailed Halliburton's earnings the other day, so I will focus this article on Schlumberger's earning report and its valuation, which I believe gives its strong upside potential.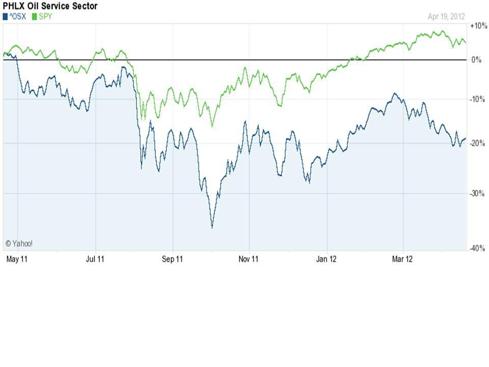 Click to enlarge
(Click to enlarge)
Highlights from earnings report:
Net income from continuing operations rose 35% Y/Y.
Revenue growth was north of 22% Y/Y.
The company is upbeat about 2012 owing to the positive outlook for the international markets.
4 additional reasons SLB is still undervalued at $73 a share:
The median analysts' price target for the 27 analysts that cover the stock is $89 a share.
S&P has its highest "Strong Buy" rating and a $92 price target on the stock.
The company has a forward PE of just over 13, which is an over 25% discount to its historical average. The company also has an A+ balance sheet and a five year projected PEG of under 1 (.64).
As the result of better expected earnings, the stock crossed over its 200 day moving average Friday morning.
Note: I would also look for Baker Hughes (NYSE:BHI) to beat low expectations when it reports on Tuesday.