AT&T Inc. (T) is a holding company, and provider of telecommunications services in the United States and worldwide. I have been watching the company and exploring ideas on how to invest in the stock.
Last year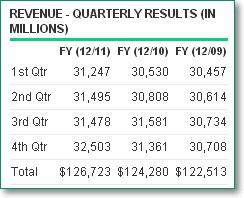 (really the fourth quarter), the company did not do as well as the rest of the industry. Sales were way down and net income was an embarrassing (-714.4%). Not that the industry did any better at (-373.6%). Value wise, it looks about average. Its P/E Ratio is better than the industry average and it has a better (price/book) and (price/book value) ratio than the industry.
On the other hand, it doesn't look like it is in a good position to meet short-term debt obligations. With a current ratio of 0.70, the industry average is 7.1. Potential creditors use this ratio in determining whether or not to make short-term loans. The higher the ratio, the more liquid the company is. And it does not fair well with how management uses its resources to make money. In all three categories, it comes in below the industry average.
Click to enlarge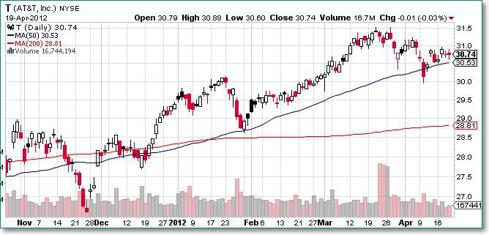 Analysts are not exactly flocking to the stock:
It was recently downgraded by analysts at Robert W. Baird from an "outperform" rating to a "neutral" and given a price rating- 31.
Canaccord Genuity initiated coverage on AT&T, but gave it a "hold" rating and a $34 price target. Why initiate and then say don't buy?
Zacks Investment Research reiterated a "neutral" rating on shares of AT&T in a research note to investors on Wednesday, February 29. They now have a $32 price target on the stock.
Honestly, the only potential I see in the stock is the dividend. As long as AT&T can maintain that 5.6% yield, you've got a deal as an income investor. It does trade close to its fair value. With such a high yielding dividend and fair price, the stock will be a good addition. Outside of that, I do not see any reason to invest in the stock.