When it comes to international investing, Japan is one particular corner of the market that receives a tremendous amount of attention, although not always for optimistic reasons. This developed Asian economy has struggled to regain its footing on the global stage since the early 1990s, following the collapse of its stock market. Since then, Japan has failed to regain its edge as an exporting powerhouse thanks to stiff competition from booming neighbors like China, South Korea and Taiwan. Despite the rather pessimistic outlook for this sluggish economy, the Japanese yen has remained (stubbornly) resilient in the currency market, however, this uptrend may be nearing its end.
While many are quick to point out the problems plaguing Japan's economy, few have taken the time to examine how its currency has been behaving. In short, the Japanese yen has been steadily marching higher versus the U.S. dollar since mid-2007. However, recent price action in the currency market may suggest that the yen's long-term uptrend versus the greenback could be in the early stages of reversing itself.
Below we offer an analysis of the popular CurrencyShares Japanese Yen Trust (NYSEARCA:FXY), which tracks the U.S. dollar/Japanese yen exchange spot rate.
Big Picture
The first step to any meaningful analysis is to take a step back and look at the big picture. Consider the weekly chart for FXY since inception below. It doesn't take an expert to notice the robust uptrend that FXY has been in since it launched in early 2007. FXY's uptrend has been incredibly predictable. Notice how this ETF has a tendency to make a run higher once it touches the rising blue support line.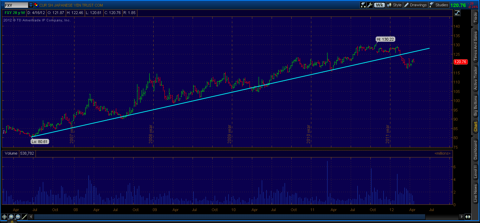 What's concerning this time around is the fact the FXY did not manage to bounce-off the blue support line as it has in the past. In fact, this ETF has deviated from its longer-term uptrend since the start of 2012.
Outlook
To get a better understanding of FXY's divergence from its long-term uptrend, it's important to also analyze recent price action. Consider the daily one-year chart for FXY below.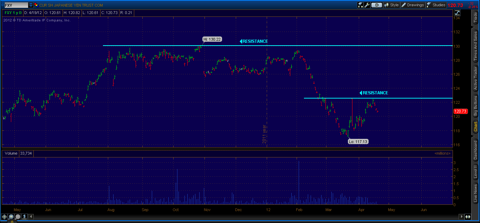 Notice how FXY has tried, and failed, on several occasions to establish support above the $130 level. Since its last attempt on 2/1/2012, FXY has managed to break below support at the $126 level and sink to a multi-month low at $117.13 a share on 3/21/2012. Although this ETF has managed to recover some of the losses from its recent plunge, it appears as though it now faces resistance just above $122 a share. Notice how FXY hit resistance as it neared this level on 3/26, and most recently on 4/16/2012.
Given that FXY has broken below its longer-term support line coupled with its recent weakness and failed attempts to regain momentum, it may be prudent to take a step back and avoid establishing a long position at current levels despite the attractive upside potential. While a short position is likely far too speculative for mainstream investors, more experienced traders with a stomach for risk can certainly profit from the potential downtrend that may be developing. As always, investors of all experience levels are advised to use stop-loss orders and practice disciplined profit taking techniques.
Disclosure: No positions at time of writing.
Disclaimer: ETF Database is not an investment advisor, and any content published by ETF Database does not constitute individual investment advice. The opinions offered herein are not personalized recommendations to buy, sell or hold securities. From time to time, issuers of exchange-traded products mentioned herein may place paid advertisements with ETF Database. All content on ETF Database is produced independently of any advertising relationships.