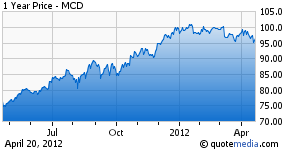 The trouble with great businesses is that they give investors so few chances to buy in at discounts to fair value, and that's the problem with McDonald's (MCD) today. While there's no reason to think that the company's share gains or excellent margins will abate, the Street already has baked in exceptional performance for many years to come. Even with this restaurant's consistent record of surpassing expectations, it looks like a bad setup for new investors.
Strong First Quarter Results
As I said, McDonald's has a habit of producing good quarters and this year's first quarter is no exception. Revenue rose 8% (constant currency) as same-store sales rose a better than expected 7.3%. Growth was good in the U.S. (up almost 9%) and better than expected in Europe (up 5%), but a little soft in the Asia-Mideast-Africa (APMEA) category (up 5.5%).
With restaurant margins making only a fractional change (20 bp), operating income basically tracked revenue and rose nearly 8%. Operating income growth was strongest in the U.S. (up 10%), and weakest in the APMEA region (up 7% constant currency). Based on management's commentary, it seems reasonable to assume that Arcos Dorados (ARCO), the large McDonald's operator in Brazil, Mexico, and other Latin American countries, posted double-digit comps. Investors should note, though, that there's been some variability before in tying McDonald's results to ARCO's, and real results may well differ.
Good Luck, Mr. Thompson
McDonald's will soon be seeing a CEO transition as Jim Skinner hands over the CEO position to Don Thompson. Given Thompson's tenure at the company, and involvement in key projects like McCafe, the transition should be relatively seamless. Many of the projects and initiatives he has discussed in interviews so far, including more nutritious and/or premium-priced items, suggest a continuation of what has already worked so well for the company .
That said, I don't envy him the job. When Skinner took over, McDonald's margins were in the high teens and there was legitimate competition in the QSR space. Now the company's margins are in the 30's and there's no dispute about who dominates the space (though Subway, Panera (PNRA), and Yum Brands' (YUM) Taco Bell are strong in their segments).
Are there levers left for Thompson to pull? Improved overseas margins would look like one possibility, but some of the differences are attributable to national variations in logistics, regulations, and costs of operations that may be difficult to surmount. Nevertheless, McDonald's does have a great platform from which to launch new products and I fully expect to see more premium-priced items on the menu in the coming years.
Competition Striking Back, But Will The Blows Land?
As the clear leader, McDonald's is squarely in the sights of every other major restaurant chain. While Bill Ackman's comments about McDonald's being bloated seem laughable when comparing McDonald's margins to those of Burger King, rivals like BK, Wendy's (WEN), and CKE Restaurants are trying to match a lot of the menu offerings that have worked so well for McDonald's. What's more, Starbucks (SBUX) is fighting back aggressively against McCafe by partnering with Wendy's and Burger King. With a slew of companies out there trying to think of new hit products, somebody's going to find one sooner or later and McDonald's will have to respond.
It's also worth asking if McDonald's needs to be anything other than McDonald's. The company's managed is criticized now and then for letting go of Chipotle (CMG), and Yum Brands' multi-store format does seem to have some advantages. While Yum Brands is clearly blowing away McDonald's in China, the free cash flow conversion rates solidly favor McDonald's.
The Bottom Line
With McDonald's already grossing twice the average QSR restaurant at the individual store level and boasting excellent margins, there's not much question that McDonald's scores well for quality as a company and a stock.
Unfortunately, the same doesn't extend to valuation. McDonald's has lifted its free cash flow conversion rate from the low teens about a decade ago to the mid-teens today, and I'm not immediately aware of another restaurant that does better.
Nevertheless, today's valuation assumes that McDonald's will either grow its cash flow at the same rate over the next decade as the past (rare for a company this size unless there's a turnaround angle), or that the stock deserves a very low discount rate. Either way, there's just not enough obvious upside here for me to want to buy shares, but I'd also not recommend long-term owners be in any rush to sell just yet.