Midstates Petroleum (NYSE:MPO) priced at $13 last night, well below the expected range of $16 to $18 as would be buyers showed a lack of spine for the deal after six weeks of downward trending E&P group performance. We liked the story well enough on the middle of the expected range to consider taking a starter position in a piece written for Zman's Energy Brain last week and I like it better at $13 although this does reduce proceeds of the deal substantially (about $67 mm less in debt reduction). Please see the updated table below.
To reiterate a few points:
This Is Not A Shale Play. This is an old play in central Louisiana, the Upper Tertiary Gulf Coast Trend. The play is not an unconventional one like a shale but it is tight rock. Targets range from Miocene all the way to lower Wilcox (so 2,000 to 16,000') and with aggregate zones of 4,000 feet. We always like stacked pays. We like overlooked, underexploited stacked pays in the heart of long time oil production even better.
In Texas this same play has been extensively drilled for natural gas. In Louisiana where MPO has acreage (see table below) and nearly 1,000 potential locations, the targets are in the oil window of the play. The structures are well defined and have been known about for a long time but for variety of reasons they were overlooked or considered uneconomic. MPO commingles multiple zones in wells instead of producing the lowest zone first and then recompleting up hole. The company is working on targeting thicker zones with horizontal laterals that will also be completed up hole in the verticals. MPO has tons and tons of data, both well control and 2D and 3D data. Looking over Sonris data you'll see a broad range of IPs and the company shows IPs ranging from 233 to 1,082 BOEpd; 70% liquids and EURs (161 to 1,090 MBOE) with wells costing between $2.8 and $6 mm. On average this is going to stack up well against all your household name shale plays quite nicely from an IRR standpoint. Floyd Wilson of (NYSE:HK) fame will be targeting this area soon.
It's Oily. 59% of volumes come from oil (90% of revenues coming from oil) with another 11% NGLs. Pricing is LLS based so MPO is getting roughly a $20 premium to WTI.
It's Growing Rapidly. April production was 9,000 BOEpd in April, up from a 2011 average of 7,500 BOEpd. The CEO said during the roadshow that he "feels good about getting a number over 11,000 BOEpd for this year" and we would expect them to soon guide 2012 to somewhere north of 11,000 BOEpd (we use 11 to 13,000 BOEpd in the quick and very early and no-we-have-not-talked-to-them-yet model below).
It Has High Margins. EBITDA per BOE in 2011 was a stout $55.76. This would rank MPO in the top five in the Zman Long Term (ZLT) portfolio and margins should improve with increased volumes this year as some of the per unit costs fall.
Management Consists of Grownups and Heavily Invested In Outcomes. Here we have a seasoned management team ((CEO was COO and President North America for (NYSE:APA), CFO was CFO of (NYSE:NBL) and was at with the CEO, Chairman comes from (NYSE:COP), COO was a regional manager from (NYSE:SM), and the VP of Biz Dev was the Biz Dev guy at (LINE). Nearly every employee is a shareholder and the selling that's going on with the deal by employees is tax driven. Employees will hold 17% post offering with the public owning 37% post offering.
Nutshell: Valuation Is Cheapish. On both our low and high production cases for 2012 MPO is relatively inexpensive on a TEV/EBITDA basis (4.2x on the low production case and 3.5x on the higher volume expectations). Given the expected growth rate, its oiliness (and premium priced oiliness at that), its large prospect inventory of stacked pay seeking targets, its seasoned energy team from all walks of E&P life the name comes off as a bargain at the market environment depressed offering price.
We'll have an update with a real model in a few weeks but here are some tables to consider in the meantime.
(Click to enlarge)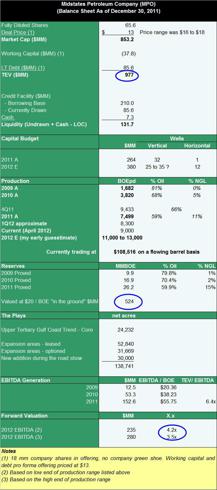 I threw in a very basic back of the envelope model that will morph into a more complex in time after I have had a chance to visit with management.
(Click to enlarge)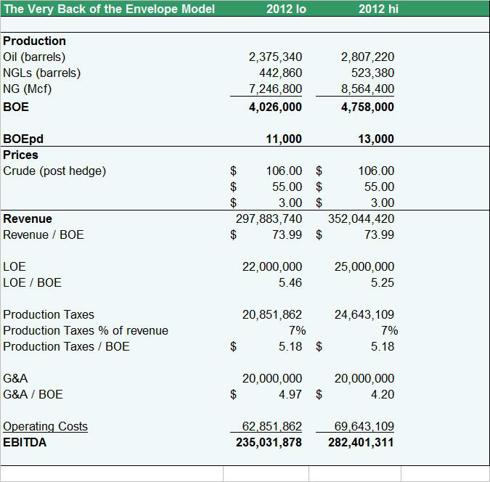 Disclosure: I am long MPO.