While 10-year Treasury prices continue to trade at even higher levels and lower yields than those seen during last August's stock market panic, it's a completely different macro outlook in Fed Fund futures (see Figure 1 below).
Figure 1
Click to enlarge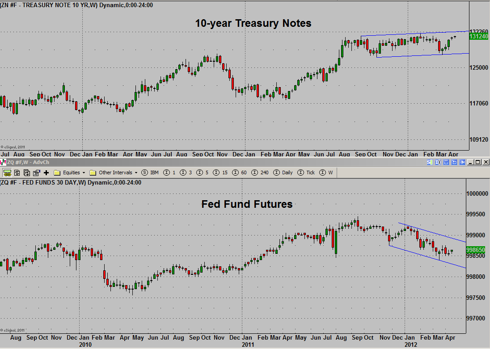 Click to enlarge
Likewise, the normally negative correlation between the S&P 500 and U.S. Treasuries is also divergent with both instruments tracking higher on their monthly charts. Generally higher treasuries, i.e. lower interest-rates, indicates slow growth and economic indecision. On the other hand, the run-up in stock prices since last autumn indicates the opposite, as does the current pattern in Fed Fund futures in Figure 1.
Stocks and bonds generally move in inverse relationship; meaning when one drops the other rises. The current economic environment where both stocks and bonds are rising reminds me of 2005, and the great debate over which market would get it right; bonds, which were approaching the 2003 highs, or stocks which were whistling past the graveyard after having just retraced over half of the 2001-02 panic (see Figure 2 below).
Figure 2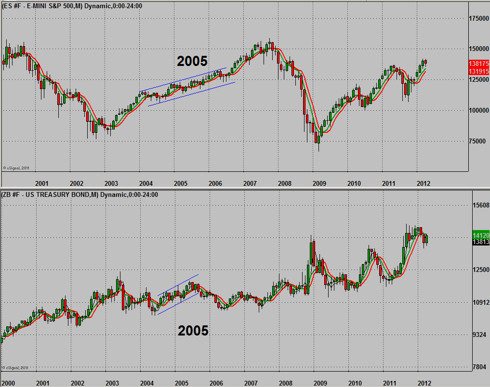 Click to enlarge
As it turned out, stocks got it right, much to the chagrin of economists who thought that bonds were a better leading indicator than stocks. It was also in 2005 when we saw a stronger U.S. Dollar and a simultaneous stronger U.S. stock-market, and the saying: "relationships change, behavior does not" worked its way into my trading philosophy.
Up until 2005, most market observers couldn't remember seeing bonds get it so "wrong". Going forward the S&P became our leading indicator market of choice - if there ever was such a thing. A great advantage of trading the financial markets on the lower time frames is you always have your ear to the ground. But even if you aren't so intimate with lower time frame market behavior, price remaining in a channel on a higher time frame chart is going to be just as good, perhaps even better.
Towards the end of 2005 bonds broke below their bull channel while stocks held theirs, giving us all a nice heads-up as to the following years performance. Enough of history though. The billion dollar question is "what about right now?" Is the stock market rally of 2012 justified, or is the T-Note rally over the last month an indication the wheels are about to come off the wagon again?
Despite the seasonal downside correction for stocks - albeit a month or so early - we are in now, the combination of long-term price patterns in the major stock indices, and Fed Fund futures are telling us we are in a more normalized economic environment, and less in danger of a market panic similar to those seen the previous two years. This same time in 2010 and 2011, we had both Fed Funds and longer-term treasuries tracking higher, which proved an ominous sign for stocks, and foretold the spring/ summer sell-off in 2010, and the August 2011 troubles.
Today, the pattern on the Fed Fund futures weekly chart is lower, which supports the long-term bullish pattern in stocks. No doubt stocks are in a downside correction currently, which is a reflection of current economic readings from not just yesterday's bearish unemployment claims and Philly Fed manufacturing reading, but a lower-than-expected Empire State manufacturing number earlier in the week, and a flat ISM PMI (Purchasing Managers Index), a soft non-manufacturing PMI, weak Factory Orders, and falling Consumer Confidence earlier in the month.
Yes, retail sales finally up-ticked a bit in March, but arguably end goods purchases are a bit of a lagging indicator compared to the manufacturing inputs. Yet these softer numbers are probably more likely a reflection of the normal ebb and flow of a recovering economy rather than a harbinger of a more prolonged slow-down. I don't mind a bit of cheer-leading on the downside because a little volatility makes for better trade, but from a longer-term investment standpoint, I'd rather side with the current patterns in Fed Funds and the S&P 500 than the price pattern in 10-year treasuries.
Trading involves risk of loss and is not suitable for all investors.
Disclosure: I have no positions in any stocks mentioned, and no plans to initiate any positions within the next 72 hours.