By Brendan Gilmartin
Netflix (NASDAQ:NFLX) is scheduled to report 1Q 2012 earnings after the close of trading on Monday, April 23. A conference call will follow the press release at 6:00 p.m. EST. Netflix shares are up more than 50% YTD headed into this pivotal earnings release.

Outliers And Strategy
Netflix is expected to post a loss of (-$0.27) per share in the 1Q period (range is (-$0.51) - (-$0.02)). Revenues are seen rising 20.9% to $868.59 million (Source: Yahoo Finance). The company issued the following outlook back in January:
1Q 2012 Earnings Per Share: (-$0.49) - (-$0.16).
1Q 2012 Revenues: $842 mln - $877 mln.
Last quarter, Netflix, a heavily shorted stock garnering significant attention in the market place, reported stronger than expected 4Q earnings and revenues on January 25. After closing at $95.04, the shares closed at $116.01 at the close of the ensuing trading session. At one point, the shares reached a high of $119.37, nearly $25 above the closing print.
Following the recent run-up (54.55%) YTD, short interest has swelled to nearly 18% of the float, reflecting investor skittishness.
Recent News
04/19: According to a post on Barron's, Caris & Co. is maintaining its "Below Average" rating on Netflix, citing price elasticity stemming from increased competition. Nonetheless, the firm sees Netflix posting earnings and revenue toward the high end of the guidance the company offered back in January.
04/03: Barclay's cut its rating on Netflix to a Hold rating, citing increased competition in the U.S. and abroad, according to an article on CNET. Amazon was mentioned as a major competitor, providing videos through the Prime service, along with Comcast's Streampix streaming content. The firm also cited loss of access to the Starz service as of February 29 for the downgrade.
03/12: Citigroup reiterated a Buy rating and a $130 price target on Netflix following favorable survey results from customers, according to a report in Barron's. The analyst described subscriber attitudes toward the Netflix service as "relatively robust."
Technical Review
Despite the doubts surrounding Netflix, evidenced by the high level of short interest and cautious sell-side sentiment, Netflix shares are up 54.55% YTD with a bulk of the gains following the stronger than expected earnings report back in January. The shares are currently sitting on support near the March lows at $105. There is downside risk to $100 (key psychological barrier), followed by $95. Conversely, resistance is at the 20-Day SMA at $110, followed by the recent highs in the $125/$130 area. (Chart courtesy of StockCharts.com)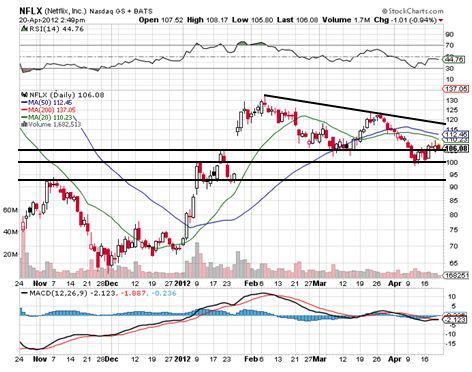 Summary
The negative chatter surrounding Netflix has picked up in recent weeks, with concerns over the threat of intensifying competition, the cost of content acquisition, and challenging pricing. But with the sell-side becoming increasingly pessimistic, a high degree of short-interest, and the stock off nearly 20% from the February highs, a weak quarter may well be priced in. But in order to see the shares return to the YTD highs, Netflix needs to deliver a solid quarter, with marginal losses (consensus is -$0.27) and revenues toward the high end of guidance ($877 million.) Last quarter, a surprising beat on EPS ($0.73 vs. $0.55 est.) helped lift Netflix shares sharply higher in after hours trading. Should earnings and revenues come in below consensus, in conjunction with a weak outlook for 2Q, Netflix faces steep potential downside.
Disclaimer: By using this report, you acknowledge that Selerity, Inc. is in no way liable for losses or gains arising out of commentary, analysis and or data in this report. Your investment decisions and recommendations are made entirely at your discretion. Selerity does not own securities in companies that they write about, is not an investment adviser, and the content contained herein is not an endorsement to buy or sell any securities. No content published as part of this report constitutes a recommendation that any particular investment, security, portfolio of securities, transaction or investment strategy is suitable for any specific person.
Disclosure: I have no positions in any stocks mentioned, and no plans to initiate any positions within the next 72 hours.