AT&T (NYSE:T) is on tap to release last fiscal quarter's results before the opening bell on April 24, 2012.
Who They Are:
AT&T Inc., together with its subsidiaries, provides telecommunications services to consumers, businesses, and other providers worldwide. The company was founded in 1983 and is headquartered in Dallas, Texas. At&t trades an average of 31.1 million shares per day and has a marketcap of $182.2 Billion.
Book Value: $17.81
Float Short: 1.07%
What To Expect:
Analysts estimate an advancement of $0.15 in earnings per share compared to last quarter's results of $0.42. Wall Street is expecting $0.57 per share based on earnings estimates.
For the last analyst update, a low of $0.53 and a high of $0.61 per share is what Wall Street is anticipating.
Here is a look at the fiscal year revenue for AT&T.
Click to enlarge.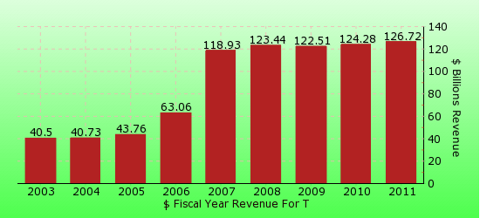 Click to enlarge
Recent Stock and Valuation Performance:
The current trailing twelve months P/E ratio is 14. The forward P/E ratio is 13.19.
From a month ago, the stock has decreased in price -3.06%, with a change from a year ago of 2.02%. When comparing to the S&P 500, the year to date difference is -7.16%.
After a recent drop in price to trade below the 60 day moving average AT&T has moved up to trade at $31 today. Today's move puts the price well above the 60 day moving average and the next test will likely be the gap put in earlier this month. Ma Bell doesn't have a high Beta and the option volatility expresses it. April weekly $32 calls are trading for $0.04. Obviously there is little expectation of a move over a dollar higher per share. Because volatility is so low one can buy $30 puts for $0.07 each to buy protection through earnings. Given the recent ability for the stock to move more than a dollar in a matter of a few days this appears to be on the cheap side.
Revenue growth relative to last year appears to be problematic for management. Comparing year-over-year fiscal years, revenue has declined to $126.72 billion for 2011 vs. $124.28 billion for 2010. The bottom line has falling earnings year-over-year of $3.94 billion for 2011 vs. $19.86 billion for 2010.The company's earnings before interest and taxes are falling with an EBIT year-over-year of $9.22 billion for 2011 vs. $19.57 billion for 2010.
The short interest is relatively low at 1.07%.
Here are the last few quarters to get an idea how well they perform compared to estimates: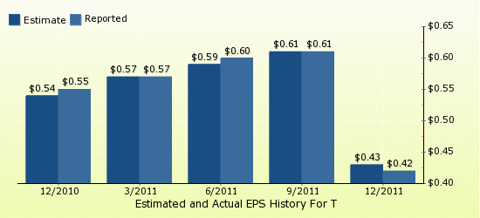 Click to enlarge
Reported earnings per share compared to the mean estimate. Differences are rounded.
Disclosure: I have no positions in any stocks mentioned, and no plans to initiate any positions within the next 72 hours.
Disclaimer: Robert Weinstein uses information believed to be correct, but is not guaranteed and is not independently checked for accuracy You may wish to use this article as a starting point of your own research with your financial planner. Seeking Alpha, Edgar Online, Zacks and Yahoo Finance provides most of the data. paid2trade.com uses the "confirmed" symbols from earnings.com that believed to be of the most interest.