Deckers (NASDAQ:DECK) has been suffering a downturn since the declaration that its 2012 earnings will be flat from 2011 earnings due to a dramatic increase in the price of sheepskin. In other words, Deckers has lost control of its earnings as the cost of sheepskin soared. Decker owns several famous brands, including UGG, Teva, Saunk, Mozo, Ahnu and Tsubo. UGG contributed to about 84% of its total revenue in 2011 and it will continue to contribute about the same amount this year as the company plans to open more UGG retail stores nationally and internationally.
Deckers' international sales contributed to about 40% of the total revenue in 2011. When the US and European markets were still suffering from job and debt problems, the Asian market became the focus for Deckers. The Chinese are huge fans of UGG shoes and Deckers only operates 5 joint venture UGG retail stores in China, thus far. UGG's competitors don't have any similar products that create the same consumer frenzy. People who own UGG shoes often come back to the stores and shop again. The brand has been successfully making its way to the mainstream popular culture and UGG is also planning to roll out more products to expand its territories.
What happened to sheepskin?
Sheepskin isn't a public traded commodity, therefore it is difficult to consistently determine its price at any given time. However, we can still figure out a rough price level of sheepskin by looking at wool and lamb prices. Sheepskin price is highly dependent on wool and lamb prices. A farmer wouldn't kill a sheep if the price of wool was high. He would only do it when the lamb price is relatively high compared to wool price. UGG only manufactures sheepskin from certain regions in Australia and the supply of Australian sheepskin is limited due to a high wool price. The floods in Australia made the situation even worse as the transportation system failed to operate.
Let's take a look at the international fine wool price: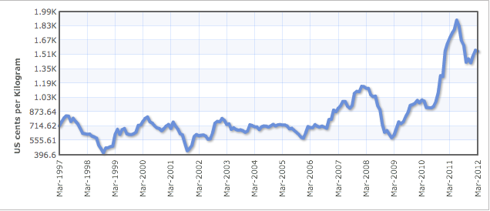 Source: indexmundi.com.
Let's take a look at the international lamb price: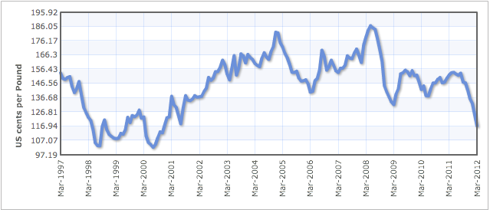 Source: indexmundi.com.
As we can see, the fine wool price is just a bit off the 15-year high, while the lamb price is at a 12-year low. It's reasonable that sheepskin price would impact Deckers' 2012 earnings by approximately $1.40 per diluted share.
There has been an increase in Deckers' inventory. Deckers explains that a big portion of the increase in inventory is classic UGG boots, which can be sold without a discount in the future. The fashion industry favors classic-look apparel from time to time, and Deckers has already raised the price of its products to lower the cost impact of sheepskin.
The unusual floods in Australia won't last forever. The nature of natural disasters is that they come and go. If you can still remember hurricane Katrina, then you would know that in a long run the impact to commodity prices would fade over time. Natural disasters often create market volatility in short term. Investors should pay attention to these incidents that bring wonderful investing opportunities.
Deckers has been working hard to control its cost by moving its manufacture process out of China gradually. The company plans to buy sheepskin in Australia and ship it to places like Brazil or even the US to manufacture its products. This will lower transportation cost in the long run as RMB appreciates. Deckers expects the sheepskin cost issue will be mitigated in early 2013.
Fair Valuation
The 2012 projected EPS is around 5.13 and 2013 projected EPS is 6.13. The recent P/E is between 12-13 based on 2012's projected earnings, and 10-11 based on 2013's projected earnings. If the sheepskin price falls or stays at this level next year, the reasonable share price for Deckers should be 6.13(2013 projected EPS) X 12.5(recent P/E) = $91.95.
If the price of sheepskin keeps increasing another 20% next year the reasonable share price for Deckers should be 5.8(2013 projected EPS at a 80% discount) X 12.5(recent P/E) = $72.5. These prices are based on the current P/E. If things turn well, the current P/E is surely too low. However, if things turn bad, I believe the downside will be limited due to low expectation of macro economy and a fall of sheepskin price.
Like many other fast growing companies, Deckers has hit a wall. I believe that this is just a test for Deckers to surpass. The company showed its incredible ability to create well-known brands and the ability to handle such a fast growing consumer demand in UGG shoes. This is a company with no debt and has more than 200M cash. I must say, I sense an incredible opportunity.
Disclosure: I have no positions in any stocks mentioned, but may initiate a long position in DECK over the next 72 hours.