There are a variety of ways to interpret stock market volatility. A rising CBOE Volatility Index (VIX) often typifies greater fear on the part of "options" investors such that they require protection against a monstrous sell-off. A widening of the daily trading range on a popular benchmark may also be indicative of explosive moves to the downside or upside. Moreover, upward revisions to the average beta (think financials) can signal increasing risks to the broader markets as well.
Relative strength is a lot like volatility in that there are different approaches for evaluating and discussing momentum. Some technicians use the Relative Strength Index (RSI) for looking at potentially overbought or oversold investments. An asset with an RSI above 70 may be viewed as "overbought" whereas one with a RSI below 30 is typically viewed as "oversold."
In contrast, the folks at ETFscreen.com developed a proprietary Relative Strength Factor (Rsf) that ranks any individual ETF in relation to the entire population. The 0-100 percentile ranking lets the investor identify whether the ETF is in the top half with a score over 50, the top quartile with a score above 75, or perhaps in the top decile witha score over 90. Indeed, many momentum investors often like to purchase fast-movers with the highest Rsf scores.
However, buying the hottest funds during a given week may not account for movements over time. For me, I am more intrigued by ETFs that may have had average momentum three months earlier (with a score near 50), but have steadily climbed the charts to land in the top 10% of all ETFs. Fortunately, the folks at ETF Screen offer weekly interval data to see the development or breakdown in momentum (i.e. "Rsf" over time).
In truth, there haven't been many hidden gems in 2012 thus far. If anything, momentum breakdown has been more typical in recent weeks, particularly in energy, precious metals and pockets of the emerging market space. For instance, PowerShares Small Cap Energy (NASDAQ:PSCE) moved from the 75th percentile down to the 20th percentile, while PowerShares Precious Metals (NYSEARCA:DBP) plummeted from the 90th percentile all the way down to the bottom third of all exchange-traded funds (31.3).
I've discussed weakness in resources-related country ETFs and resources-related sector ETFs for weeks. In my weekly ETF Expert Podcast, in fact, I have talked about the potential implications for Brazil ETFs, China ETFs, gold, materials and energy.
Still, the general bias of most readers is to hear what is hot ... rather than what is not. It is for this reason that I'm serving up three momentum winners. Each has moved from a modest Rsf percentile ranking (40-60) to the top decile (90-plus); in addition, each has a limited profile that warrants more discussion.
1. Market Vectors Gaming ETF (NYSEARCA:BJK). Does the world love to gamble? Even as global GDP is slowing dramatically? Apparently so. With a 40% tilt toward the U.S. and a heavy dose of China (20%), BJK has quietly put together a 15%-plus winning streak over the previous three months. Las Vegas Sands Corp, Wynn Resorts Ltd. and slots-leader International Game Technology are present and accounted for. Intriguingly enough, BJK has a reasonable P/E of 15 as well as an attractive dividend yield of 2.7%.
2. Global X FTSE Columbia 20 (NYSEARCA:GXG). Three months back, the notion of investing in a frontier fund like Columbia may have seemed foolish. With a heavy concentration in materials, a costly net expense ratio of 0.78% and diversification limited to 20 corporations, GXG's technical picture has defied the odds. In fact, it is one of a select few stock ETFs that hit a new 52-week high on Friday, 4/20.
Click to enlarge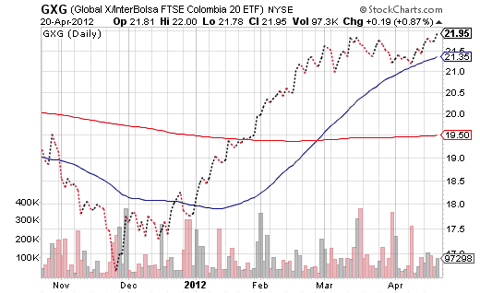 3. PowerShares DWA Technical Leaders (NASDAQ:PDP). Search Dictionary.com for the word "irony" and you might see PDP listed next to the word. After all, PDP seeks to replicate the performance of the Dorsey Wright Technical Leaders Index - an index which incorporates 100 U.S.-listed companies with potent relative strength. This ETF's quarterly rebalancing act makes it possible to succeed with large sector weightings in recently strong segments such as consumer discretionary. Indeed, the 33% currently allocated to consumer discretionary corporations has likely played a key role in PDP's momentum.
Listen to Gary's latest podcast here:
Disclosure: Gary Gordon, MS, CFP is the president of Pacific Park Financial, Inc., a Registered Investment Adviser with the SEC. Gary Gordon, Pacific Park Financial, Inc, and/or its clients may hold positions in the ETFs, mutual funds, and/or any investment asset mentioned above. The commentary does not constitute individualized investment advice. The opinions offered herein are not personalized recommendations to buy, sell or hold securities. At times, issuers of exchange-traded products compensate Pacific Park Financial, Inc. or its subsidiaries for advertising at the ETF Expert web site. ETF Expert content is created independently of any advertising relationships.