EMC Corporation (EMC) just reported its ninth consecutive quarter of year-over-year double digit growth for consolidated revenue, net income and EPS. This is the consistency of an above average company that delivers on the bottom line. This $57.69 billion large-cap company develops and supports information and virtual infrastructure technologies and solutions.
Here are some highlights from the Q1 2012 report:
Revenue was $5.1 billion, an increase of 11% over Q1 2011.
Net Income was $587 million, which increased 23% over Q1 2011.
Earnings per share of $0.27 increased 29% year-over-year.
Operating cash flow was $1.7 billion, an increase of 49%.
Free cash flow increased 67% to $1.4 billion.
Revenue for mid-tier storage products increased 26% year-over-year.
Revenue nearly doubled for the Isilon scale-out NAS business and VNS unified storage.
RSA information security business increased revenue 19%.
VMware (VMW) revenue increased 25%.
The company looks fairly valued on the low end with a forward PE ratio of 14.05, a PEG ratio of 1.06, a price to sales ratio of 2.99, and a price to book ratio of 3.15. The 10-year ycharts.com graph shows that earnings are growing in line with the stock price which confirms the fair valuation.
(Click to enlarge)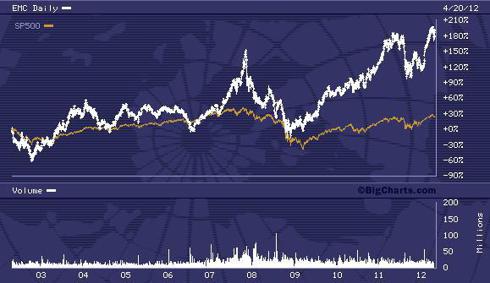 Joe Tucci, EMC Chairman and CEO, said, "We are in a time of unprecedented IT and business transformation, propelled by the benefits of cloud computing, Big Data and trust. EMC is off to a strong start to 2012 and is exceptionally well-positioned to help customers take advantage of these major transformational shifts. We have never been more excited about what this great technology company can accomplish and look forward to helping our customers drive maximum value from their IT investments in the years ahead."
EMC has achieved an annual earnings growth rate of 22.69% in the past five years. It is expected to grow earnings annually at 15.77% for the next five years. This growth should take the current stock price of $28 up to approximately $58 in five years for a total gain of 107%. This is one of those companies that can allow your investment to double every five years with its above average earnings growth.
EMC is continuing to enhance its product integration with VMware. Customers seek out VMware to virtualize mission critical applications. Customers are managing their virtual environments via management and automation tools.
EMC services allow customers to implement their cloud strategies. The company is improving its channel relationships. The top five channel partners grew unified storage revenue 45% year-over-year in Q1 2012. This shows how the company listens to the needs of its top customers and delivers the necessary solutions.
The virtual cloud presents a wealth of opportunities for EMC. If the company continues to innovate and deliver on customer needs, this should prove to be a great market-outperforming long-term investment.